2146
« on: April 05, 2008, 11:26:42 AM »
On NIN/DNC, I don't really need to worry about slowga. Aside from that fact that I resisted both times he did it, I have healiing waltz to fall back on. When I solo Avatars, the only real danger is from their 2HR, since they have absolutely horrid accuracy, they'll pretty much never hit me. If I get unlucky, the 2HR one-shots me. Otherwise, its a straightforward fight.
When I talked about WoW having less story, I guess I meant more of typical quests that you do. While there's a lot of "get me x item" in FFXI at times as well, they tend to try to weave a story with some series of quests. As far as I know, WoW is mostly limited to "Go get me some item so I can do this", since the main objective of the quest is to get some nice xp and money from it.
And I guess next time I'll put up reraise on an Avatar. My only worry is that I'd run out of time if I have to rest for 5 minutes before I continue fighting them (Especially Leviathan, since he has that annoying healing spring move or whatever).
Well, anyway, I got Leviathan done with the help of Shiggy and a friend of his, so I went ahead and got my Moon Bauble:

Hopefully I'll do Fenrir sometime soon.
I went on a perilous adventure with Valesti to the Phomiuna Aquaducts, since he wanted a Gaudy Harness. He could solo it if he really wanted to, but I came along to give him some TH action. Basically, he had to charm a VT/IT Oil spill and familiar it, which would give us 30 minutes to kill as many fomor as we could. On our first try, not only did Valesti fail about 12 times, we also got absolutely no drops whatsoever. So, lameness, we got pissed off and logged off right in the Aqueducts, returning 90 minutes later when Familiar was up again.
The 30 minute time limit would be enough to only get 2 Beastmaster kills in, but the drop rate is estimated about 50% with TH, so technically we should get one by law of averages.
We kill one beastmaster. Nothing.
Valesti's anger grows, but the Fomor still lies there, not crapping out a subligar like we want it to, so we went on to kill some other Fomor while we were waiting for the beastmaster to respawn: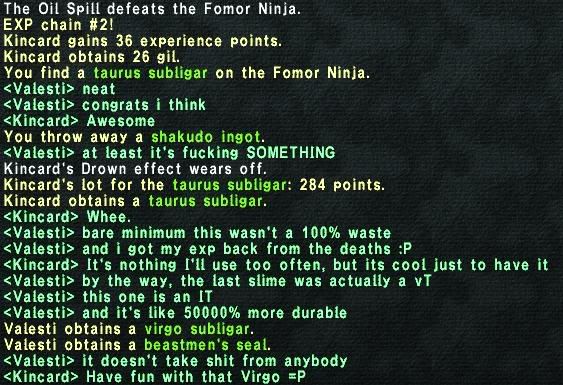 I got myself a nice, shiny Taurus subligar, and Valesti got one of the most useless subligars I can imagine. Well, it's pretty good for RNG and COR, but I don't see him playing either one anytime soon. =P
So, the beastmaster repops, and this is our last chance. Lo' and behold: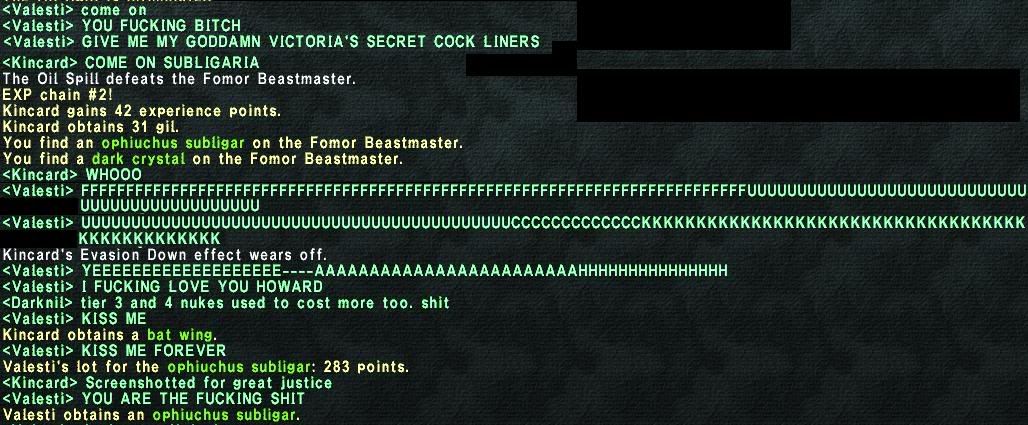 Reality came along and tried to refresh Valesti's 2HR so we could do some more, but alas, he rolls a 3. So in celebration of getting some shiny new panties, we decided to kamikaze into the nearest NM that just spawned.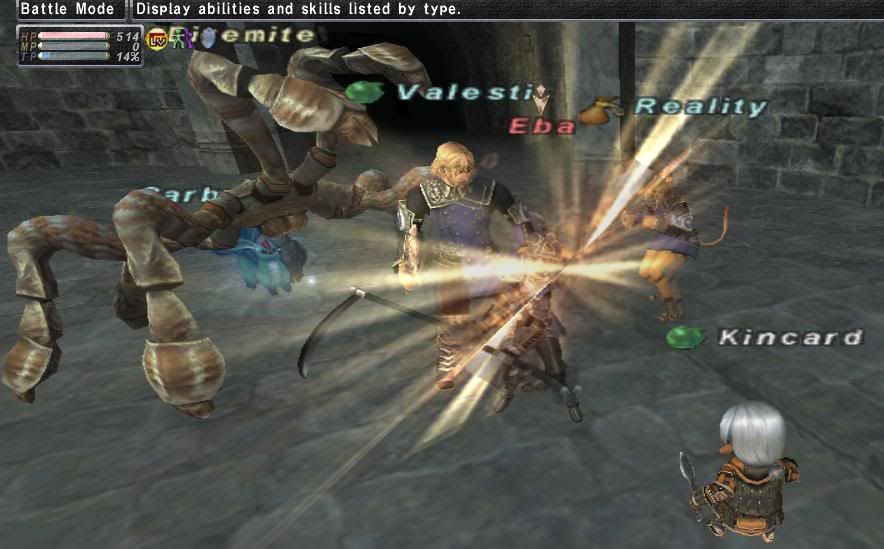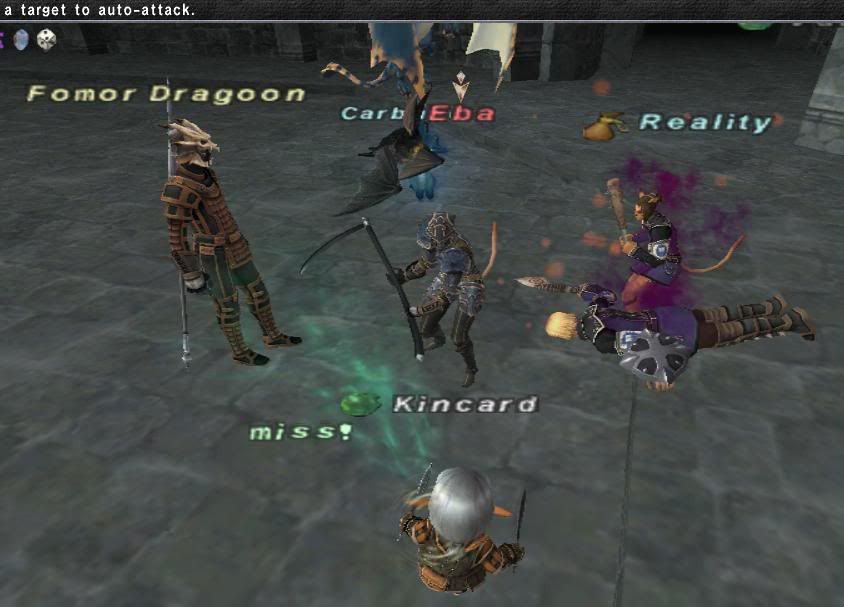 TEH END.