1
« on: July 21, 2014, 07:27:44 PM »
Have anyone else seen this game called
Sunrider: First Arrival
on Steam ?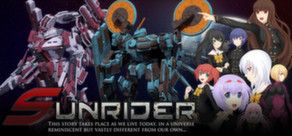 Basically it's a Visual novel mixed with Strategy RPG. The scenario is something of a space opera where you are the captain of a spaceship on the run from some tyrants of the galaxy and along the way you recruit new people to your crew and makes choices along the way.
After having played two hours I must admit I'm pretty impressed. The characters I've met, even if stereotypes, are interesting. The music is excellent, I can't stress how much I enjoy it, it really helps setting the mood of the game.
Oh, and the best part, it's completely free, no microtransactions, no catches. From the little I've looked into, it's a successful kickstarter that made this possible.
So, I highly recommend this for both SRPG fans and Visual Novel fans alike. There's even a "Visual Novel" difficulty level for those that just want to enjoy the story, because I heard this game gets really hard on normal.