Not necessarily anime, but somewhat relevant to it:
Live Action Kiki's Delivery Service Trailer!
http://youtu.be/20rhuaIK7jQ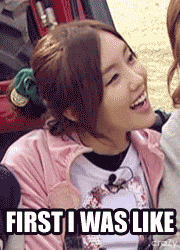 Only quoting you because Hyomin [the girl in the gif] is such a qt3.14.
You realize that quotes don't show images, right?
Anyways, been working on catching up in my manga reading.
Shingeki no Kyojin: Chapters 49-52....
...or at least from what I could make out of it given the speed translation and the distinct lack of an editor, because holy crap was that barely comprehensible at points.
To Aru Kagaku no Choudenjibou: Chapters 34-65. Finally caught back up with this one, and pretty much one full story arc later too (from the end of the Sisters' arc to the end of the Big Sports Event arc). I hate the fact that Toruma keeps showing up to be the one to do battle in each arc's final battle (especially in this series, where there aren't even any nuns for him to facepunch), at least this time he's got #7 as his partner, who's a straight shonen variant of Toruma (too bad he needs more guts). Plus Koroko's off in a separate duel and #5 is trying to hold up the big bad, so at least the boys aren't the only ones showing up for the showdown.