I'm going to have to agree with Parn on this one, you really can't make an accurate comparison since both situations are vastly different. Also, the FF name doesn't hold as much weight as it once did, FFXIV was really the capstone to a franchise that was struggling with fans and industry alike. FFXIII sold very well, but was critically panned to the point where they're using FFXIII-2 as a springboard to save face over the major complaints with the first game. GW2 has an uphill climb because it's going to be a very different game than GW1, and not alot of people had much knowledge or interest in the game due to its predecessor.
SE's challenge is going to be transmuting an albatross into a swan. The cat is out of the bag, and while the PS3 market is untapped, the game is fucking kryptonite to potential subscribers. All the progress they've made with the game so far isn't going to convince the vast majority of players who have heard nothing but horror stories of its launch. Them announcing 2.0 with an emphasis of it being a NEW game was probably the smartest PR move they can do right now. If they can deliver on their documented outline and actually "rebrand" the game, people will flock to it. Most of the people who bought the game at launch are pretty stoked about 2.0, and that's a tough crowd to woo after being burned so badly.
ArenaNET has to get the GW2 name out there and sell the game to the public through media, TV spots, etc. Right now, people still don't know too much about the game, and outside of major conventions, there hasn't been any saturation of press coverage. They need to take a page out of RIFT's playbook. That game came out of nowhere, but it was advertised all over the damn place a month before launch and it sold like mad. They also push specials every month, with free weekends every couple months. They even have an update content schedule that is remarkably fast. I can't really comment about the quality of the game, but the marketing and PR management is fucking brilliant. ArenaNET needs to be aggressive with GW2 marketing and PR or they will fail, no matter how good their game is.
I do have a slight correction though. FFXIV did have a decent showing at retail during its first week of sales (~160K units worldwide) that plummeted RAPIDLY after the first month, and stayed down for a long time. What's surprising is that looking over the sales figure of the game, *if* VGchartz can be believed, the current worldwide total sales are over 500K now, with the strongest showing in NA after launch is having been since the introduction of the instanced raids. If they retain even 20% of that, they'll be on par with XI's current playerbase. From personal perspective, since the announcement of 2.0 I have seen ALOT of players coming back to the game. Time will tell if or when the honeymoon will end, because 13 months is an eternity in this industry.
On another note, a couple of really interesting topics have come up in the official forums that I thought would make a good topic of discussion here.
1) The general consensus is that it's too early to start subs in the game's improving, but still incomplete, state. Some people are suggesting a discounted rate till 2.0. Since Yoshida states the game is halfway where they want it to be, many feel that paying a reduced rate of $6-7 month would be a great way to retain subscribers and improve relations with their disenfranchised players. The other side of the coin is that others are stating going from a reduced rate to a full rate when 2.0 hits is going to create backlash and can delay the completion of their project even further. They believe that the potential increase in subs from a decreased rate wouldn't offset the loss of funds from a full-pay model. Then there are those who think people are cheap and will cry and moan since they've had it free for so long. Thoughts?
2) The general English player base can't stand the effeminate look of the male Mi'qote in the concept art. The popular poll has more masculine felines with manes akin to Rei from Breath of Fire: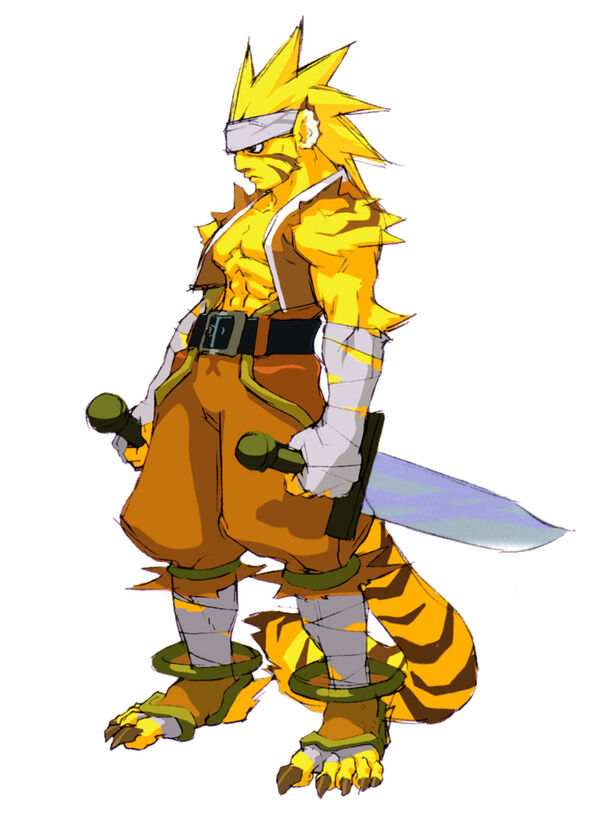 or the Thundercats (sans spandex). We know how popular the bishy dudes are for the Japanese, but what are your thoughts?