Lack of blood in video games makes Angelus very angry...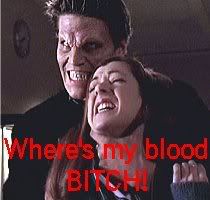 Disappointing, yes. Surprising, not in the slightest. It is sad, though, that Namco felt the need to go to this extreme just to cover their asses. I still find it highly ironic that the ESRB label warns about violence. Don't blood and violence go hand-in-hand?
Ah well, I've already fully preordered it and I've waited this long. I'll just play this with a sense of something missing...as has been the case with a lot of games lately.