@Natros
I'm afraid I will have to, POLITELY, decline Enchant Arms with a "NAAAAAAW...s'ok".
Part VI: Save the Queen!
Quote
Brief Synopsis: After finding the Black Mage Village (where Vivi learns his people are tragically short-lived), we head through Conde Petie after a and short-lived Honeymoon. We find a little purple-headed brat named Eiko and she takes us to the Village of Summoners, Madain Sari, where Garnet remembers her childhood as a summoner!! For reasons (I might have scrolled too fast), we go investigate the Iifa Tree and stop the source of all the Mist in the world that creates black mages and monsters and fuels all the wars. We hit up Madain Sari again, have a romantic night, fight with Amarant, have Amarant join us, then head back to the Lifa Tree to see if Kuja is there. He is and so is Brahne, we try to stop both, but Kuja commands Bahamut to kill the Queen instead.
RIP Brahne and long live Queen Garnet!
= I fuck you not; I SPENT AN
HOUR AND A HALF
trying to steal from Hilgigars on the Conde Petie Mountain Path and STILL got only 2/3 of his wares (Meanwhile: I cooked, ate, and watched an episode of something while clicking "
X
" every so often).
This is some broken ass bullshit and a huge negative on an already lame battle system. When I gave up I was able to kill the fuck within 5 minutes. The game really should have thought this through better with a way better system for this. I realize it's more of a 'bonus' if you can steal the goods, but c'mon... After THAT long the game should throw you a bone at some point for wasting precious life.
#fuckyouyoufuckingfuck
= This part is also pretty shitty for handing you two white mages and a black mage party (and Zidane). My party consisted of 3 people doing hardcore ethers. I DO like that the Lifa Tree is basically an 'undead' focused dungeon... I somehow believe that was a conscious decision given the party.
= Are Zidane's (non-trance) skills like
ever
worth using?
=
Eiko!
Welcome to the team. I feel Eiko represents a different decade of how "young girls" were depicted in JRPGs. She's less obnoxious...and whiney... Well, I mean she is those things, but umm, I guess what I mean I sense no "loli-ness" in her. She's cute and silly, but she's not trying too hard either. It's dumb, but her puppy love for Zidane reminds me of myself at her age (
*facepalm*
).
= Zidane is the cool "big brother" to Vivi. Sometimes he encourages him when things are rough, and sometimes he just asks if Vivi's holding up okay.... But sometimes, you just gotta "
let go of your problems
" by pissing over the side of a cliff! (...poor Eiko)
= The whole Madain Sari sequence becomes a great way to introduce a quick arc for Eiko (who suffers from a bit of
loneliness
), but more importantly, it helps to bring things full-circle for Garnet. Her woes aren't over but a lot of her backstory gets beautifully wrapped-up. She discovers she's from Madain Sari after a finding a secret cave that felt 'familiar', she then remembers being a wee lass leaving the village with her mum just as it's destroyed. Brutal, but cool.
I like that Zidane remarks that now Garnet has lost
two
moms; Queen Brahne is "lost to greed" and her biological mum died at sea. What I like more is that Zidane's comment is quickly followed up with Eiko's optimism; Garnet may have lost her parents, but she's found a new sister in Eiko!
Aww
= The added touch that 'summoner species' of Gaia having
actual
horns protruding from their forehead was absolutely perfect given Summoners in past FF titles 'mimic' this appearance with special headbands.

I also like the added complexity of Garnet as a summoner. She feels like a part of her is 'missing' when the Eidolons were extracted from her, but at the same time she can't '
hear them
' like Eiko can (since Garnet had her horn forcibly removed and that shit seems to work like an antenna of sorts). It would have been great if a very faint scar could be seen on her forehead because of it...but oh well. One thing I definitely
don't
like is they missed giving Garnet's mum a horn in the opening, whether because it was an oversight or a spoiler, but it
WAS in her concept art
.
= Alright...so...anyone else call it "Lifa Tree" instead of the "Iifa Tree"?? The sans-serif font makes it a lot harder to read the "
I
". Ah well, I'm just gonna use them interchangeably.
#fuckingupfinalfantasynames
= So Lani's out of the story as fast as she was in. I do like Amarant though. Welcome
Amarant
!! He's cool and a deep thinker, and I like that, but I love how he over-thinks why Zidane decided to spare him after their duel (can't make him *completely* serious, this is FF9!). I also like his refusal to do a "victory pose", it helps make him feel like he's still an outsider to the merry celebrations of our group.
= Not a big deal, but it confused me a lot as a kid that Amarant and Eiko's last name's are the exact same besides the vowels being flipped (Coral and Carol respectively).
...I thought they were related.
#fuckingupfinalfantasynames
= I don't have much reaction on the Iifa Tree. It's really cool on the outside and ghastly on the inside; I'm pretty sure the design team was told to design a "Tree of Mana as if it was from an alien planet instead". And I like that, if you're a conscious player, you'll note that the giant branches from the tree actually extend throughout the entire world map (See exhibits:
A
,
B
, and
C
.
Also, I never noticed this before, but the tree mechanisms/lifts ONLY activate when Zidane uses them...
HMMMMMMmmm
.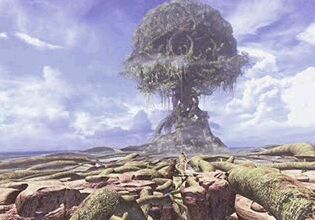 = *
snicker
*. I'm 90% certain this was inspired by some hentai.
= If you say there's a better Final Fantasy couple than Zidane and Garnet, you'd ---...well, you can probably make a good argument, but these two are pretty damn good!!!
It's actually a pretty basic affair though... It's basically Aladdin where a humble thief falls for the beautiful princess, and Zidane's motivation to follow Garnet aren't particular note-worthy, and his relentless pursuit of her only seems to put her off.
But the chemistry is indisputable, and try as she might to resist (and she does, quite easily and quite often), he seems to know what to say when she needs to hear it. His street smarts and street savvy compliment her goals perfectly.
The boat scene in Madain Sari is short (take a cue from that TidusxYuna!!), but it says everything you need to know; romance doesn't always need to be a grand gesture or proclamation -- sometimes it's just saying the right thing.
Quote
Zidane
: "I'm surprised you found this place. You got the talent to be a bandit!
How 'bout you and me team up? We'll call ourselves '
The Betrothed
.'"
Dagger
: "My talent's up to snuff, but that name isn't."
Zidane
: "Hehehe. You're really something these days."
Dagger
: "If I am, I must've gotten it from you."
[...]
Dagger
: "Why did you come with me?"
Zidane
: "Hey, that's Ipsen's line."
Dagger
: "Ipsen? Who's that?"
Zidane
: "Ipsen is a character from a play, but he's a real-life adventurer.
I think the play is based on his adventures. It kind of goes like
this... Ipsen and his good friend Colin worked at a tavern in Treno.
One day Ipsen got a letter. The letter was so wet from rain that
most of the writing was illegible. The only part he could read said
'Come back home.' Nowadays, we have airships and stuff, but back
then, it was really hard to travel. He didn't know why he had to go
back, but he got some time off, gathered his things, and set out on
his journey home. He walked a thousand leagues through the Mist.
Sometimes he was attacked by vicious monsters, but he made it,
because his friend Colin was by his side. And then, after much time
on the road... He had to ask Colin something. 'Why did you come with
me?'"
Dagger
: "And? What was Colin's answer?"
...
*panties drop*
It's easy to swoon over fantasy romances, I think Tidus and Yuna have a much more 'magical' love story where love-at-first-sight bonds them, a connection makes them inseparable, and then they share some smooches at
Make
Out
Lake
Under
the
Magical
Moonlight
. But the exchanges between Garnet and Zidane feel natural and never really contrived.
= Kuja still isn't a very interesting villain, but I do like how things ended with Queen Brahne. After getting Bahamut'd in the face, the Queen and her soldiers lay to waste on the beach as she shares her final words with Garnet. It's sweet that Brahne sort of 'comes back to her senses' in her final moments, noting the last time she felt this '
free
' was when she was with Garnet and her late husband going to see a play. ( ;_; )
I think Vivi getting a small opportunity to narrate was effective and surprisingly appropriate. He has a lot of issues to work because of Brahne and states that he *
hates
* Queen Brahne and was even
*happy* she was about to die
... But instead, Vivi sees a daughter crying for her mother, and how the Princess was unable to save the Queen despite how hard she tried and even after all the problems she's caused, and it makes Vivi want to cry as well.
Vivi is definitely a character all too familiar with the subject of death.
PS =
Random funny I found
(He also looks like my dad and that would be an accurate assessment)