Who remembers that old animated sitcom The Critic? I liken Aeolus to Jay Sherman.

Dammit guys. I just got this avatar (+ associated texts) and now you're making me want to get a Jay Sherman one. At least wait until Smash Bros For WiiU comes out.
Do it. It'd be awesome. x)
JENOVA
Before I do more story stuff, I thought I'd give a recap of the videos you can watch at
Icicle Inn
. Effectively, this ties up just about every loose end about the game (that doesn't come from more main plot stuff that I haven't gotten to yet).
...I think. I dunno we'll see.
I did already forget how Black Materia came to be...damn
The Cetra could hear/talk to the planet and could heard it was "wounded" way North where the Forgotten Capital and North Crater was.
The wound was caused by something crashing into the planet and the Cetra tried to help it, not by themselves but with the planets energy[?] --- so they cultivated the Planet to save its resources so it could heal itself (this part was kinda vaguely written)
The North is apparently cold and dead because the Planet is using that energy to heal itself there
Then, out of the wound, something appeared and "it looked like our dead mothers and dead brothers. Showing us spectres of the past". That "it" was Jenova.
Jenova was initially friendly but deceived them and then gave them a virus that turned the Cetra into monsters

(uhoh, what have we been fighting!??!?!?!)

. Jenova moved out to destroy other clans, killing most of the Cetra off, while the last bunch came together to seal it

(classic ancient civilization approach -- can't kill the fucker? Seal it up!)

.
The Planet was about to summon Weapons on Jenova's ass, but since the Cetra managed, they didn't need to 'wake up' anymore (but they're always semi-conscious, keeping tabs and waiting for her next move). Of course, this is mentioned now because it's an excellent foreshadow for what's to come. Y'know, in that "oh they didn't wake up then? Well they sure as hell will now!"

(so, does killing them mean we got rid of the best line of planetary self-defence?)

[/size].
Reading this makes me sad that the Ifalna dialogue is optional and does little else but contextualize things (I'd have
LOVED
a flashback episode to see a Humanoid/Cetra Jenova in the flesh and the Forgotten Capital as a functioning and non-abandoned place)... But it's great material nonetheless and it kinda makes me wish that Jenova had a bigger roll in the story, besides being the occasional foil to the party. I also like how the Planet is treated so much like living person where Jenova is this sliver that's always hurting the surface and can't get better till the affliction is gone. Otherwise the Weapons may as well be the White Blood cells off to kill the problem by extreme force. Lastly, I think it's great they brought back and expanded the idea of "Weapons" after FF6 introduced the idea.
I'd also be lying if said that I didn't picture Marvel's own living planetoid 'Ego' when writing about this:
I think this largely explains Jenova's humanoid appearance --- and perhaps explains the mistake on ShinRa's part for why they thought s/he was an Ancient in the first place. I also didn't notice this before...but uh is that a
giant heart
she's sort of
standing on
??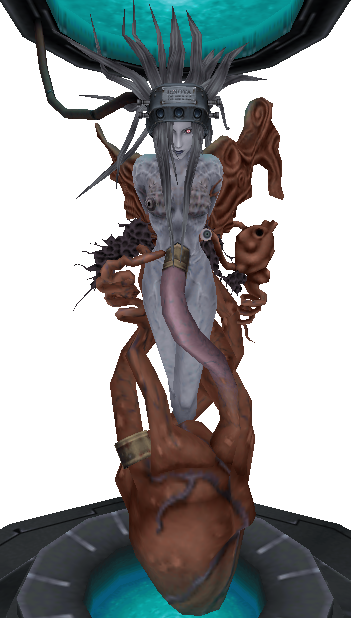 But I like what Dincrest pointed out that the game is about a series of misunderstandings that slowly need to be rectified, and the large consequences (personal or otherwise) that happen when the truth is corrupted or obscured (so I'll thank him for pointing that out since this idea/theme keeps coming up again and again and would have gone by my head).
It's actually kinda cool that the Advent Children film continues on this idea of a "Jenova Virus" with the use of "Geostigma". And while it's not turning people into monsters this time but making them sick up or whatever, I think it was a great idea for the film. Unfortunately, the movie still suffers from realistic looking people having over-the-top DBZ fights (where I think at one point everyone jumps in the air for about a minute of screen time) and that cared little for its source material otherwise. It also takes the idea of a "reunion" to an all too literal level by just making Sephiroth come back so fan boys and girls alike can squeal...
what a waste
. It's not like Yazoo, Looj, and Daz or whatever were much better either.
I think Zack in the film says it best why it was a waste of potential by telling Cloud: "You've already beat him once --- do it again".
Cloud: OKAY; OMNISLASh 2.0!!!