EDIT: I agree with the Tales of Destiny opening. Loved the Back to the Future (a lot of iconic movies sound kinda 'funny' dubbed though... Homer Simpson is also amusing in other languages).
Tales of Vesperia
got Troy Baker (before he was famous?) over his Japanese VA. Overall I found the english cast a better fit over the Japanese one for that game though.
ENG:
http://youtu.be/bE3HB6yE8Ac
JPN:
http://youtu.be/6g3gl8k_8U0
Not to keep tooting the Tales series' horn, but DeJap's translation of
Tales of Phantasia
was great. it took liberties with the source material (but kept the main plot in tact), but made a really boring and straightforward title a lot more fun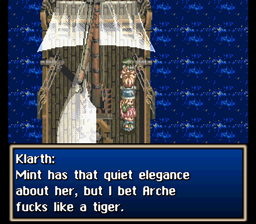 Final Fantasy VI
got some pretty good name changes. You lose the effect of "Celes-tina" (a real name) but...I dunno, for a heroine I think "Terra" was a waaaaay better name than "Tina". Same with Mash > Sabin.
wtf is Mash?
I don't even care about the censorship angle, I think the altered costumes in
Bravely Default
were a lot less
tacky
.
Old favourite anime of mine,
The Slayers
had an awesome dub. I actually prefer Lisa Oritz' Lina Inverse to.....HRRRGH the very popular Megumi Hayashibara
JPN:
http://youtu.be/M2zls8EEPds
ENG:
http://youtu.be/ecbTsBMeBy8
I didn't put it here; just her popular spell for comparison, but the English VA *kills* comedy as well.
Also, no contest,
Professor Layton
was MEANT to be heard in English, the Japanese one just...ain't right.