Magic Master from FFVI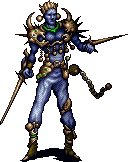 He casts Ultima after he dies... It took my 11 year old brain half a dozen tries to figure out that A) he does that EVERY TIME HE DIES and B) reraise is a thing. SCREAM!!!!
This counts triple because I am in love with the Tower of Fanatics
Heh, I played 3/6 originally around...I wanna say third-ish grade and I remember being boggled by this problem as well. Funny thing is I never figured out the Reraise; I did something else rather...funny in hindsight.
Palidor Esper.
Get Magic Master down low enough then send the whole party skyborne. If you're lucky (or now that you're older, if you count out the damage) he'll die before the entire party descends. So the those who landed will die but those up in the air live through the attack.
I can't think of any specific battles off the top of my head, but generally this: Any programmed battle you can't win but given the impression you can.

Use all your items to stay alive > Die anyway > Game Continues > Lose your shit (figuratively and literally)
Only two that come to mind right now are that Wolf boss from Tales of Vesperia and the Organization XIII member you fight at the second visit to Beast's Castle in KH2.
Star Ocean 2 is rife with these once you defeat purple dude in Eluria. Pretty much at the cusp of Disk 2 and in Disk 2 it's not an exaggeration to say 40%+ of the bosses are literally 'You cannot kill this now'.
The disgusting thing is that on top of this, they're not all 'Just die'. Some of them are 'run around and don't die but don't fight either'. But they DON'T TELL YOU WHICH IS WHICH. So you have to run around like an idiot for at least three minutes during an immortal-fight just to make sure you don't get Game Overed.
On top of this the absolute worst offender is Zaphkiel. The programmers forgot to give him true immortal status. So if you've far above power curve (very possible due to Train/Enlightenment/Customization usage) you can drill him into a corner, stun lock him forever, and actually get damage through...to a point. If you inflict too much damage the game literally gets pissed off at you and flips the switch; giving him daze immunity and letting him chain-cast uber damage combinations nonstop. It's one of the few times I've seen a boss go 'How dare you have the power to actually fight me before the plot says you can!!?"