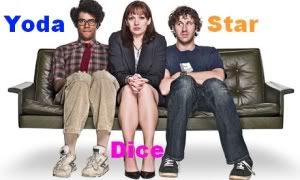 I can live with that...being the one loved by all :)
Yeah, I was gonna pick being Moss, but I thought that would be selfish and gave you the best character ^_^
Thats the exact reason I put my name last on group projects even when I do more of the work. :D
Whats it crowd and why arent I hip enough to know what it is?
IT crowd is a BBC show about two goofy i.t. guys. written by the guy that did black books and father ted (also incredbile shows).
At times thought it seems like they're trying too hard, but that's mostly b/c of a overbearing laff track.
Yoda approves