With my laptop working better than ever (which doesn't mean much, because it's always been an insult to PC gaming), it's time for an introduction:
Machina of the Planet Tree ~Planet Ruler~ - Report 1

(Yet) another RPG Maker RPG, but this one is a bit different from the last two as it's a doujin game from Japan translated by Sekai Project. Publishers don't pick up just any doujin game for localisation, and it shows. Machina has a ton of custom stuff: character portraits, backgrounds, music, battle system, sprites - there's even a bit of voice acting in there.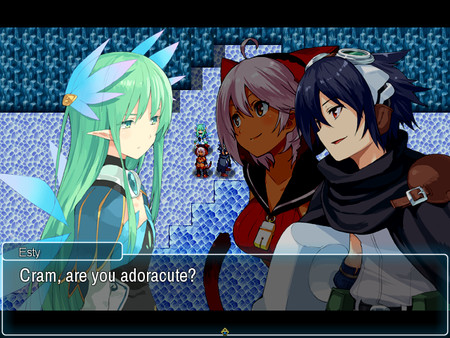 The character designs are super anime and I have this feeling I've seen variations of them before, but the sprites are pretty neat and compliment the battle system nicely. You see, Machina works with a combos-system, sort of like a much faster version of Xenogears' or Legend of Legaia's. By chaining a variety of attacks you do more damage and that combo bonus builds up quickly. However, if you keep repeating the same attacks, your damage multiplier goes down. This makes for fast, fun battles and by the time I reached the first boss, I was a bit overleveled just because I enjoyed fighting.
As for the story, it appears to be a pretty basic 'advanced civilization was destroyed and the cause becomes a threat once again (free mysterious girl included)' type of story, but we'll see where it goes.