ARGH!!! JUST WHEN I THOUGHT IT WAS OVER!!!!..... I've been muddling through what I thought to be the last few hours of Star Ocean First Departure, just to finish it since I've already invested the time I have and what do I come to discover....????
Code:
After beating Asmodeus, and watching some terrible dialogue I am now thrust into yet another "save the friend" scenario with my still uninspiring band of under-developed-losers on another visually putrid planet.....
What I hate the most is, ESPECIALLY for it's time, the original SNES version did waaay more.
http://www.youtube.com/watch?v=V-mbAg68xjU&feature=player_detailpage#t=79s
Look at Mt. Metox. On PSP it's BROWN. It's a mountain of mud. But here, it's flourishing. There was no generic, makeshift, world map implemented between areas either. The video before shows it, it's way prettier to walk between areas, fauna and flora are everywhere, and so do old columns and streams. It's a much better experience. And at least back then there was a more understandable lack of character development, it didn't really happen often then. But now? There's no excuse. I'd love to play a remake that tries to build on it's story or characters if possible.
I think one thing that started the downward decent was the CLEAR copy and redraw of Rena (SO2) > Millie (SO1)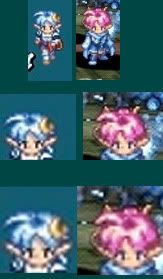 Wow your not kidding on the Millie thing.... what a rip.... I can't believe I poured this much time into this incarnation when now, upon looking into it, the SNES version looks to really have been leagues better.... Well that'll learn me... Then again I am still playing Wild Arms Altar Code F, so maybe I haven't learned my lesson yet-LoL... But in ACF's defense I am truly enjoying it, and I have already experienced the original so I guess its not quite the same scenario...