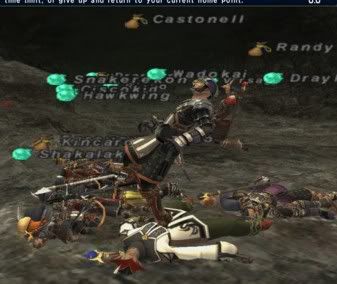 I've said it before, and I'll say it again - Beacon is a joke. They need a catchy slogan, like "Do you LOVE wiping? Do you HATE experience points? Wish you could level down to 1? Join Beacon! We have an extensive "wipe resume," including (but not limited to) Dynamis - Bastok, Dynamis - San d'Oria, Bubbly Bernie, and now introducing - Einherjar! Just look at our screenshots - our credentials speak for themselves! We'll get you killed more times than you can count, brag about how high on pot we are while playing, and if you're lucky, you might walk away with an utterly useless piece of AF2 after a few months of dedicated service!"
I'm sure some Beacon member will read this and come tell me what an asshole I am... killing time while waiting on a raise, no doubt.
That aside, let's see...
- Obtained "King's Justice" Mythic WS for my WAR.
- Re-obtained "Wings of Integrity" Campaign Medal.