She*! Rapifafa is one of RPGFan's resident adults-stuck-in-loli-bodies!
I actually tried to do some fancy pose using the Ranger emote, but I guess I probably should've taken a screenshot of Rapifafa using a bow at least once, because she apparently didn't draw a bow a single time in her whole Ranger career. Whoops. =P
The Windurst story is actually nearing it's conclusion now-wondering if any readers are interested to see me keep going after that? I'm having fun doing this so far, but there's no point if I'm boring everyone.
Windurst Part 12: The Five Ministers
Rapifafa spends a few days playing with the Star Onion Brigade. They seem to still be concerned about Joker, asking Rapifafa to go on numerous pointless tasks so they can find some way of helping him escape Windurst.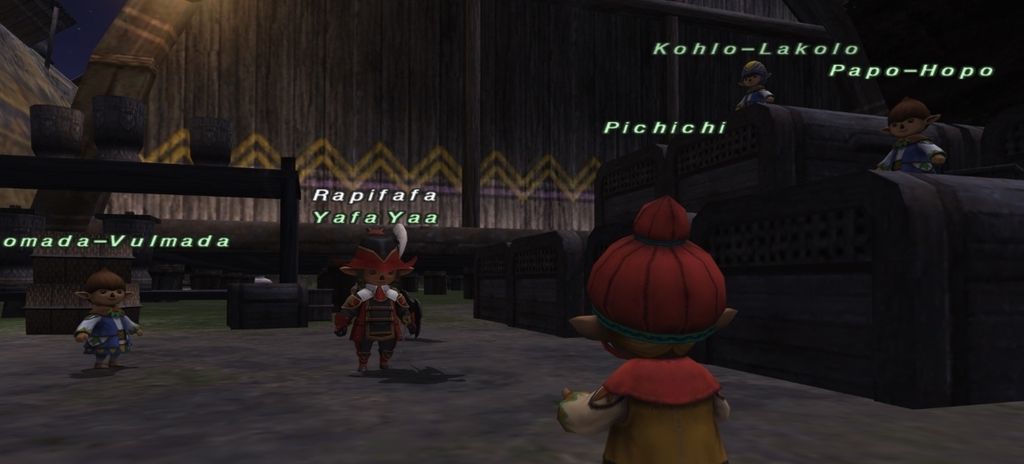 Upon her return from one of these tasks, Rapifafa is confronted with an unpleasant sight.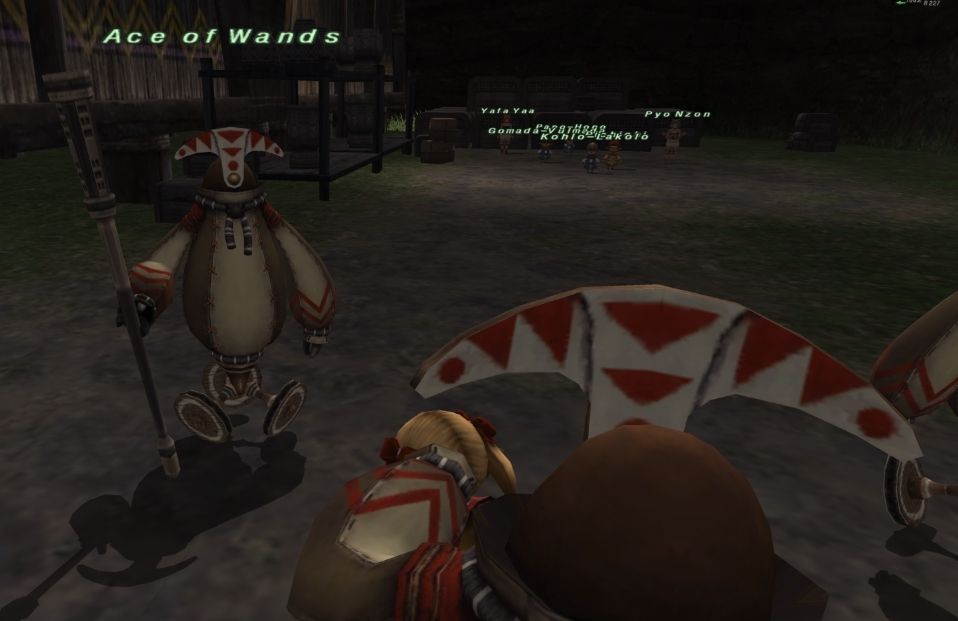 The Ace Cardians have come to demand for the "life of their king", by which Rapifafa can only assume they mean Joker's Mana Orb. Thankfully, Joker soon arrives to call off the Ace Cardians, saying that the children are to thank for his return to life. The Ace Cardians seem satisfied with Joker in their possession, so they leave.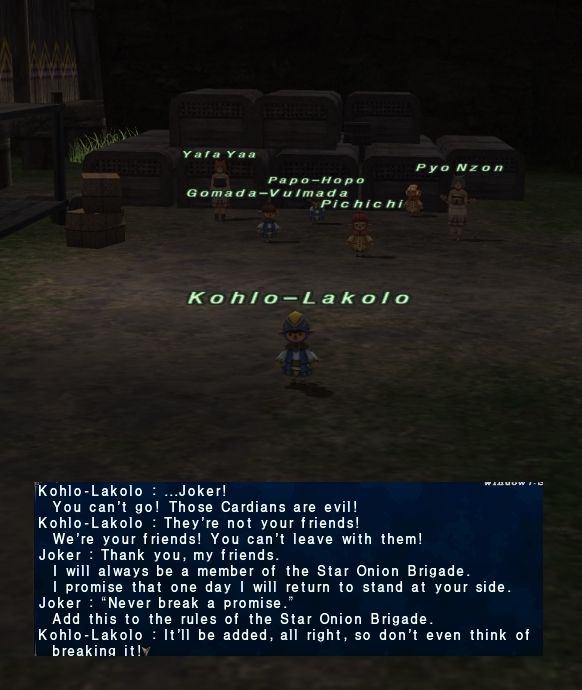 Rapifafa has no time to waste on Joker, however, because she receives a task from the Aurastery to search for its Minister Sedal-Godjal, who had disappeared four years ago. While the previous Minister Koru-Moru did reassume his position as Principal to help the school, he lacks the leadership his successor had displayed during his short tenure.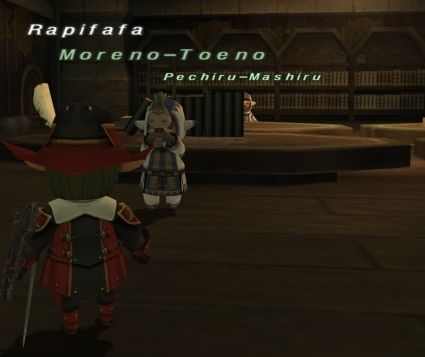 One of the instructors, Moreno-Toeno, gives Rapifafa a doll (Which looks suspiciously familiar- consistent world building, or lazy modelers? You decide!) capable of tracking the power of the moon and stars infused into the Minister's ring, and it tells Rapifafa to travel north.
Rapifafa travels far north to the Meriphataud Mountains, where the doll tells her to turn northeast, into the forest known as The Sanctuary of Zi'tah.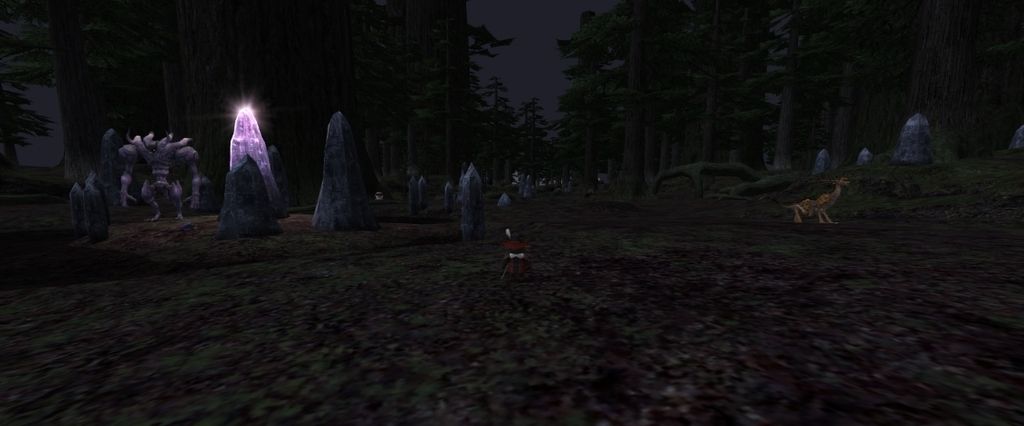 Music: The Sanctuary of Zi'tah
(A fan-favorite track from the game...a fan-favorite area, actually)
Past the forest, Rapifafa finds another structure she can only assume is of Zilart origin.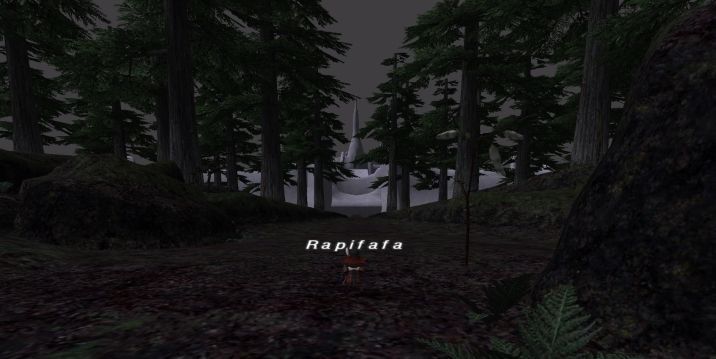 Rapifafa continues following the directions of the doll, arriving at a fountain.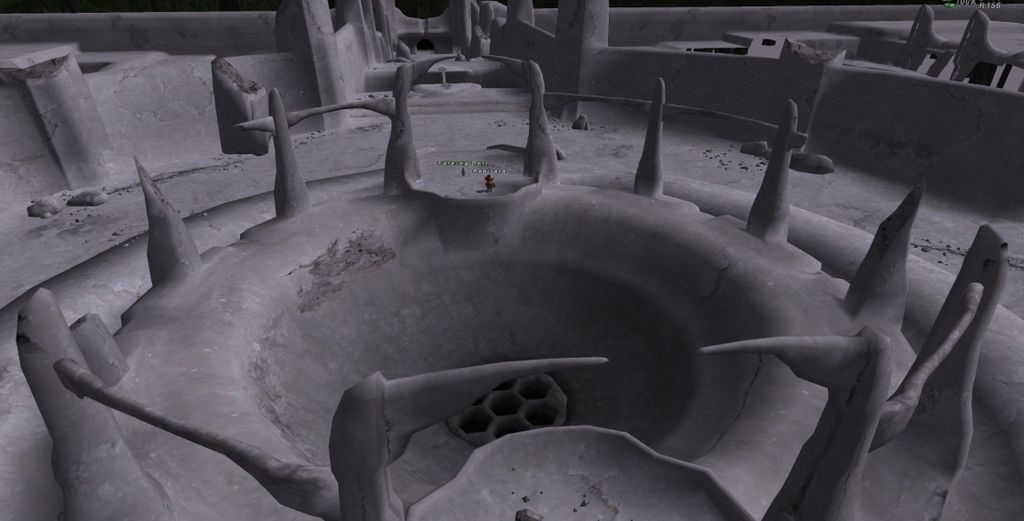 The doll announces that she has found the source of the power, but she finds nothing searching the ground around her. The doll announces the power is far too concentrated, and Rapifafa looks up to search for the source-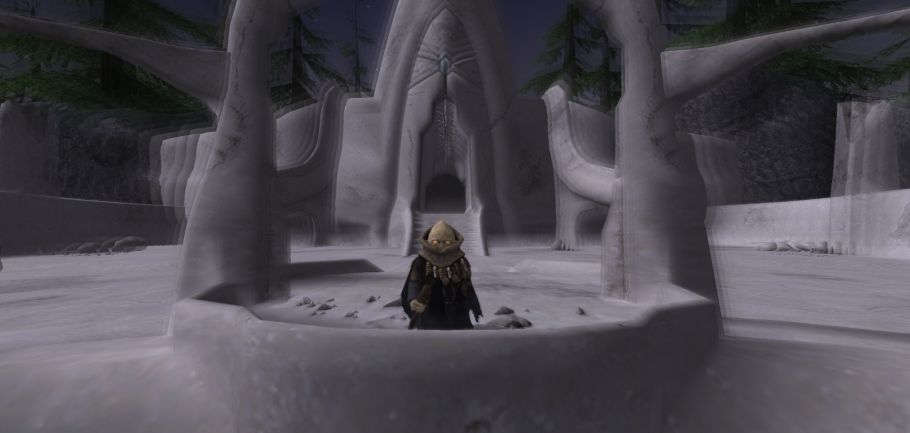 -the strange creature disappears as soon as she notices it, and the doll has no answers for her. It only tells her that now the energy is emanating from the southwest, and Rapifafa has little choice other than to follow its instructions.
The doll's directions guide Rapifafa off Mindartia past Jeuno, finally pointing her in the direction of Davoi.
Past the Monastic Caverns under Davoi, Rapifafa arrives at the inner sections of Davoi, where she finally finds Sedal-Godjal.

He insists that he's here on an important task with the San d'Orians, and he will be unable to complete the task anytime soon with his wand taken by the surrounding Orcs. Before sending Rapifafa on her way, he drains the magic from the doll.
Rapifafa's went through way too much trouble finding him, unfortunately "smack him upside the head and drag him back to Windurst" is not a choice in this case, so she decides to force Sedal-Godjal's hand by solving his silly Orc problem for him.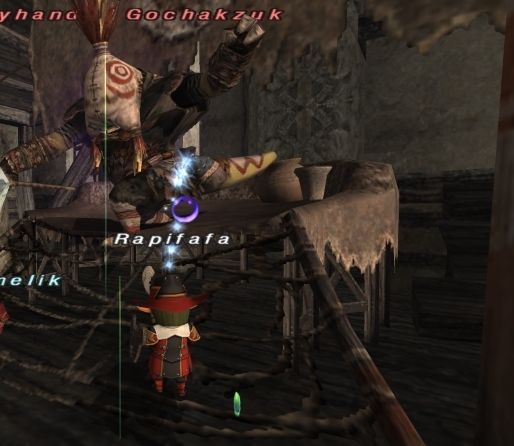 Sedal-Godjal's surprised Rapifafa is able to retrieve his wand, but he persists in his claim that he cannot leave Davoi, but at least this time he's willing to tell Rapifafa the real reason. Sedal-Godjal had taken up the fake name Mojiji and wrote multiple fake love letters to Koru-Moru, attempting to retrieve a large sum of money Koru-Moru had embezzled from the Aurastery, a little bit at a time. Eventually Sedal-Godjal couldn't look at Koru-Moru without feeling sick, and he left Windurst to find some solitude. He asks Rapifafa to help him explain this situation to Moreno-Toeno.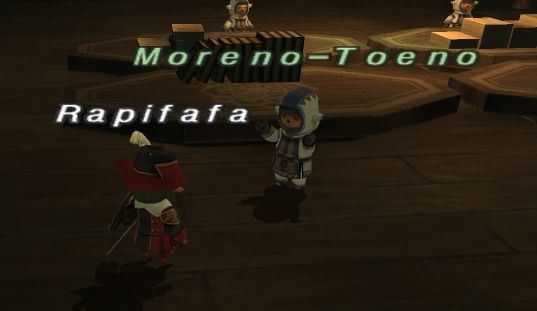 Moreno-Toeno isn't particularly happy about the news, but he is understanding, so he decides that the situation will have to be left alone for the moment. Before finishing her mission, Rapifafa mentions the false directions to the Ro'Maeve ruins the doll had first given her, but Moreno-Toeno is unable to give her a clear answer, only speculating that whatever caused the reaction must have been a stronger source of the same energy in the Minister's ring.
Rapifafa quickly receives her next mission- the Gate Guards inform her that Apururu asked for her to travel to the Manustery.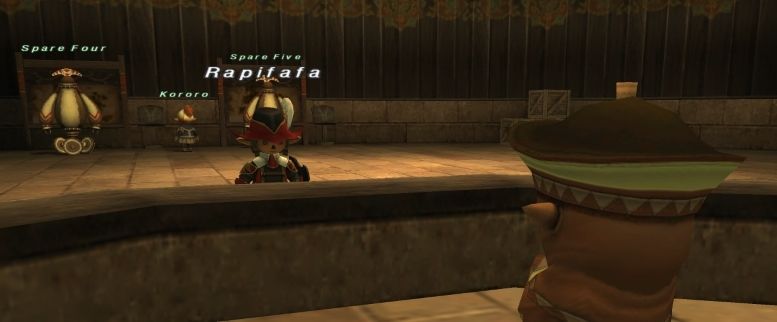 It's what she was waiting for- Apururu has asked for Rapifafa to request her help in breaking Ajido-Marujido out of prison.
Apururu tells Rapifafa that the Dark Dungeon is sealed using the power of the moon and stars, so the Minister Rings should also be able to open the door. Apururu had tried to open the door using her own Manustery ring, but she was unsuccessful.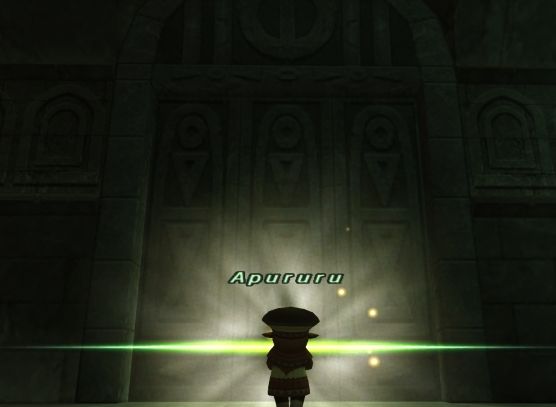 What's more, the Professor Shantotto followed her, since going around town asking about the Dark Dungeon isn't a terribly subtle way of signaling what your next course of action is.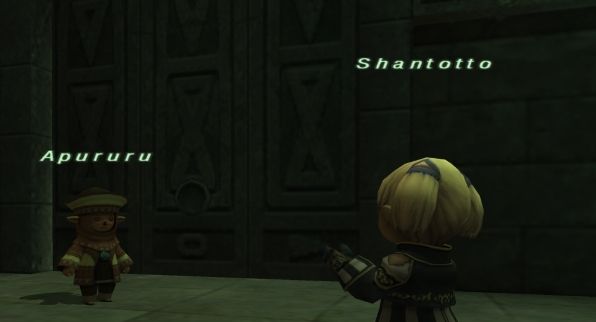 However, Shantotto wasn't interested in seeing her star student and successor to the Orastery having all his magic powers drained by the dungeon, so she decides to give Apururu the information she needs. The Horutoto Ruins lost much of its power during the war, and it's unlikely that a single ring would be able to open the door.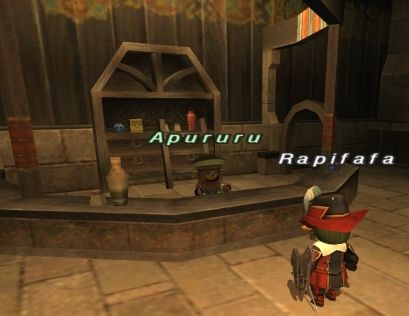 Apururu hands Rapifafa the Manustery ring, and asks her to gather the other rings.
Tosuka-Porika of the Optistery has little sympathy for Ajido-Marujido after all he did, but he knows that he is probably the only one who can read The Book of the Gods, and he gives Rapifafa the Optistery ring to help him satisfy his academic curiosity.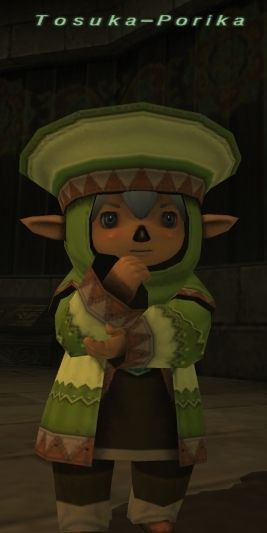 Next, Rapifafa travels back to Davoi to find Sedal-Godjal, who is all too happy to give Rapifafa his Aurastery ring once he is informed that it was what allowed Rapifafa track him down.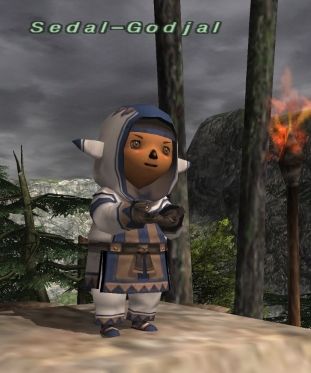 Finally, Rapifafa returns to the northlands, where she knew she would find Rukususu in Fei'Yin continuing her field work. Rukususu is more sympathetic to the siblings' plight, so she willingly hands over her Rhinostery ring.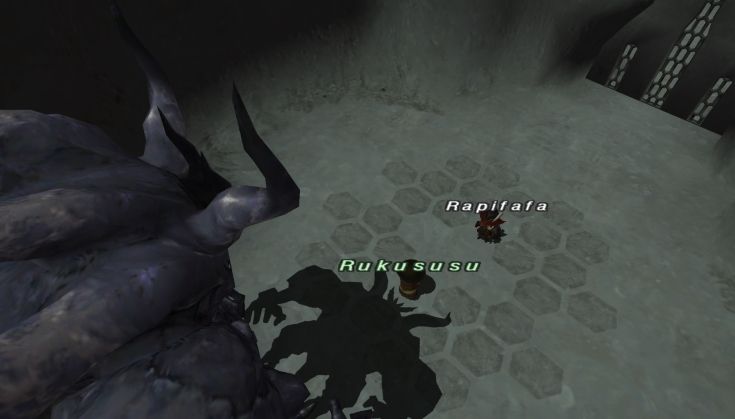 With four of the five minister rings in hand, Rapifafa returns to Apururu, who tells her that the final ring she needs was Ajido-Marujido's ring, which was confiscated by the Heaven's Tower when he was imprisoned. Rapifafa tries to see if she can call in a favor with the Tower's secretary, Kupipi.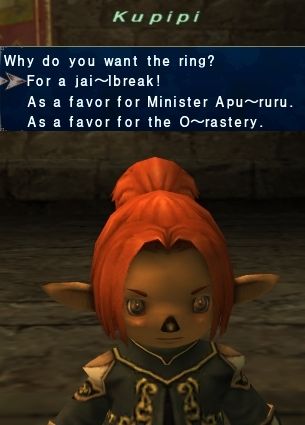 Kupipi tells Rapifafa that she can't give her the ring, but is still willing to help her considering all she's done for Windurst, so she tells her that SemihLafihna is carrying the ring, and she had gone off to the Horutoto Ruins to deal with the rogue Cardians.
Rapifafa follows in SemihLafihna's steps, and she is attacked by Cardians upon arriving- its likely SemihLafihna is in danger.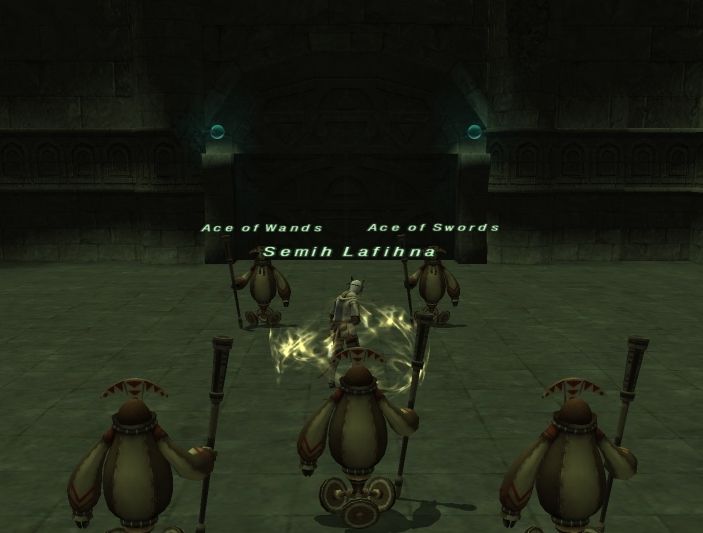 Deeper in the ruins, Rapifafa finds SemihLafihna, captured by the Ace Cardians. The Ace Cardians declare that they have found their king, and together they will build their future. With that, they prepare to attack Semih Lafihna and Rapifafa. Before they are able to, however, they are stopped by another Cardian voice.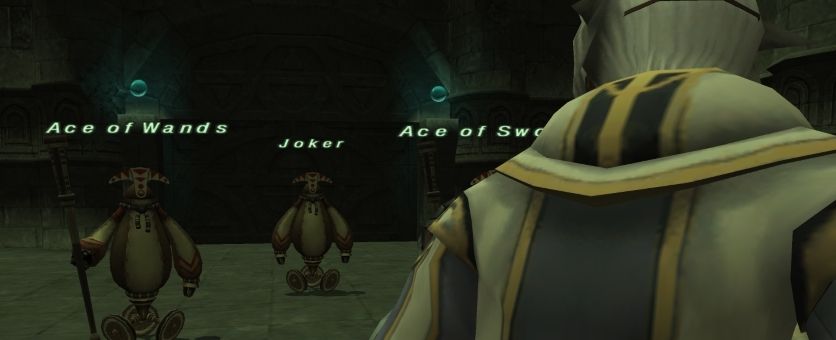 It appears Joker has accepted the position as the King of the Cardians. It seems he is still on Rapifafa's side though, and he demands that both Semih Lafihna and Rapifafa be let go, but only if Semih Lafihna hands Rapifafa the Orastery ring. He seems to have some ulterior motive, saying something about becoming whole again. He's also a complete cocktease and decides to remain cryptic and give a form of the "all will be revealed soon" speech.
Rapifafa returns to Windurst, where Shantotto uses the five rings to create a powerful magic glove.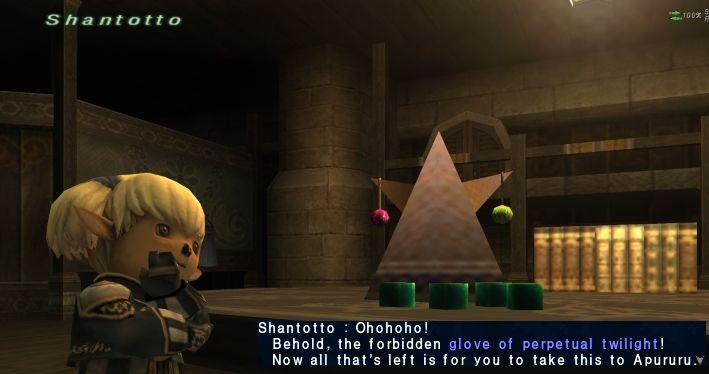 With the power glove on hand, Apururu and Rapifafa travel back to the Dark Dungeon to do some so bad things.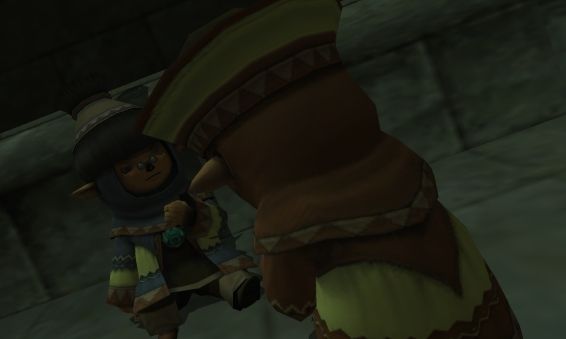 They successfully break into Ajido-Marujido's cell, who seems none the worse for wear, still able to detect the magical energy emanating from Rapifafa's bag- he demands to see the book immediately.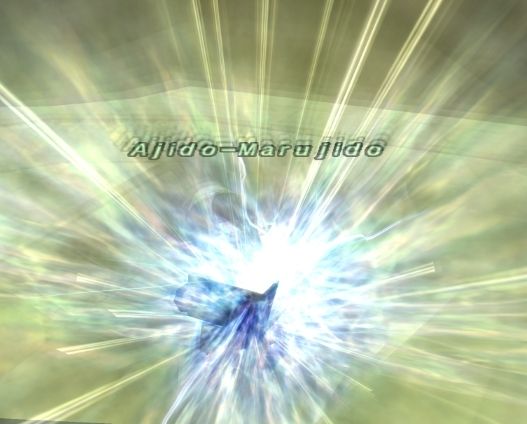 With Ajido-Marujido knocked out, Apururu carries him back to the Manustery while Rapifafa rechecks the area for anything left behind. Rapifafa later goes to the Manustery to check with Apururu on the situation.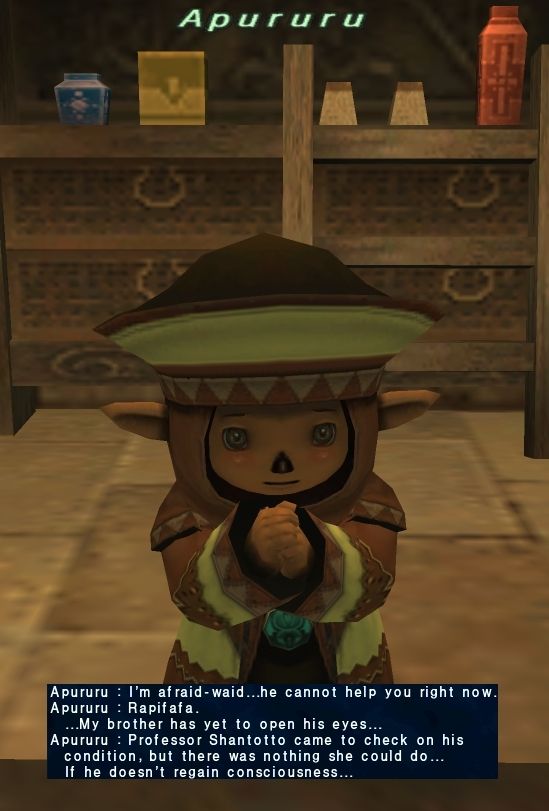 In retrospect, it probably wasn't a very good idea to let a guy who was having his magic power drained the last few weeks to then immediately attempt opening the most powerful magical artifact ever.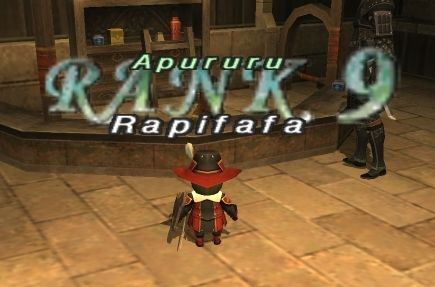 (Next weekend- the exciting conclusion! Well, the mildly entertaining at least conclusion, hopefully)