Look at all these responses, I'm sure people have been waiting for me to continue with bated breath.
So the FFXI story reached its conclusion about 2 weeks ago, but that's still a ways off for Rapifafa. If anybody reading hasn't played XI before, I'd say not to let your curiosity to get the better of you and going off to read wiki summaries, because I do think everything that happens in the final story means a lot more if you experience it in the order of release, which is basically how I'm going through it here.
Time for Rapifafa to enter the San d'Oria story, and the perfect way to bridge that from the Windurst story is with
A Thief's Story: Atarefaunet's Band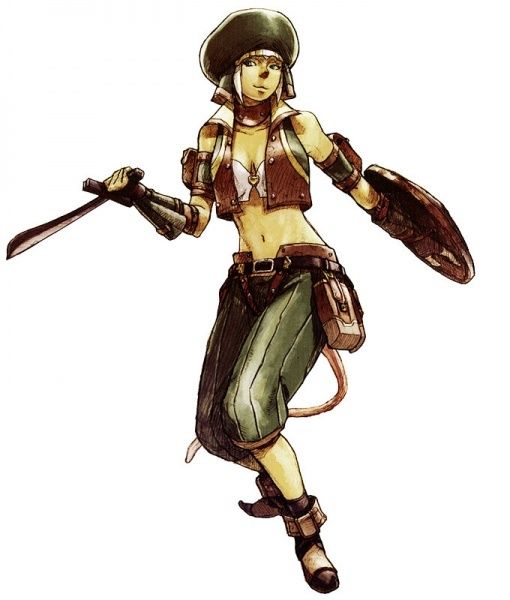 The obvious place for any budding thief to go is to Nanaa Mihgo, the famous Cat Burglar of Windurst.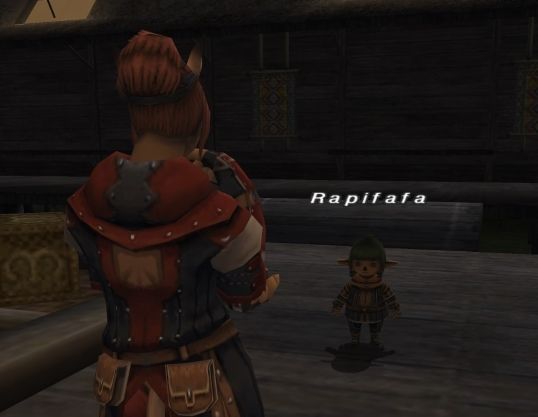 Rapifafa has spent some time practicing thieving skills, so Nanaa Mihgo decides to tell her about a call for able thieves. They are to travel to Jeuno to meet the Tenshodo.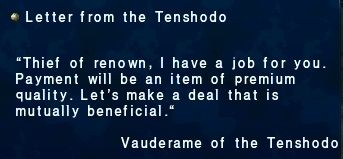 Rapifafa travels to Jeuno to find herself surrounded by a lot more Thieves than she expected, many of whom she had met on her adventures to other nations.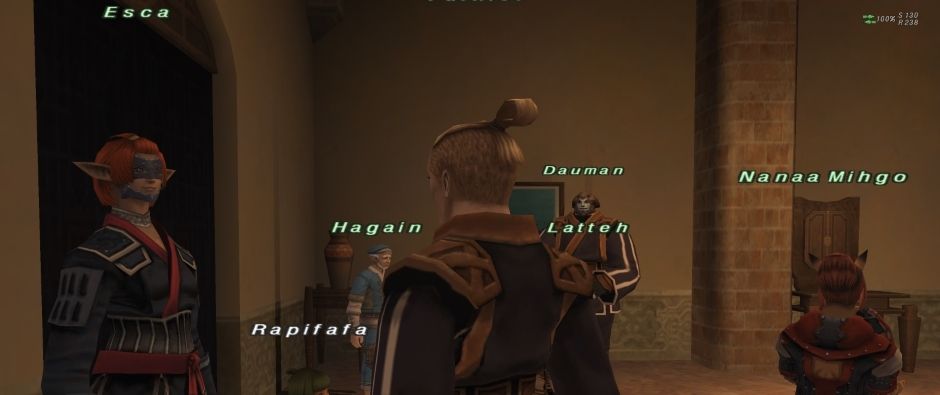 Soon after her arrival, their host Vauderame calls for their attention.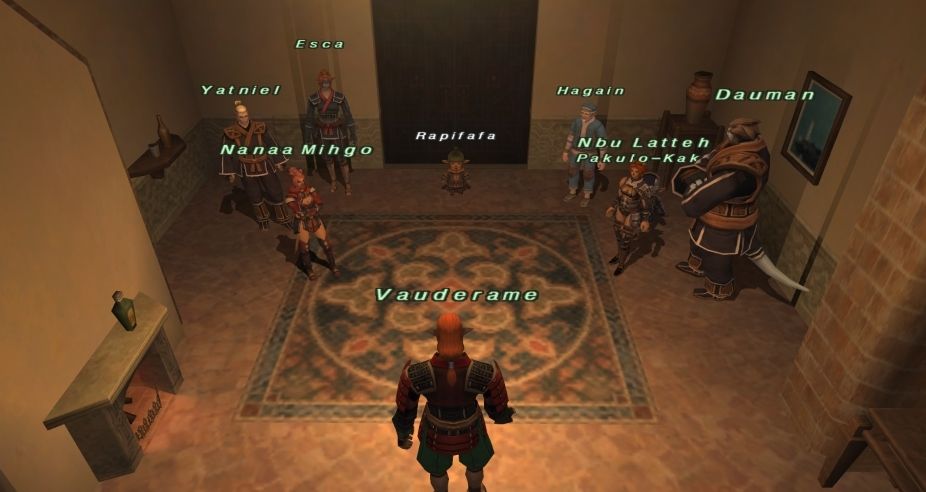 Long story short, the Tenshodo wants help assessing the motives of the leftover members from a group of thieves known as Atarefaunet's band. They had terrorized merchants for decades until 20 years ago, when Atarefaunet was killed by a traitor. Rapifafa is recognized as an adventurer, so she's given one of the most troublesome members of the group to deal with. She is handed an envelope and sent off to find the man known as Sneaking Tiger.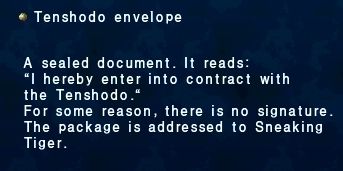 Rapifafa finds her target in the fishing village of Selbina.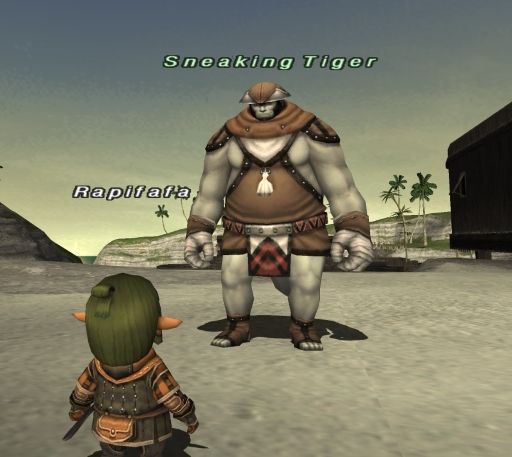 Sneaking Tiger is amused by the Tenshodo's offer, but he wishes to see how good Rapifafa is at the whole thieving thing, so he sends her on a task to steal a bowl of stew from one of the Quadav in Beadeaux.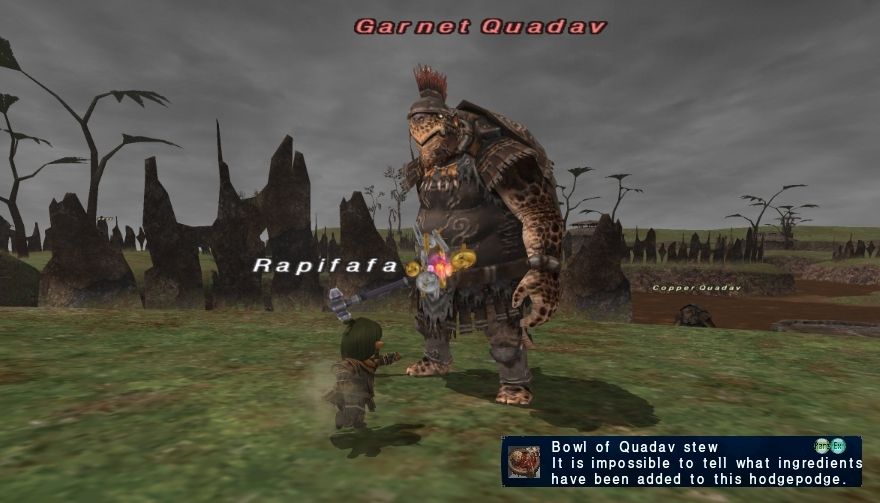 Sneaking Tiger is satisfied with this display of skill, so he signs the paper and shoos Rapifafa back off to Jeuno.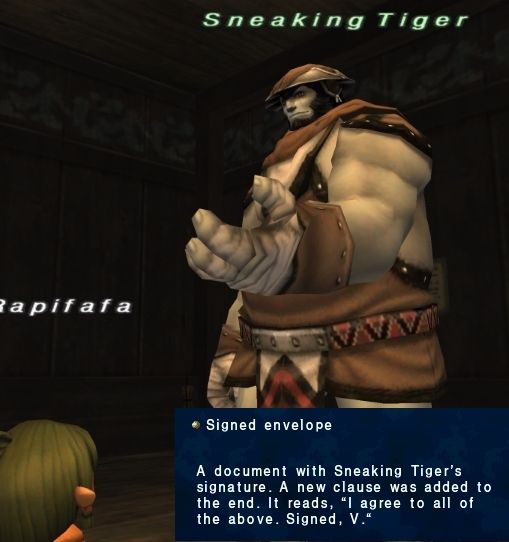 With the job finished, Rapifafa collects a handsome payment from the Tenshodo and goes home satisfied.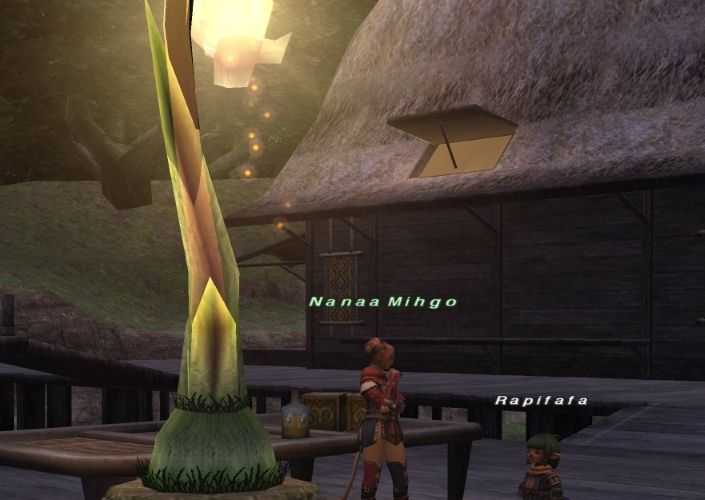 Nanaa Mihgo doesn't seem satisfied herself despite the disproportionately high reward. She had momentarily held Rapifafa's letter before she handed it to Vauderame, and she was able to tell through that alone that the signature Sneaking Tiger gave was a simple letter "V". She tells Rapifafa that something similar happened with the signature she collected, so she thinks she's onto the scent of a greater treasure. Nanaa Mihgo gives her followers and Rapifafa forged Tenshodo letters and the whereabouts of the members to Atarefaunet's band to collect the signatures once again.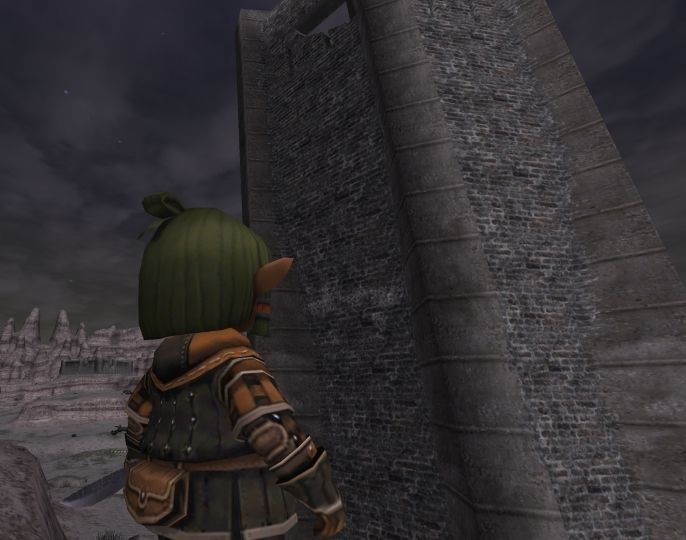 Rapifafa is first pointed towards the towers in Sauromague Champaign. Nanaa Mihgo's underlings advised her to take all her armor off before climbing the tower, so she leaves her belongings on the bottom and makes her way up.

She finds a Tarutaru woman named Linzaza on top of one of the towers, and after some exchange of subterfuge, Rapifafa is able to get Linzaza to sign the forged letter.
Rapifafa's only clue for the other member is a Goblin merchant in Jeuno, who leads her around on a task of playing dice with a bunch of Goblins to get the information she wants.
Turns out it was nice practice though, since the next member of Atarefaunet's band also has a strange personal obsession with dice.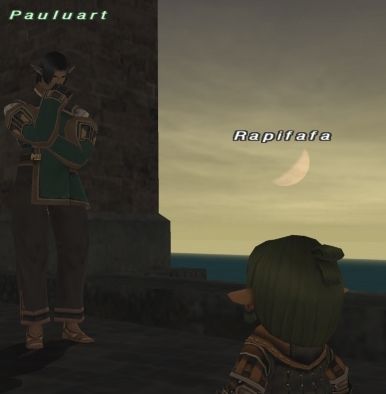 Rapifafa takes the two signatures back to Nanaa Mihgo, who adds them to the other ones gathered, giving her the letters V, Z, A, N, A, T, A, and I. Nanaa Mihgo gives Rapifafa a reward for her efforts and asks for some time to solve the riddle.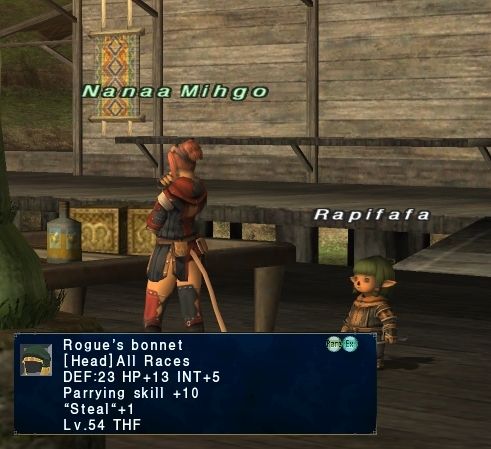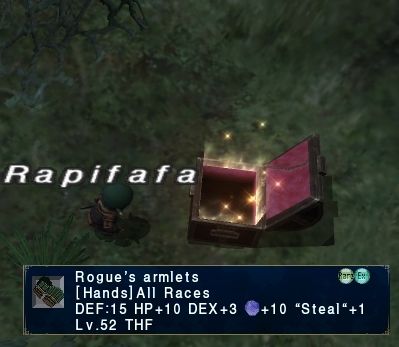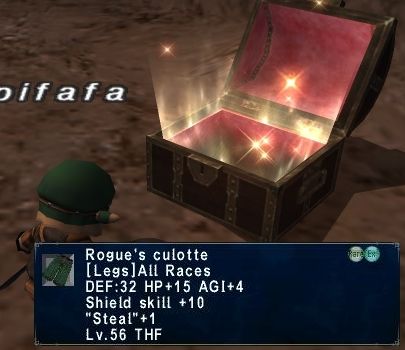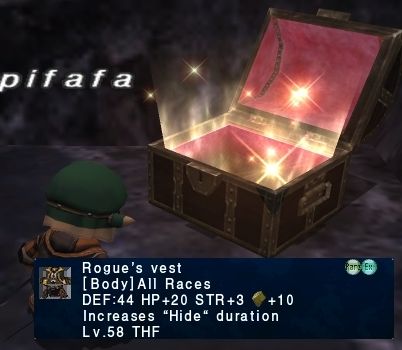 When Rapifafa returns, Nanaa Mihgo reveals she was able to crack to code: The letters were an anagram for "Tavnazia", the nation that was obliterated by the beastmen during the Great War.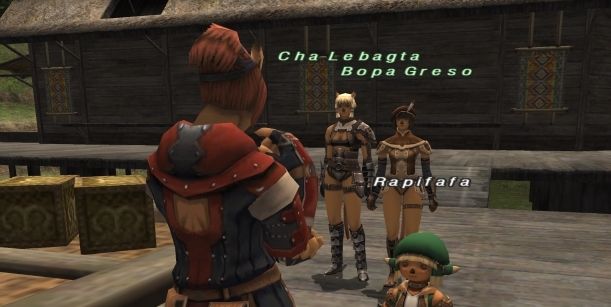 Nanaa Mihgo did some more digging, and found that before the nation was swarmed by the beastmen, some of the Tavnazian Knights carried away some kind of royal treasure, and the word is that Atarefaunet's band attacked and stole this treasure. Nanaa Mihgo suspects that Vauderame is looking to gain this treasure. She still needs more information before she can act, however, and she thinks the key lies in the signature of the sender on each letter, so she sends Rapifafa to find two of the thieves the Tenshodo invited. The letter Rapifafa delivered had a blank spot where that signature should've been.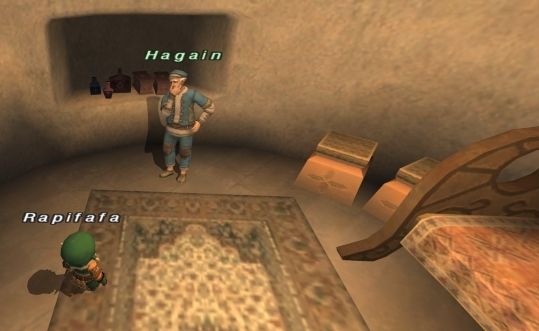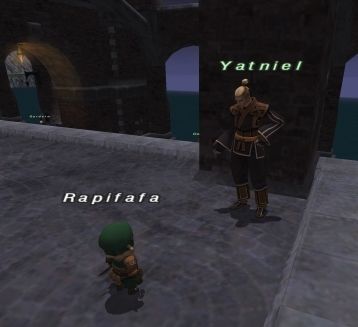 Rapifafa finds the thieves, but as expected neither of them are willing to give out information for free, so Rapifafa performs their silly thieving tasks and obtains the two letters "O" and "D" for her troubles.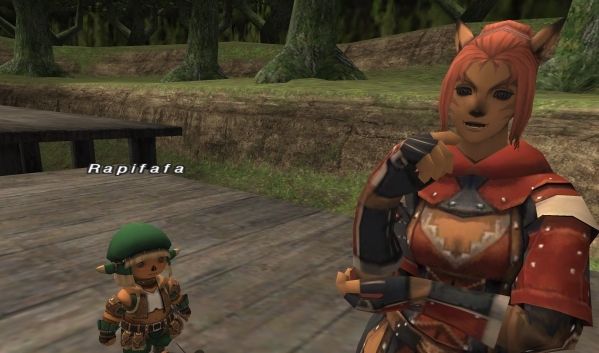 Nanaa Mihgo combines the letters together to get D, L, E, L, O, R, and E, and quickly deduces that this is an anagram for "Ordelle"-Vauderame used the thieves he hired to tell Atarefaunet's band to gather at Ordelle's Caves, so Nanaa Mihgo and Rapifafa race there to see if they can reach the treasure first.
Past the Ordelle's Caves was an unmapped region in the La Theine Plateau, where Nanaa Mihgo and Rapifafa unearth a suspicious-looking treasure chest. They were the first here, and now the treasure was all theirs!

Unfortunately there doesn't seem to be much inside, some dusty old armor and a golden scepter is all they find. Of course, with the sound behind them, it probably wouldn't matter what treasure they found.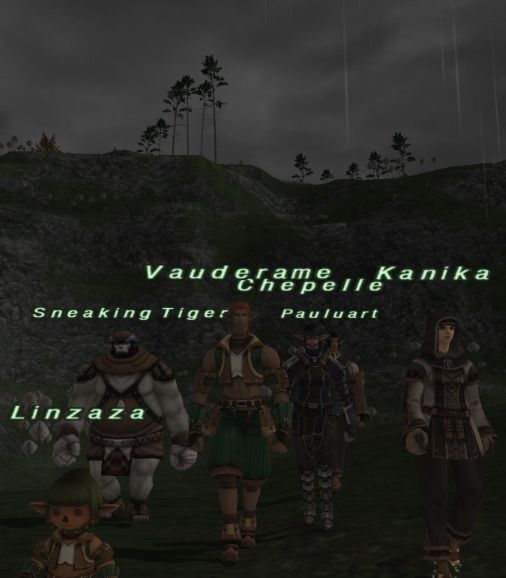 The situation isn't looking very good for Nanaa Mihgo and Rapifafa, as Atarefaunet's band isn't too keen on letting them go after they've unmasked more than half their members.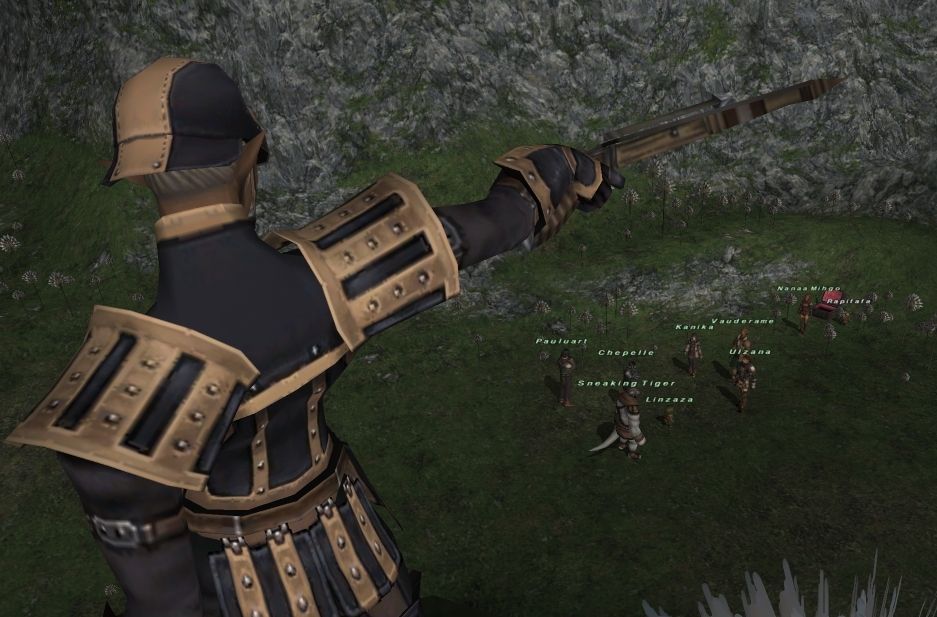 Rapifafa isn't given the chance to escape, as it seems Vauderame has planned for this sort of situation, and Rapifafa soon feels all the strength draining from her body.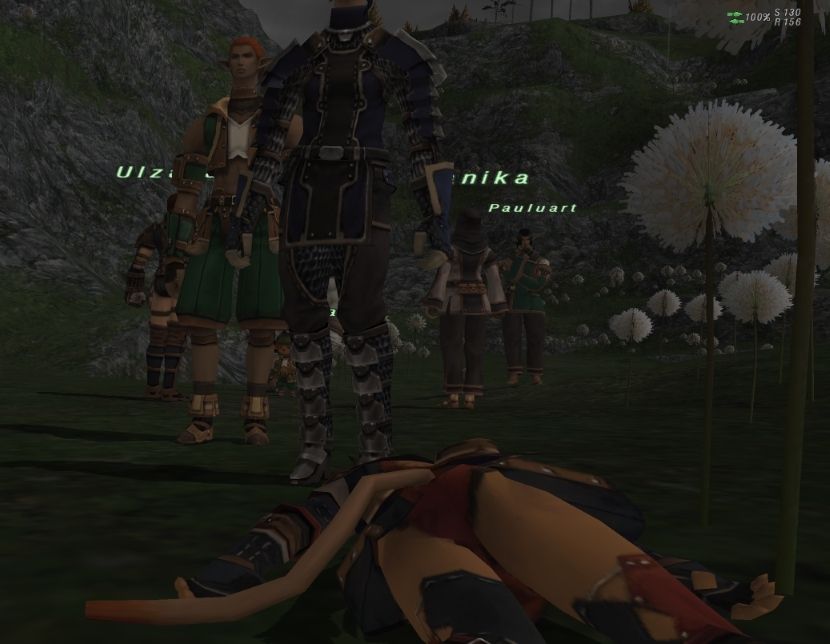 Rapifafa soon wakes up to the sound of Vauderame's voice. The arrows they used to shoot Rapifafa and Nanaa Mihgo apparently had some kind of memory-erasing poison, but clearly it didn't have much effect on Rapifafa. The band discusses killing Rapifafa and Nanaa Mihgo instead of leaving loose ends, but Vauderame says that it's unlikely that a Mithra would lack allies willing to come after them should she perish.
Vauderame apparently isn't done with Rapifafa, and she closes her eyes as he approaches.
Rapifafa loses consciousness again.
She wakes up to Nanaa Mihgo standing over her. Apparently she thinks that they were knocked out by some trap within the chest, and she proceeds to divvy up the treasure in the chest, consisting of several gems and a pair of boots. Mihgo thrusts the boots into Rapifafa's hands and runs off with the gems, assuring her that the boots are quite valuable.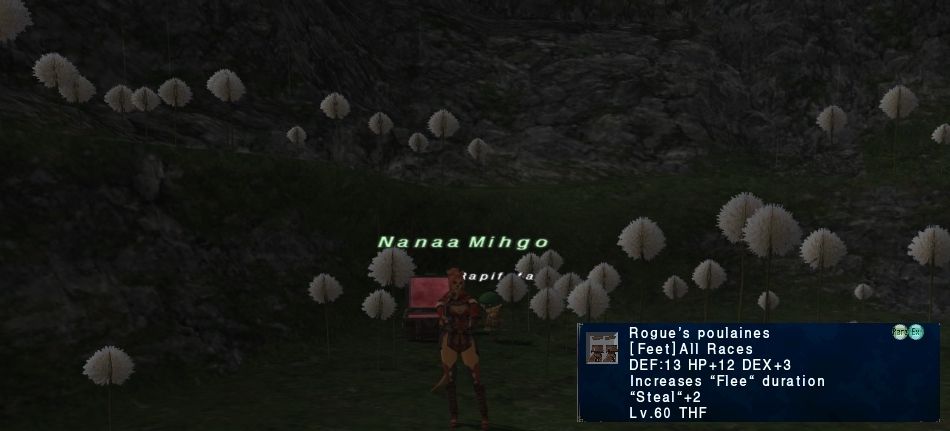 Rapifafa doesn't mind walking away with the Rogue's Poulaines Vauderame left behind, but there's one thing left over she can't figure out- she could've sworn she had met Vauderame before in the past, but she just can't figure out when or where.