A Ninja's Story: The Legacy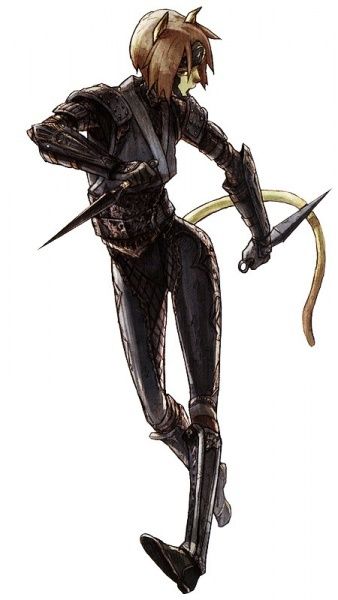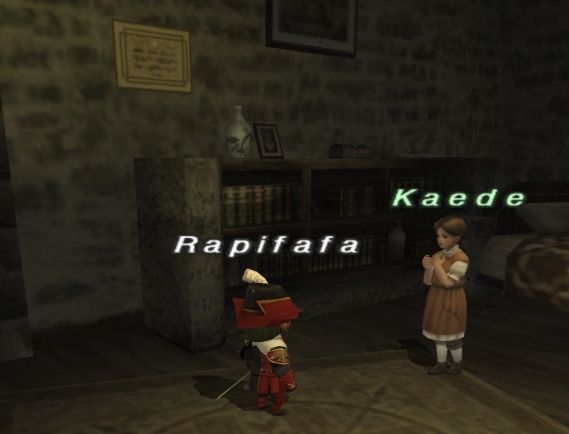 Kaede wants to use a katana like her big sister, the Mythril Musketeer Ayame. Her father, Ensetsu, is against the idea. Kaede explains to Rapifafa that her father had trained Ayame, but for some reason he does not do the same for her. She knows that her father has recently been visiting Kagetora, who works for the Black Market of Vana'Diel, the Tenshodo. She pleads that Rapifafa help her solve this mystery so that she can become strong like her father and big sister.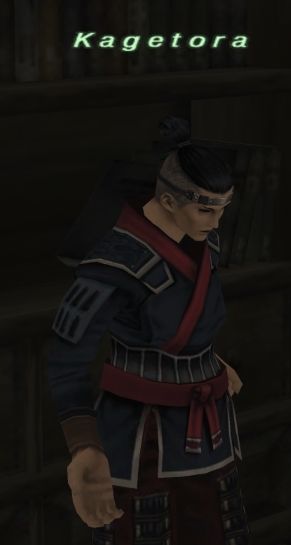 Kagetora usually isn't one to divulge secrets, but he doesn't seem to care much for Ensetsu, so he reveals that the man has been having some money troubles lately. He also laughs when Rapifafa asks about Ensetsu's combat abilities, saying Ensetsu's about the farthest thing from a warrior there is.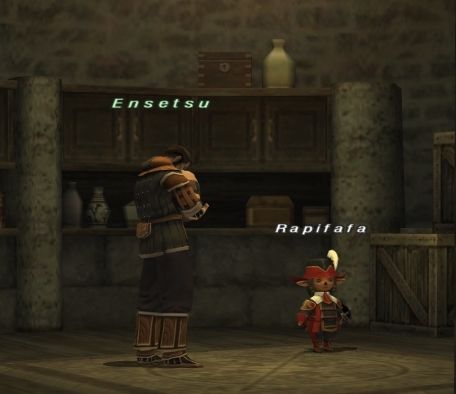 With the cat out of the bag, Ensetsu figures it wouldn't hurt to ask an adventurer for some help. He wishes to buy back something he sold to the Tenshodo, but since he had no money, he promised a special coral from the Korroloka Tunnel. His claims echo Kagetora's, that he isn't much of a warrior himself, so he asks Rapifafa to obtain it for him if possible.
Rapifafa agrees and travels down the Korraloka Tunnel, where some leeches stand between Rapifafa and the coral. A few pokes with her sharp stick is enough to send them down.
Ensetsu is thankful for Rapifafa's help, but asks her for one more favor- to take the coral to Norg and exchange it for his lost item.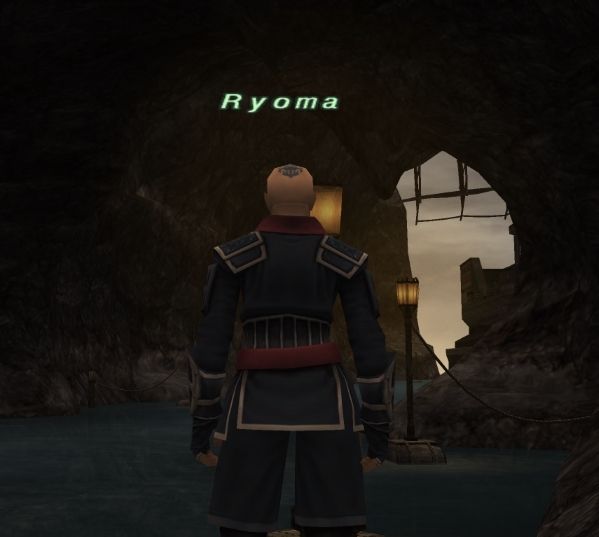 Apparently Kagetora wasn't the only one of the Tenshodo who had a problem with Ensetsu, since Ryoma of Norg decides to spend some time bad mouthing the man before finishing the transaction. With that finished, he asks Rapifafa to help him smack Ensetsu upside the head a few times for him.
The item is a strange one- it's clearly a eastern styled Tanto, but its blade is stuck inside its sheathe and cannot be removed. Rapifafa brings it back to Ensetsu, who was greatly thankful for her help. He explains he had once sold the sword to support his family, but now realized that his daughter needed it more.
Kaede jumps out from behind the wall, angered that his father bought yet another sword for Ayame. Ensetsu tells his daughter that he had never bought any swords for Ayame, in a tone that suggests that he has gone through this speech multiple times with her. Since he can no longer hide the sword, Ensetsu decides that perhaps now Kaede is old enough to know the truth.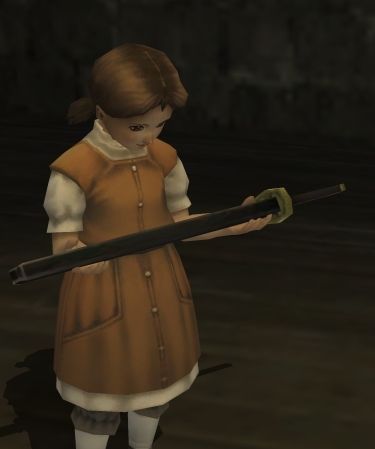 Ensetsu's claim was true- he is no warrior. It was Ayame and Kaede's mother who was a ninja, and the sealed tanto belonged to her. Ensetsu had always only been a lowly crew member on a pirate ship, but his wife Yomi was a master of ninjutsu. When Yomi discovered she was carrying Ayame, she traveled to Bastok to live a simple life with Ensetsu. Even then, she knew she was not long for this world, and after ten years of a quiet life she gave her life when bringing Kaede into the world.
Ensetsu didn't want either of his daughters to take up a katana, for fear that they would meet the same end. He reluctantly agreed when Ayame left to learn the way of the Samurai, if only because it meant she would not be a Ninja. Kaede, however, resembled her mother more and more with each day that passed, and Ensetsu felt he needed to protect her. However, he now passes Yomi blade onto Kaede, and tells her that she will decide on her own future.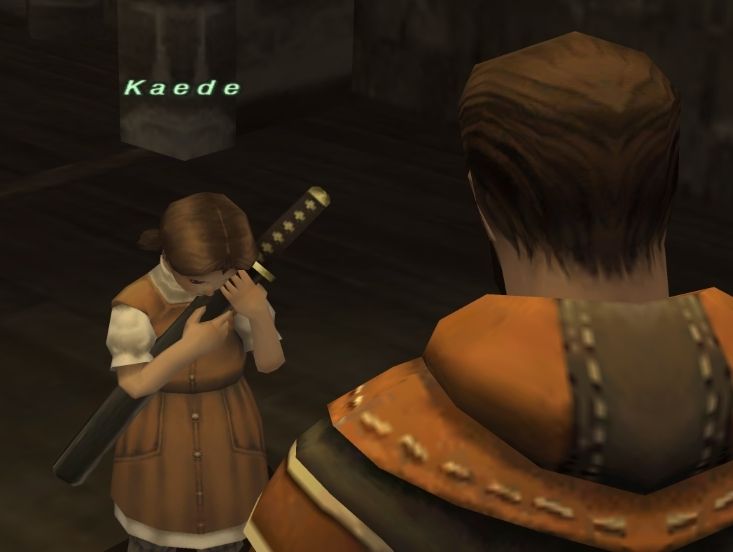 Ensetsu thanks Rapifafa by presenting her with a scroll of ninja arts left over by Yomi. If Kaede chooses to walk the same path, she will travel to Norg, and will not need the scroll.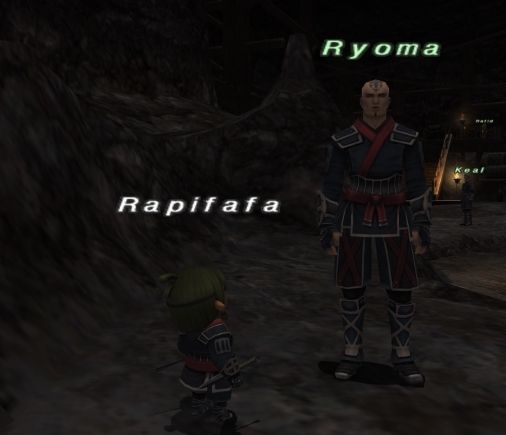 With the scroll in hand, Rapifafa begins to learn the ninja arts herself, learning some skills from the few Ninjas in Norg. Soon enough, Rapifafa is asked to test her skills by assisting in the deciphering of an old scroll.

Almost 20 years ago, Yomi had used the scroll on her last job for Norg. She didn't share her secrets before she left, however, so now the Tenshodo were stuck trying to decipher it on their own. Kagetora suggests that Rapifafa go and rough up Ensetsu a little to learn more about the scroll.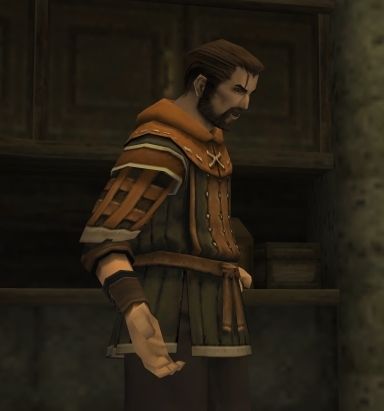 Ensetsu doesn't have much useful to add. He had taken a glimpse of the deciphered scroll many years ago, and it said to seek out an area where rations were stacked upon another in the desert. Since Yomi had already visited the area however, it was unlikely Rapifafa would find anything there now.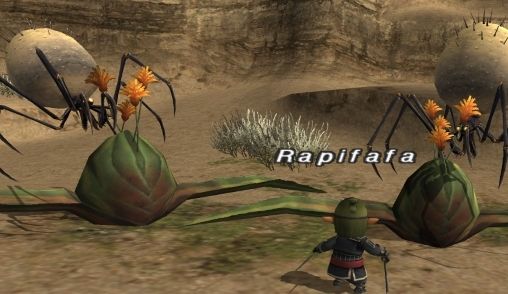 Rapifafa is ambushed by a couple spiders upon reaching the area, and manages to fend them off. Stranger however, was that there was a trick box there- exactly what Ensetsu claimed Yomi had brought back after her final mission. It appears relatively new, however, so perhaps something more was going on. Rapifafa takes it back to Norg to learn more.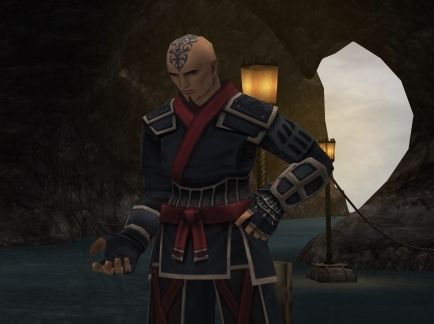 Some study of the box tells them that the box looks very similar to the work of Mitsunari the Poisonclaw, one of the greatest pirate inventors who ever lived. The man left Norg over 20 years ago, and was probably dead by now, so the relatively new condition of the trick box made little sense. Once again, the Tenshodo had to go ask the Ensetsu they so loathed.
Ensetsu seems concerned Rapifafa was attacked by poisonous spiders at the location he gave her, as that is exactly what happened to Yomi. Regardless, he has little information left- Yomi received the assistance of Mitsunari's grandson to decipher the scroll 20 years ago, and he was somewhere in the Altepa Desert.
Rapifafa searched the desert, and finds Mitsunari's grandson in the village of Rabao.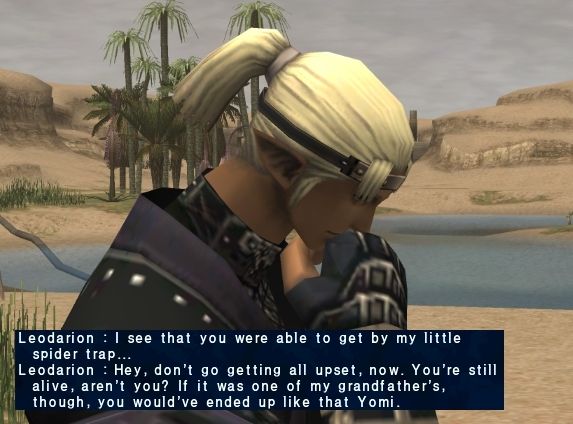 Leodarion has spent many years trying to master the same skills as his grandfather. He had read through his grandfather's journal, and discovered that he left behind a trap even stronger than the one that eventually took Yomi's life- one which could call a spirit of the dead. He helps Rapifafa construct a staff to call forth the spirit, and tells her the trap should be sprung if she travels west on the Bastore Sea.
It's a long road, but Rapifafa travels back east towards her home, and eventually arrives in Mhaura to take the boat westward towards Selbina. Just as Leodarion decribed, a ghost soon appeared and attacked Rapifafa.
Rapifafa defeats the ghost, but she finds no treasure like Leodarion implied there would be.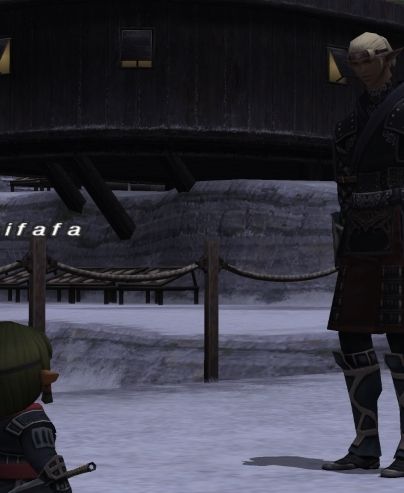 Leodarion is already waiting for Rapifafa at the Selbina docks as she arrived. He, too, is confused at the lack of anything left behind by the ghost, but Kagetora and Ensetsu soon arrive with their own explanation.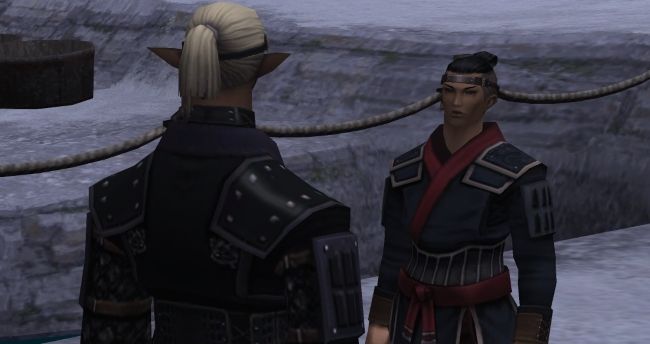 The Tenshodo had searched the area after Rapifafa defeated the spirit, finding a piece of paper within the leftover rags. In it was Mitsunari's final message to his grandson.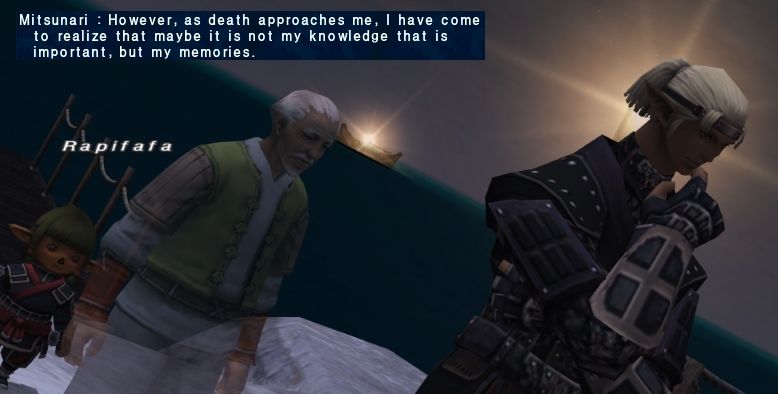 Mitsunari's final message makes little sense to Leodarion, but Ensetsu knew exactly what it meant, as the old man had once given the same message to his late wife, Yomi.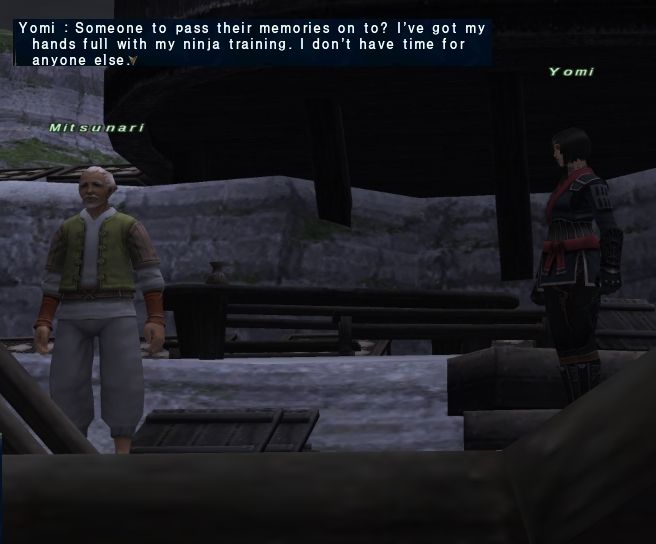 Only a few years after that conversation would Yomi meet Ensetsu, soon after which she would give up her way of life to raise her children.
Kagetora's ready to retch at all the schmaltzy stories flying around, and he assumes Rapifafa's feels the same way, so he rewards her with something far more practical for all her troubles.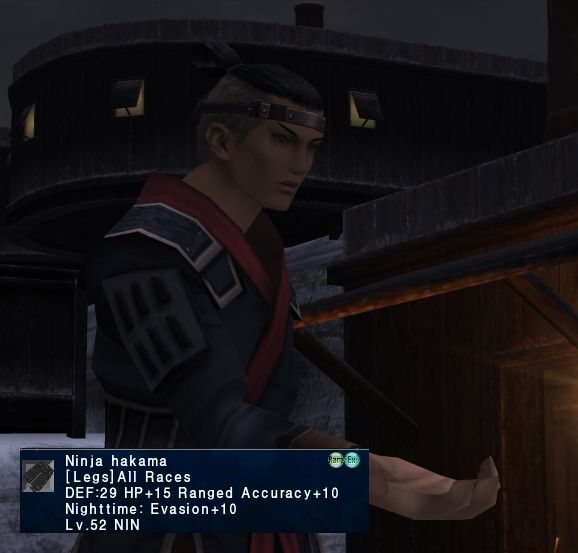 Even so, the search for Mitsunari's treasure continues.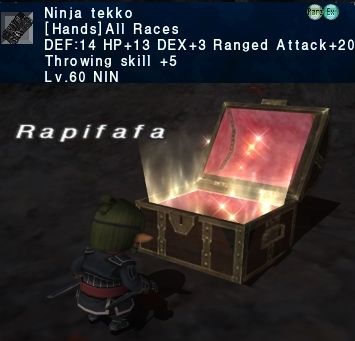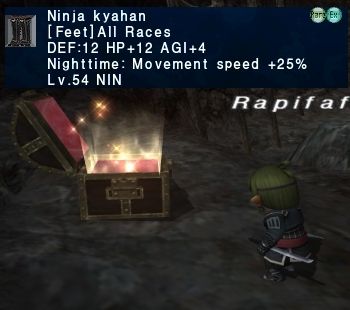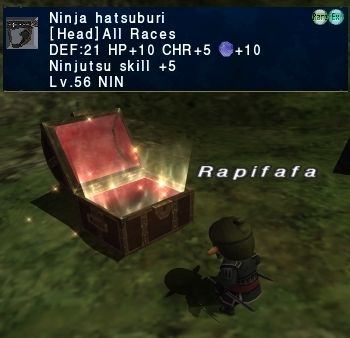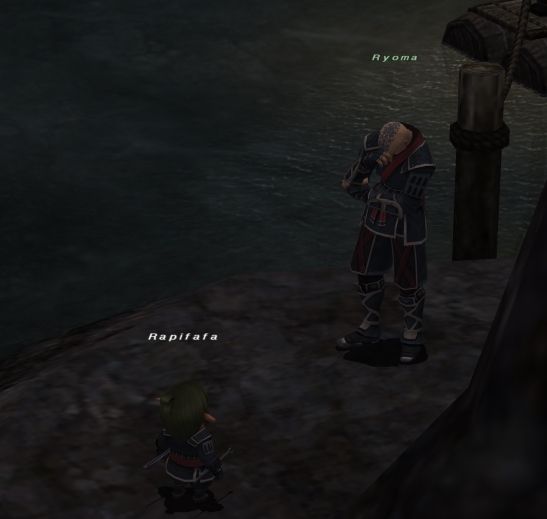 Ryoma soon has information- some of the Tenshodo's men had found one of Poisonclaw's old trick boxes, but they were attacked by Sahagin and had it stolen. It's unlikely they left Elshimo Island, so Ryoma advises Rapifafa to search the jungle.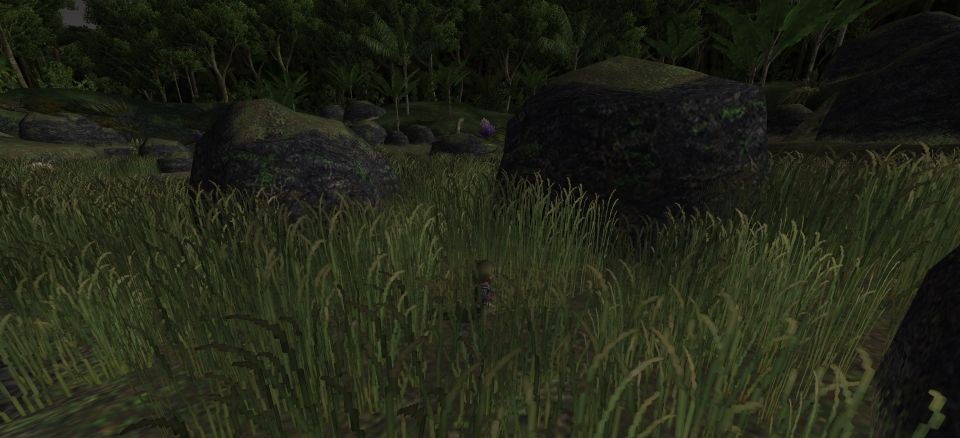 Rapifafa soon spots her target, and moves in for the kill.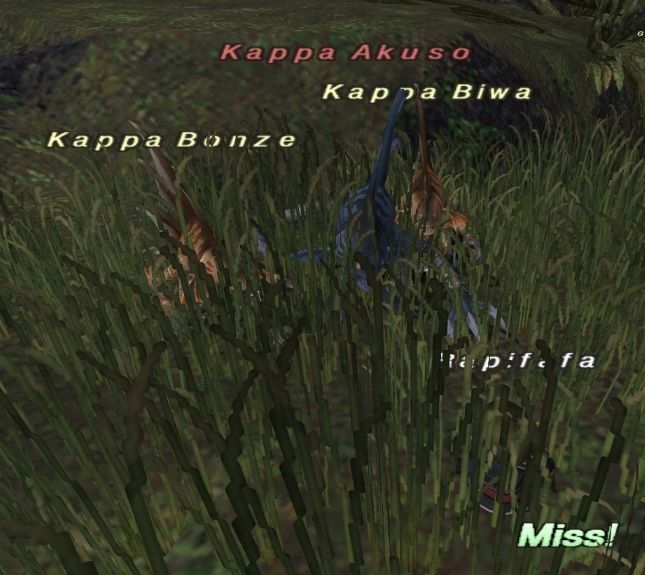 She takes the old trick box back to Ryoma, but knowing what they do now about Mitsunari's boxes, they figure its best they take it to the expert to open for them.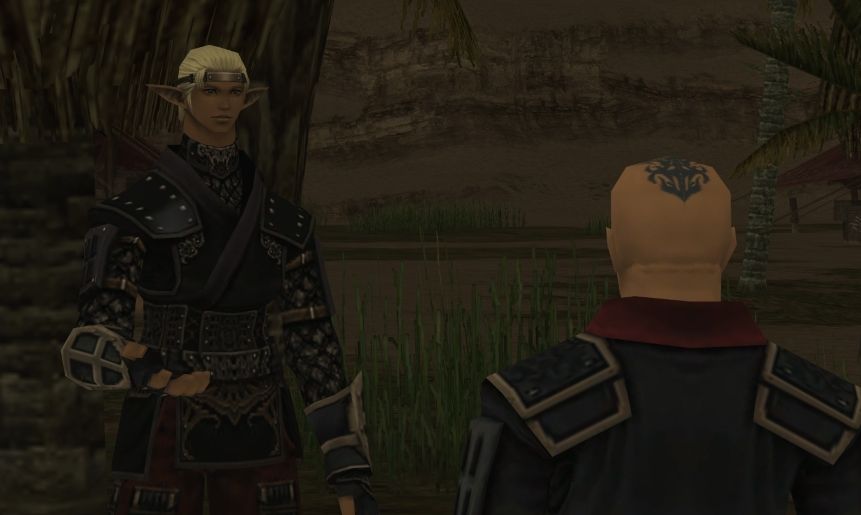 Leodarion has no trouble opening the box, but there is nothing to be found within. As he marvels at the box, Leodarion explains that while it was easy to open, its craftsmanship is likely far beyond anything he could accomplish. Ryoma himself is not too amused with the treasure just being some dirty old box, and accuses Leodarion of trying to pull a fast one on him.
Ayame has been following Ryoma for some time now- Bastok keeps a close eye on the activities of its "allies". The family reunion is not a particularly pleasant one, and Ryoma soon storms off.
Since there was no treasure in this box, Leodarion thanks Rapifafa by helping her locate another one of Mitsunari's boxes, and allows her to take what he finds within.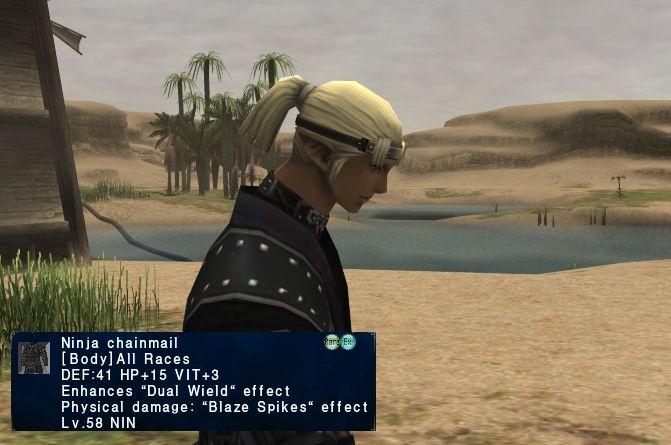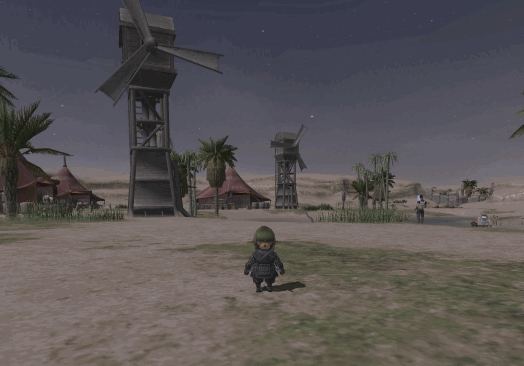 Gameplay Comments
Most people who played XI would end up choosing one job to focus on mastering- for me, that was Ninja. Rather than bore you with gory details of a metagame you'll probably never play though, I'll instead talk about the more interesting part of Ninjas in XI, which is that it's the prime example of how players of XI could sometimes end up influencing how the designers of the game acted.
Ninja was first designed as another hybrid class in the long list of hybrid classes in XI. In Ninja's case, it was designed to be able to do multiple damage types (slashing damage in melee with dual wield to beef it up, ranged throwing attacks and magic damage from ninjutsu) and debuff enemies. Besides all that, they had shadow copy spells and high evasion- that along with a movement speed bonus on their Job-specific boots built up Ninja to be a great scout/puller.
Of course, that's not how players ended up using the class. Their Shadow Copy spell, Utsusemi, was soon found by players to be ridiculously broken against most enemies, and combining that with their high evasion allowed them to main tank in many parties and almost never take damage (as long as the Ninja knew what he was doing). Instead of relying on self-curing to hold aggro like Paladins did, Ninjas could simply do it by doing moderately high damage through a combination of their damage types as mentioned above. This same strategy was used by Ninjas to solo things in a game where soloing was generally discouraged.
Of course, Ninjas had a weakness- area attacks like -ga spells will just destroy all their shadows at once. Square-Enix probably always intended Ninjas to do some tanking on the side, but they didn't intend for them to be main tanks in parties, so for it while few adjustments were made to help Ninjas. In fact, some were made to make them harder to tank with (along with giving numerous buffs to Paladin), though apparently they didn't find it enough of a problem to just nerf Utsusemi itself or something. Anyway, the players persisted in their behavior, so at some point SE probably just gave up and decided that the players were right, and started creating more tank-centric equipment for Ninjas and designing fights specifically targeted towards Ninja tanks. Instead of the hybrid damage/debuffer role it was formerly, it became more a tank/damage hybrid role.
Funny enough, despite SE's insistence that they still try to make it one, these days Ninja's not a very popular tank due to a combination of factors. They did, however, make some adjustments so that they're more like what Ninjas are usually like in the FF series- specifically, they throw shuriken a lot now. You're not allowed to be called a ninja in fiction unless you're dressed in black 24/7 and throwing kunai and ninja stars, of course.