A Dark Knight's Story: The Dark Legacy
On Rapifafa's trip to Bastok, she had been given a strange sword by the wandering Mythril Musketeer, Zeid. Zeid promised to teach her something of the Galkan Dark Knight arts if she bloodied the blade, so she attempted completing the task on the occasion she felt she could actually lift the thing.
As promised, Zeid met Rapifafa in Beadeaux, and there, he passed onto her some of the knowledge required to be a Dark Knight.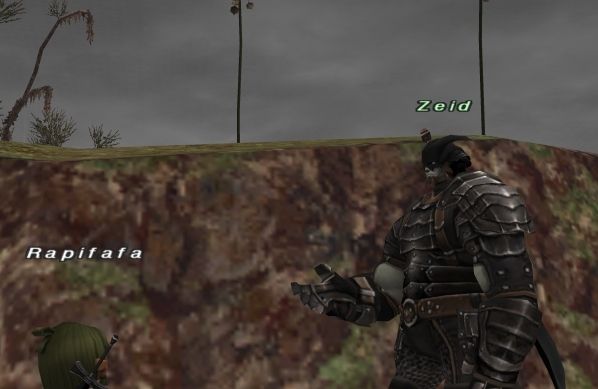 At one point Rapifafa runs into the engineer Raibaht, who wishes to know more about the ancient Galkan methods of darksteel-working, and asks her to find one of the books detailing the process.
Rapifafa decides to ask around the Metalworks of Bastok to see if anyone has information on the book.
One of the other workers in the Metalworks informs Rapifafa that the book in question had been donated to a library somewhere, and no records exist of the donation. No wonder, considering how back then, Bastok built most important things with mythril and any research being done was for the strange material found in several ruins called cermet. Upon hearing the word "library", however, Rapifafa instantly knew where to check first.
Rapifafa returned home to Windurst and found one of the librarians at the Optistery knew of the book Rapifafa spoke of. But as luck would have it, when he actually got around to reading it, he knew Bastok was the best place to learn more and prepared to travel there with the book. He was attacked by Yagudo as he set off, and he could only assume that the book was in Giddeus now, in the hands of one Vaa Huja.
By asking one of the few harmless Yagudo in Giddeus, Rapifafa is able to find Vaa Huja's hiding spot, as well as a hint on how she could irritate him into showing himself.
With a Yagudo Cherry, Rapifafa has no trouble smoking Vaa Huja out of his hiding hole.
Rapifafa finds the books amongst the Yagudo's belongings, and returns to Bastok.
Raibaht's happy to get his book, but his boss and chief engineer of Bastok, Cid, decides to take a peek himself, finding the author's name, "Gerwitz", sounding strangely familiar.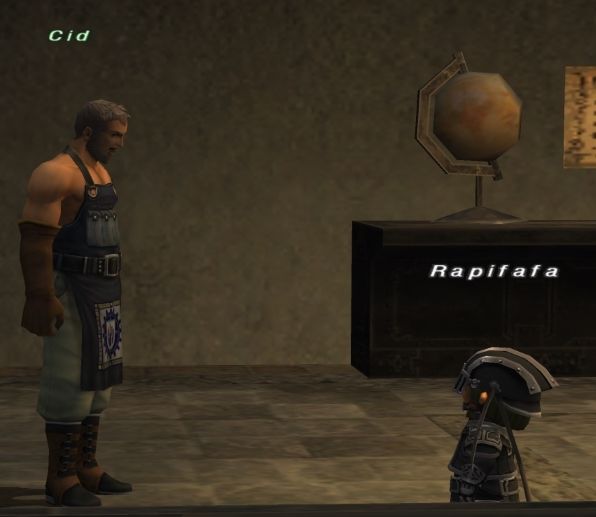 The next day, Cid manages to remember where had had once heard the name- Gerwitz was the man who had forged Zeid's armor. Cid spends a moment reminiscing about the days he fought alongside the now-leader of the Mythril Musketeers Volker and his comrade Zeid, until they are interrupted by Raibaht, who brings up the fact that he has a letter from Zeid.
Zeid's found some kind of strange phenomenon involving Gerwitz and some of the weapons he had created, but there's not much that can be done considering how Zeid is not one much for return addresses- Bastokan officials have been unable to bring him back home for decades now. The only thing he can do is ask Rapifafa to help Zeid if she ever runs into him.
Rapifafa returns to her adventures, eventually meeting Zeid in the Ordelle's Caves.
Aside from making Rapifafa think he really needs to work on his social skills, Zeid also tells her about Evil Weapons- Rapifafa had seen them before, weapons being animated by some cursed magic and enslaving kobolds to take advantage of their telekinetic powers. A popular belief is that they originated from the strange cermet spines they are usually found near. The cursed weapons that have appeared in Ordelle's Caves in particular seem to be ones made by Gerwitz, bearing his insignia. Zeid attempted to lure them out, but it seems to be avoiding him- Zeid had hoped the letter he sent to Cid would eventually bring Rapifafa here, and now he wishes for her to try finding them.
Gerwitz had left for his journey of reincarnation over 30 years ago, so normally he would've already been reborn and be walking around as new Galkan child already, creating new memories. Instead, his spirit stays in Ordelle's Caves for some reason.
The adventurer that had stumbled across the weapons before had accidentally dropped a darksteel ingot onto the floor, so Rapifafa figured the only way to get anywhere was to try to bait the creature using an ingot, as odd as it felt.
The plan works, and Rapifafa defeats the weapons of Gerwitz, and following the trail she is able to come into contact with the spirit of Gerwitz as well.
Rapifafa hears a voice calling for her as the spirit falls, and upon exiting out to La Thiene Plateau, she is greeted by Gerwitz.
Gerwitz thanks Rapifafa for releasing his soul- he had wanted to move on, but he feared losing his memories, and with it, one of the last craftsman who knew how to work darksteel- his life's work. His fear turned into rage, even directing it towards his leader, the Talekeeper. His hatred gained a will of its own, and one of his reanimated weapons was travelling the Crystal Line, seeking the source of its power.
Zeid asks Rapifafa to meet him where she had first become a Dark Knight to prepare for the battle ahead, then informs Gerwitz that his spirit had lost track of time- 30 years had already passed, and even the Talekeeper who he so hated was gone from the world. With his rage dissolved, Gerwitz only asks Zeid one final question.
As a final act, he leaves behind one of his last works to help Rapifafa.
As part of her preparation, Rapifafa finds other pieces of Dark Knight's armor hidden around the world.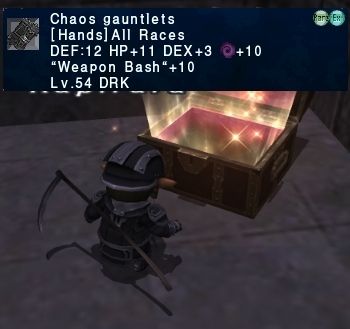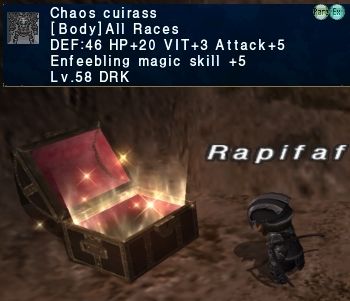 With her preparations complete, Rapifafa travels to Beadeaux as instructed by Zeid.
Upon arriving, Zeid informs Rapifafa that coming here was not merely symbolic- the newly formed evil weapon would almost certainly begin seeking blood, and using the blood of one of the Quadav should be able lure the creature out.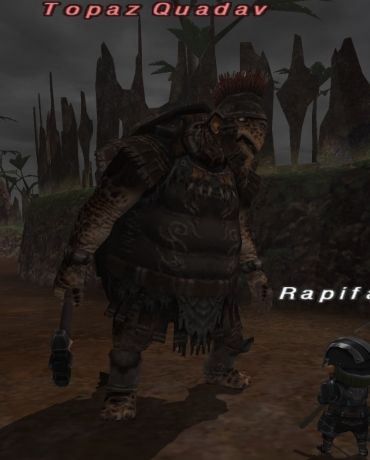 With a vial of Quadav Mage Blood, Rapifafa travels to the center of the Crystal Line's power- Delkfutt's Tower.
There, she lures out Gerwitz's cursed weapon.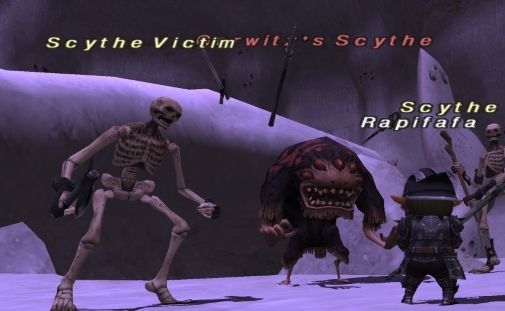 Rapifafa manages to defeat the blade of evil, but unfortunately it had already taken the lives of two innocents.
Perhaps if Zeid told Rapifafa to use blood that didn't have a god awful drop rate that wouldn't have happened.
Upon exiting the room, Rapifafa finds a box with a helmet and another one of Zeid's cryptic messages within.
Rapifafa keeps the helm, but throws away the letter. Rapifafa can't help but think that if Bastok ever manages to bring the guy back home they'll be wishing he was wandering the land again 10 minutes later.