The Mana series(Seiken Densetsu in Japan), is a fantasy action rpg series from Square Enix(SquareSoft), created by Koichi Ishii. The series began as a handheld side story to Square's flagship franchise Final Fantasy, though most Final Fantasy-inspired elements were subsequently dropped, starting with the second installment, Secret of Mana. It has since grown to include games of various genres within the fictional world of Mana, with recurring stories involving a world tree, its associated holy sword, and the fight against forces that would steal their power. Several character designs, creatures, and musical themes reappear frequently.
In 2003, the series comprised five games; since 2006, it has experienced a revival through the World of Mana campaign, with four new games released in the span of one year. As of 2008, the Mana series comprises eight console games and two mobile games, in addition to four manga and one novelization.
History:
Square trademarked Seiken Densetsu in 1989, intending to use it for a game project subtitled The Emergence of Excalibur, and led by Kazuhiko Aoki for the Famicom Disk System. According to early advertisements, the game would consist of an unprecedented five floppy disks, making it one of the largest titles developed for the Famicom up until that point. Although Square solicited pre-orders for the game, Kaoru Moriyama, a former Square employee, affirms that management canceled the ambitious project before it advanced beyond the early planning stages. In October 1987, customers who had placed orders were sent a letter informing them of the cancellation and had their purchases refunded. The letter also suggested to consider placing an order on another upcoming Square role-playing game in a similar vein: Final Fantasy.
In 1991, Square reused the Seiken Densetsu trademark for an unrelated Game Boy action role-playing game directed by Koichi Ishii. Originally developed under the title Gemma Knights, the game was renamed Seiken Densetsu: Final Fantasy Gaiden (published in North America as Final Fantasy Adventure and in Europe as Mystic Quest). Beginning with Secret of Mana, Seiken Densetsu was subsequently "spun off" into its own series of action role-playing games distinct from Final Fantasy, with four titles released between 1993 and 2003. The Legend of Mana was made 2D because the PlayStation could not handle the full 3D world Ishii envisioned where one could interact with natural shaped objects. In 2005, Square Enix announced plans for World of Mana, a new series of titles in the Mana franchise, whose titles would span more video game genres than the original series. Koichi Ishii decided even before he worked on Final Fantasy XI about creating new Mana games, but first wanted to create a goal for the new series, and eventually decided to make it about exploring how to add "the feeling of touch" to a game. After he saw the game Half-Life 2 at E3 in 2003, he felt that its physics engine was the one he needed. World of Mana went on to comprise five games and one manga. Koichi Ishii served as director or producer for all Mana games. In 2006, a Mana installment for the Wii was considered but did not enter development. In April 2007, a month after the release of the final game of the World of Mana, Ishii left Square Enix to lead his own development company, named Grezzo.
Common elements:
A common element of the series is its seamless, real-time battle system. The system was developed by Koichi Ishii and improved upon by Hiromichi Tanaka, out of a desire to create a system different than the one featured in the first few Final Fantasy titles. While action-based, the Mana battle system is intended to be playable even by newcomers as well as veterans. The system is coupled with the distinctive hierarchical "Ring Command" menu system, featured prominently in Secret of Mana and Seiken Densetsu 3, and to a lesser extent in later installments. Each ring is a set of icons with a textual infobox explanation which, upon selection, allow the player to use an item, cast a spell, look up in-game statistics, or change the game's settings. Navigation within a menu is achieved by rotating the ring through the cursor left or right, while switching to a different menu is achieved by pressing the up or down buttons. Although not part of the series, the spin-off Secret of Evermore, developed by the North American Square Soft, was also built upon the "Ring Command" system.
The Mana Tree and the Mana Sword, called Excalibur in Final Fantasy Adventure's English version, are recurring plot devices which have been featured in every game of the series. The mystical Mana Tree is a source of magic which sustains the balance and nature of the series' world. The Mana Sword is typically used to restore this balance when it becomes lost in the games. Final Fantasy Adventure explains that if the Mana Tree dies, a member of the Mana Family will become the "seed" of a new Tree. A sprout of the Mana Tree is called a Gemma, while protectors of the Tree, who wield the Mana Sword, are called Gemma Knights. In Seiken Densetsu 3, a Goddess is said to have turned into the Mana Tree after creating the world with the Mana Sword The Mana Tree is destroyed near the game ending in Final Fantasy Adventure and Secret of Mana, but a character becomes the new Mana Tree in the former game.
Music:
The Mana series has had several different composers. Final Fantasy Adventure was composed by Kenji Ito; it was his second original score. Ito's music is mainly inspired by images from the game rather than outside influences. The scores for Secret of Mana and Seiken Densetsu 3 were both composed by Hiroki Kikuta. Despite difficulties in dealing with the hardware limitations, Kikuta tried to express, in the music of Secret of Mana, two "contrasting styles", namely himself and the game. This was to create an original score which would be neither pop music nor standard game music. Kikuta worked on the music for the two games mostly by himself, spending nearly 24 hours a day in his office, alternating between composing and editing to create an immersive three-dimensional sound. Kikuta considers the score for Secret of Mana his favorite creation.His compositions for Secret of Mana and Seiken Densetsu 3 were partly inspired by natural landscapes. In 1995, Kikuta released an experimental album of arranged music from the two installments, titled Secret of Mana +, which features one 50-minute long track.
Legend of Mana's score was composed by Yoko Shimomura, and of all her compositions, she considers it the one that best expresses herself. Kenji Ito returned to the series with Sword of Mana. He also composed roughly one third of the Children of Mana soundtrack, while the rest was composed by Masaharu Iwata and Takayuki Aihara. Ito was the main composer for Dawn of Mana, assisted by Tsuyoshi Sekito, Masayoshi Soken, and Junya Nakano, as well as main theme composer Ryuichi Sakamoto. In North America, purchasers of Dawn of Mana from participating retailers were offered a sampler disc, titled Breath of Mana, which features a selection of tracks from the game. Shimomura returned to the series with Heroes of Mana.
Games:Final Fantasy Adventure: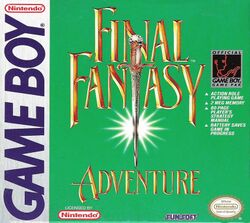 Final Fantasy Adventure, known as Mystic Quest in Europe, is a Final Fantasy spinoff and the first game in the Mana series. Published by Square in 1991 on the original Game Boy, it later saw a North American re-release by Sunsoft in April 1998. Its gameplay is roughly similar to that of the original The Legend of Zelda game, but with the addition of role-playing video game statistical elements. Along with Final Fantasy Mystic Quest, Final Fantasy Adventure was the first Final Fantasy game to be released in Europe. A remake, Sword of Mana, was released in 2003.
The story follows the hero and the young heroine as they attempt to thwart the Dark Lord of Glaive (Shadow Knight in the Japanese version) and his sorcerer assistant Julius from destroying the Tree of Mana and dooming their world. The game was met with generally positive reviews, noting its strong story but faulting its shaky dialogue, possibly due to the English translation.
Gameplay:
http://youtu.be/SSiavEYGaJk
Secret of Mana:
secret of Mana for the SNES developed and published by Square in 1993. The game was re-released for the Wii's Virtual Console in 2008, and was ported to Japanese mobile phones in 2009. Secret of Mana is the sequel to Final Fantasy Adventure for the Game Boy and the second installment in the Mana video game series.
Rather than using the traditional turn-based battle system of games like Final Fantasy, Secret of Mana utilizes real-time battles akin to the Legend of Zelda series, while also employing typical role-playing elements and a unique "Ring Command" menu system, which pauses the action, and allows a variety of actions to be performed without needing to switch screens. The game received considerable acclaim for its brightly colored graphics, expansive plot, "Ring Command" menu system, innovative real-time battle system, modified Active Time Battle meter adapted for real-time action, its innovative cooperative multiplayer gameplay, where the second or third players could drop in and out of the game at any time rather than players having to join the game at the same time, the customizable AI settings for computer-controlled allies, and the acclaimed soundtrack by Hiroki Kikuta. Secret of Mana was an influential game in its time, and has remained influential through to the present day, such as its customizable AI for player characters being used by many later games, its ring menu system still used in modern games (such as The Temple of Elemental Evil) and its cooperative multiplayer mentioned as an influence on games as recent as Dungeon Siege III.
Gameplay:
http://youtu.be/4P8HETcav7A
Seiken Densetsu 3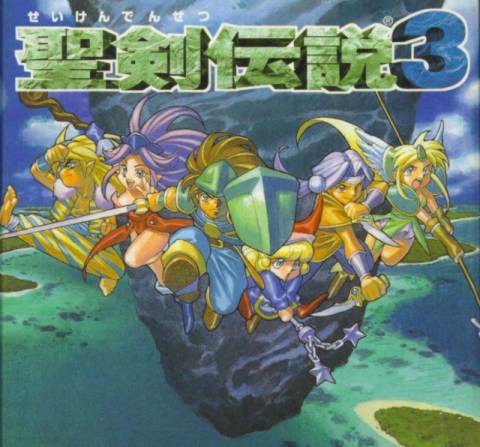 Seiken Densetsu 3 is the third game in the series (commonly referred to as Secret of Mana 2) developed and published by Square (now Square Enix) for Nintendo's Super Famicom on September 30th,1995 as a part of the Mana series.
The game features three lengthy main plotlines, six different characters, each with their own storylines, and a wide range of classes to choose from, which provides each character with an exclusive set of skills and status progression. The game also makes use of a time progression system, with transitions from day to night and weekday to weekday in game time, adding to the game's challenging gameplay.
Although the game was only published in Japan, Western players have been able to come into contact with Seiken Densetsu 3 thanks to an unofficial English fan translation. In the West, the game is sometimes referred to unofficially as Secret of Mana 2.
Seiken Densetsu 3 plays very much like its predecessor Secret of Mana, as it employs a real-time combat system, making use of a ring menu which provides the player with quick access to magic spells, items and character information, amongst other options. One of its main differences, though, is that the range of characters is doubled to six, with the player choosing the three members of his or her party when commencing a new game. A single variety of weapon is available for each character, and the "progression by means of use" present on the series' previous game was removed from the weapons and magic systems; now the only factor which influences a spell's damage is how high the character's "magic" attribute and how low an enemy's magical defense towards a special kind of magic is (for example: undeads are wounded heavier by light-based magic-attacks). A storage system was introduced, where excess items can be placed, replacing Secret of Mana's "four-of-a-kind maximum rule". The player can switch items between storage and their nine-slot item ring menu, or else "top-up" items currently in it to a maximum of nine each.
Gameplay:
http://www.youtube.com/watch?v=nZ9nuZeD4xY
Legend of Mana:
Legend of Mana is the fourth game in the Mana series. The game was released for the PlayStation in Japan on July 15, 1999 and in North America on June 7, 2000, with a delayed release in Canada. While Legend of Mana was the fourth installment released in the series, the next console-based Mana game, Dawn of Mana, is the official fourth game.
While incorporating action role-playing elements from the three games which preceded it, Legend of Mana has its own distinct style of gameplay. Most notably, it gives the player the ability to shape the game's world of Fa'Diel according to his or her desires, a system which was incorporated through the use of "artifacts," which are gained as the player progresses through the game. The player uses the artifacts to create different towns, dungeons, etc., called "Lands", to venture to and explore. This creates a non-linear gameplay, since the game is driven by a series of what would be considered side-quests in other games. Legend of Mana features three different plots which can occur simultaneously, and which do not necessarily need to be completed for the player to finish the game.
Gameplay:
http://www.youtube.com/watch?v=ylAlzkU4WGQ
Sword of Mana:
Sword of Mana, is an enhanced remake of the original Game Boy game Final Fantasy adventure, This remake was released on the Game Boy Advance in 2003.
At the beginning of the game, the player is able to choose to play as the male lead or as the female lead, both of whom are named by the player. They each have a different quest, but their plots remain similar. Notably, the remake adapted many elements from the original game, which had their origin in Final Fantasy, and favored elements traditional to Mana games (for example, the chocobo was replaced by cannon travel). One notable exception to this are moogles, which do appear in the game. Sword of Mana was made to resemble the graphical style of Seiken Densetsu 3, but the artwork rather resembles that of Legend of Mana.
Gameplay:
http://www.youtube.com/watch?v=EnE3e13z1LA
Children Of Mana:
Children of Mana for the Nintendo DS handheld game console, part of the Mana series and, more specifically, of the World of Mana project launched by Square Enix. Children of Mana is the first game of the World of Mana and was developed by Nex Entertainment under the supervision of Koichi Ishii.
In the middle of the island of Illusia stands the famous Tree of Mana. Several years ago, a great disaster took place at the base of the tree and many lives were lost, leaving the main characters as orphans. A brave young boy and girl used the Sword of Mana to save the world from disaster. Now, years later, the main characters set out to investigate the details of the event that took so many loved ones away from them.
It was released on March 2, 2006 in Japan and was subsequently released on October 30, 2006, and January 12, 2007, in North America and Europe, respectively. It received mixed reviews, with generally positive reviews in Japan and negative ones in the United States.
Gameplay:
http://www.youtube.com/watch?v=jKwmHQAW2NI
Dawn of Mana:
Dawn of Mana, is an action-adventure game developed and published by Square Enix for Sony's PlayStation 2. The game is part of Square Enix's World of Mana project that also includes Children of Mana, Heroes of Mana and Friends of Mana. The game was released on December 21, 2006 in Japan and was released in the United States on May 22, 2007. There are currently no plans to release this game in PAL territories.
Game elements seen in Dawn of Mana are quite different from Mana games of the past. While it can be classified as an action RPG, a more appropriate description is action/adventure due to the lack of RPG elements in the game. Dawn of Mana plays very similar to Kingdom Hearts in terms of design and style. The main difference lies in the Havok physics engine, which is used for the Mono system.
(
Mono system
)
Dawn of Mana sports the Mono system, utilizing the Havok physics engine seen in Half-Life 2 that allows the player to greatly interact with their 3D environment. This system is essentially a high degree of environmental interaction offered by the Havok physics engine. With Keldy's whip function, the player can interact with almost any object seen in the surrounding area. The objects are used to Panic enemies, which is necessary as it is the only way to obtain stat boosting medals. Hitting an enemy will result in a counter appearing over their head, which induces Panic status. In this status, enemies are completely defenseless and more damage can be dealt to them. If the counter raises beyond 99, the enemy will be in full Panic and a gold crown replaces the numerical counter. Defeating an enemy in this state yields a greater stat boosting medal.
Gameplay:
http://www.youtube.com/watch?v=LMdesTDzsnc
Heroes Of Mana:
Heroes of Mana, is a real-time strategy role-playing game developed by Brownie Brown and published by Square Enix for the Nintendo DS video game console. The game was released on March 8, 2007 in Japan and was released in the U.S. on August 14, 2007.
The game is an RTS, and is almost entirely a touch-based system. Players will summon monsters to fight alongside heroes in order to accomplish objectives such as destroying an enemy carrier or defeating all enemies in the area. Throughout the game players will unlock new units, spirits, and tips that will be useful in achieving victory. New equipment is obtained through completing story and bonus missions and finding it as hidden treasure. There are a total of 26 bonus missions, one for each mission of the story mode, as well as additional missions only available through the Heroes Ranking system. There is multiplayer wireless support, however the Nintendo Wi-Fi Connection service is restricted to downloading new maps and missions. Special items can be obtained by logging on the Wi-Fi Heroes Ranking system as well as by earning points through mission achievements such as fast times and most thrifty.
Gameplay:
http://youtu.be/efK-lDurs0s
Long post, but I hope some get enjoyment from it. I thought a lot about what my first post would be on the forums and this is what I came up with. This is one of my favorite franchises in gaming,and I thought a retrospective would be a good chance to have some discussion of the series, share opinions, nostalgia, etc.
Please feel free to let me know what you think ^_^