Welcome, dear readers, to the latest installment of Coming This Week with RPGFan! We've had a pretty packed start to the year, so I'm a little relieved that this week's list is going to be a rather short one. Let's get into it!
Kingdom Hearts 2.8 Final Chapter Prologue – February 18th (XB1)
With the release of the awkwardly titled 2.8 Final Chapter Prologue, Xbox One owners can finally experience the essential titles in the Kingdom Hearts series that lead directly into Kingdom Hearts III. Final Chapter Prologue includes the previously 3DS-exclusive Dream, Drop, Distance, in which Sora and Riku undergo their Mark of Mastery exams and battle alongside adorable monster companions called Dream Eaters. There's also 0.2: A Fragmentary Passage, which chronicles Aqua's journey in the Realm of Darkness, as well as X: Back Cover, a short series of CGI cutscenes that reintroduces us to the Foretellers, and the outbreak of the Keyblade War. It's definitely a pretty nifty package, so if you have an Xbox One and an interest in the Kingdom Hearts series, pick it up!
3000th Duel – February 19th (Switch)
3000th Duel is a side-scrolling action-adventure title starring a mysterious, masked hero with no memory of who he is. Originally released last year on Steam, this fast-paced adventure is coming to the Nintendo Switch on Wednesday. Players will discover a variety of versatile weapons along their journey as they battle over 150 enemy types and explore its massive world.
Ciel Fledge: A Daughter Raising Simulator – February 21st (Switch, Windows, Linux)
As any parent would attest to, raising a kid is no easy feat. Doubly so, perhaps, if said parent were from a future where the constant threat of an alien invasion was a prevailing factor. In Ciel Fledge: A Daughter Raising Simulator, it's the player's job to raise their adopted daughter Ciel to adulthood, helping her make friends, learn to cook, and more. The player's choices in how they raise Ciel will impact her in various ways, making every playthrough of the game unique. It's due out this Friday for the Switch and PC platforms.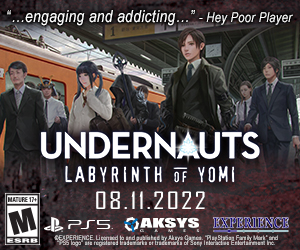 And that's it for now! Stay tuned to RPGFan for more coverage of our favorite video game genre. Catch you next week!