After a long, long hiatus in both Japan and the rest of the world, Sakura Wars is coming back next month. Today, SEGA has released a new trailer that offers a great introduction to not only the main cast and their personalities, but also the conversational gameplay and how it affects the flow of the game. Fans of the series will recognize this as the return of the classic LIPS (Live & Interactive Picture System) system. Check it out now:
Beyond the new trailer, we have new details about two special edition packages that Sakura Wars will launch with. First, the Launch Edition will include reversible cover art, a main cast sticker set, and the theater costume add-on.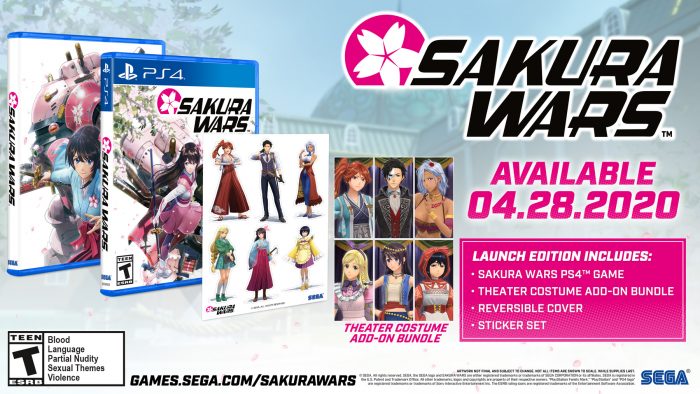 Fans of digital will be able to pick up a fully different set of goodies with the Digital Deluxe Edition (though, oddly, not the theater costumes). As seen below, this version contains the Legacy of Love, Swimsuit, Neko Ears, and Charming Accessories bundles.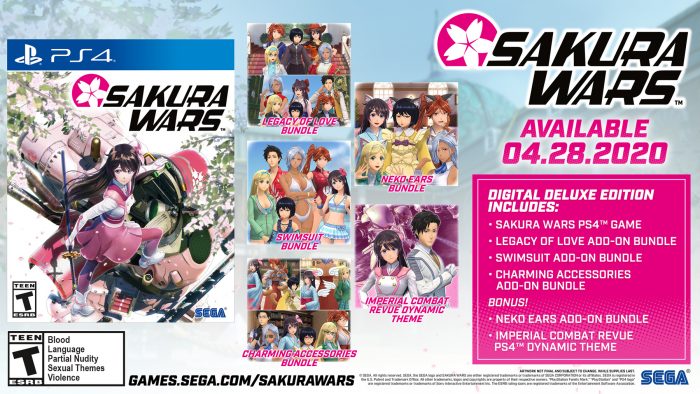 The "Legacy of Love" bundle is especially notable, as it is a three-pack of costume sets based on character outfits from past Sakura Wars titles:
The Flower Division of the Imperial Combat Revue (Sakura Wars 1, Sakura Wars 2: Thou Shalt Not Die)
The Flower Division of the Paris Combat Revue (Sakura Wars 3: Is Paris Burning?)
The Star Division of the New York Combat Revue (Sakura Wars:
So Long, My Love)
Finally, we wrap up with several new English screenshots of the game, and there is even more to see in our game page, so don't miss out! If the intensely magenta text in the images above wasn't clear, Sakura Wars comes to PlayStation 4 on April 28th!