If there is one PS5 launch game I keep seeing people pre-order every time I wander into a GameStop, it's — well, alright, fine, it's Marvel's Spider-Man: Miles Morales. But look, there's a clear second-place winner, and it's the PlayStation 5 remake of Demon's Souls. Whether it's from Dark Souls diehards who want to find out what came beforehand, Demon's Souls veterans looking forward to a far more visually impressive and technically stable experience, or newcomers to FromSoftware's beloved brand of brutality simply seeking to bulk up their launch day library, there's a lot of hype out there for Bluepoint's truly breathtaking full-blown remake of the 2009 classic.
Like most hotly-anticipated games (and even some that aren't), Demon's Souls is getting a swanky Digital Deluxe Edition for those who are willing to part with extra cash. What's inside the virtual box, you ask? A picture's worth a thousand… souls? Is that what they say? [Editor's Note: Judges say yes!]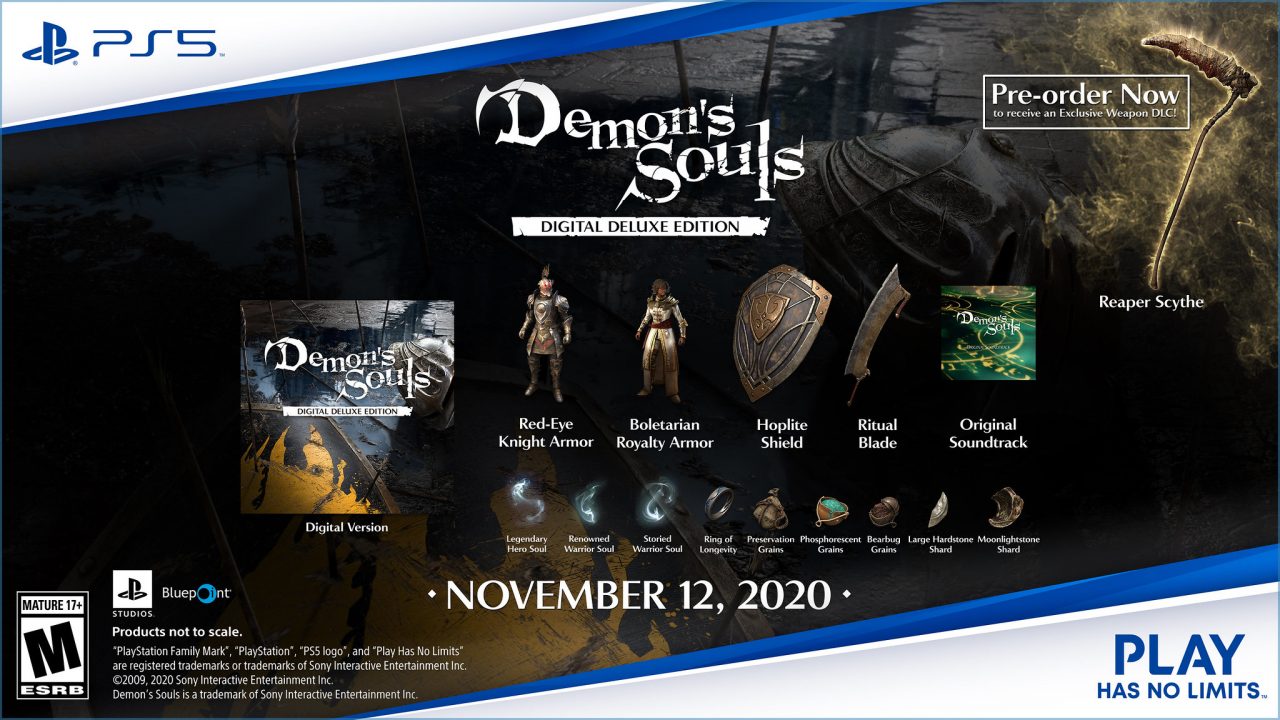 While I welcome the opportunity for a novice like myself to get geared up a bit from the start, it's worth noting that the base game is already $70. Toss in these bonuses for the Digital Deluxe upgrade and you're looking at shelling out $90 plus tax. (And I hear-tell that European price rates for next-gen games are that much worse.) Nothing speaks to my inner demon more than a Reaper Scythe, admittedly, but do I want to spring for instant ramen for a week straight for that Reaper Scythe? One thing's for sure: Demon's Souls fanatics have been telling me it's well worth a play since Barack Obama's first year in office. Whether or not I grab the Digital Deluxe Edition, no one will stop me from dying in the Kingdom of Boletaria this November. (Except Sony, if I fail to acquire a PlayStation 5.)
Head on over to our Demon's Souls Remake hub for more coverage. And, if you're as fresh to the whole Souls shtick as I am, you may find RPGFan's classic Demon's Souls review as fun a read as I did!