Though the world witnessed the release of Brigandine: The Legend of Runersia this past summer on Nintendo Switch, the game is also coming to PlayStation 4 on December 10th. What's really exciting, though, is that Happinet is working with Limited Run Games to produce both a physical standard and collector's edition of the game!
The physical collector's edition of Brigandine: The Legend of Runersia comes with the following items:
A reversible 18″x24″ poster.
Original soundtrack CD.
Gustava emblem pin.
The game.
A custom box to fit it all in.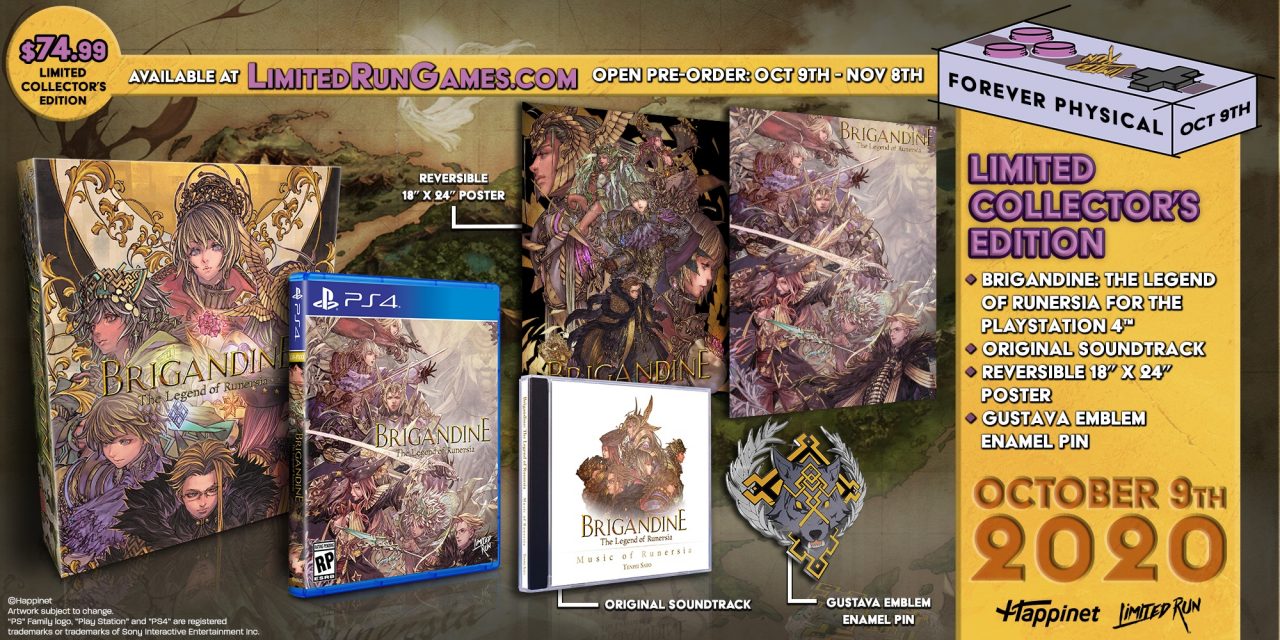 The collector's edition is priced at $74.99 USD. However, if you'd rather have a physical copy of the game without all the bells and whistles, you will be able to purchase it for $49.99 USD. Both copies are available to pre-order now from Limited Run Games until November 8th.
About Brigandine: The Legend of Runersia:
20 years since the first Brigandine game launched on the original PlayStation, Brigandine: The Legend of Runersia is a classic returning to the PlayStation as a new turn-based strategy game created for modern gaming platforms and set in a familiar fantasy world primed for players to conquer. Brought to life by veteran development talent including scenario writer, Kenji Terada (Batman: Dark Tomorrow, FINAL FANTASY I – III), art director and character designer, Raita Kazama (Puzzle & Dragons, Xenoblade Chronicles), and the homecoming of composer Tenpei Sato (Brigandine: Grand Edition, Disgaea 1 -5). This SRPG will offer hundreds of hours of immersive gameplay in this stunning new campaign for conquest. Players choose one of six nations to assume the role of the ruler aiming to conquer Runersia. As a ruler, players will command more than 100 Rune Knights throughout the six nations leading various monster troops of various dragons, ghouls, and fairies, into fierce battles on hexagonal grid maps in the tactical turn-based battle system.
Brigandine: The Legend of Runersia is available now digitally on the Nintendo Switch. You can check out our review here.