Blizzard has released a new quarterly update blog post for Diablo IV, the next entry in the long-running dark fantasy hack-and-slash RPG series. In this post, game director Luis Barriga and lead systems designer David Kim go over fan feedback to their previous updates, Diablo IV's skill progression, and much more. There's a lot to get into that you can find in the original post, but let's talk about some highlights.
One of the most iconic aspects of the Diablo franchise is its loot, and finding a piece of Legendary equipent is always an exciting part of the gameplay loop. According to Mr. Kim, one of the devlopment team's goals with Diablo IV is to put some of the power of Legendary equipment back into the hands of the players, so that their characters' strength isn't wholly tied to their gear. The team is trying to "find the right balance" so that the player's choices in terms of building their character feel meaningful. Apparently in the team's next update, we'll learn more about Legendary items.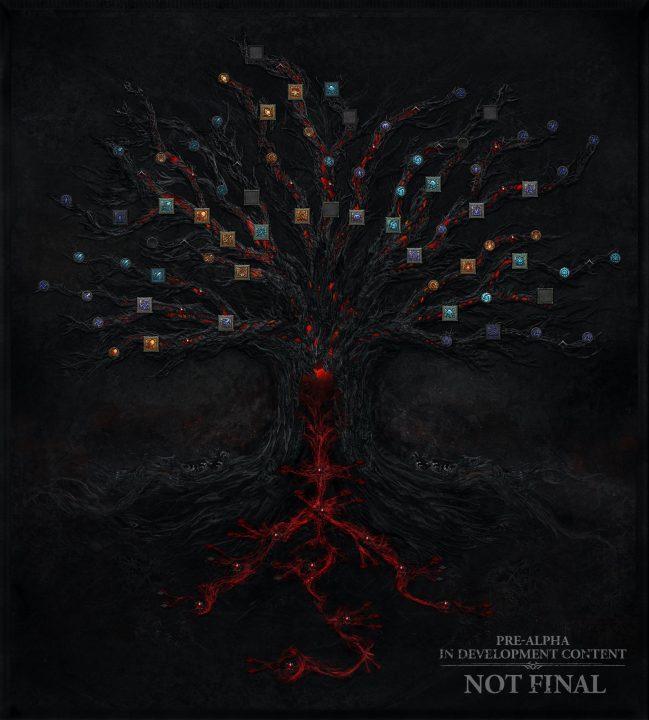 The team is also iterating on the game's skill system, with Skills and Passive abilities being cordoned off into separate sections. You can see this in the mock-up skill tree pictured above. By spending Skill Points on new skills in the upper half, the player will earn Passive Points they can use in the lower half. Kim stresses that players won't be able to acquire every node on the skill tree, encouraging players to choose skills based on their playstyle: when the time comes for end game content, the team aims for having about 30-40% of a character's nodes filled in.
Speaking of end level content, Blizzard is trying to offer "more replayability" and depth than was offered by the Paragon system in Diablo III. The team will have more to say on end game progression in a future update, although it won't be the subject of the next blog.
Stay tuned to RPGFan for more coverage of Diablo IV!