NIS America have announced that Saviors of Sapphire Wings / Stranger of Sword City Revisited is coming out on March 16th in North America, March 19th in Europe, and just a few more days later in Oceania on March 23rd. This release contains two games: an enhanced port Stranger of Sword City, and a port of a 2019 Japan-only title called Blue-Winged Chevalier, which in turn is a remake of 2011's Entaku no Seito: Students of Round. The bundle is coming to Windows via Steam and Nintendo Switch, so those who enjoy their first-person exploration in the palm of their hands have something to look forward to!
For a sneak peek at all of the dungeon crawling you might be getting up to, NIS America have released a short gameplay trailer which briefly shows off both parts of this package:
Saviors of Sapphire Wings is brand new to the West, but there are very few details on whether the game will add any updates compared to its 2019 iteration. What NIS America have said is that forging bonds between you and the knights that you are able to recruit will be the key to victory. You can strengthen your bonds by keeping your allies alive in battle and talking to them when outside of combat. Stranger of Sword City Revisited is bringing some new additions to the table, however, with auto-travel, an expanded character creation, and some brand new classes to try out.
We also got a look at the Limited Edition of the Switch version of the game, in all of its grey and azure tones. This collection contains a 2-Disc soundtrack, a hardcover artbook, and a cute little enamel pin.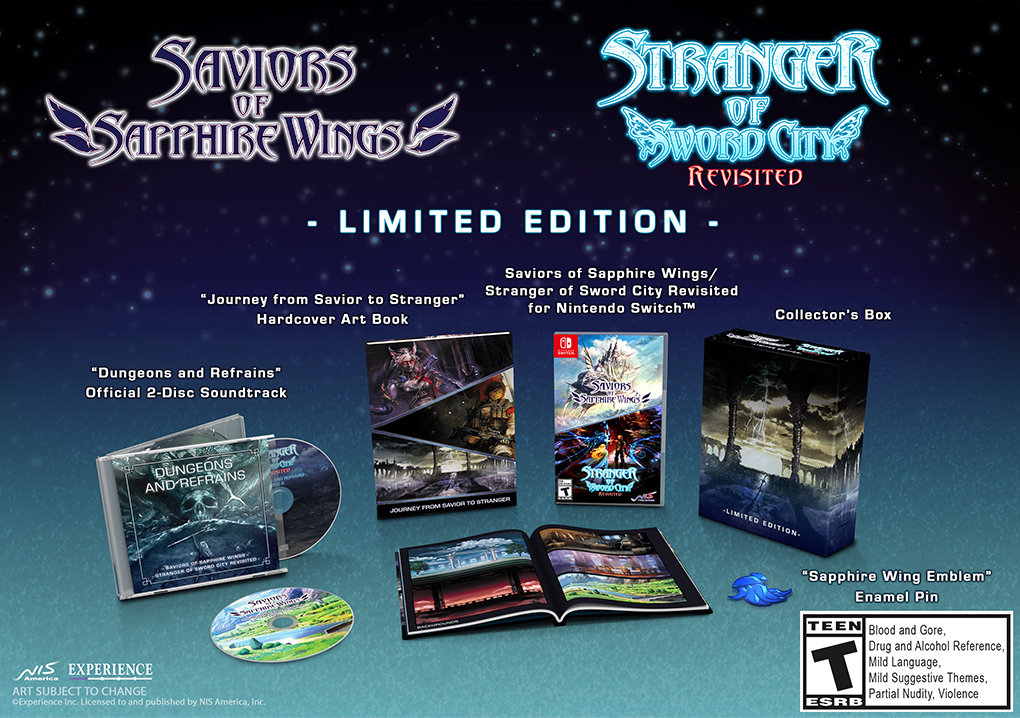 March 2021 seems like a long way from now, but it's in less than six months! Until then, we'll continue to bring you updates on Saviors of Sapphire Wings / Stranger of Sword City Revisited!