The next major update for Final Fantasy XIV: Shadowbringers, Patch 5.4, is almost here! Titled "Futures Rewritten," this patch will continue the epic Final Fantasy XIV storyline in the wake of Shadowbringers' conclusion, as well as the usual assortment of QOL improvements.
Check out the newest trailer for Futures Rewritten down below!
And here's a piece of key artwork from the patch, showing Ryne and Gaia being adorable.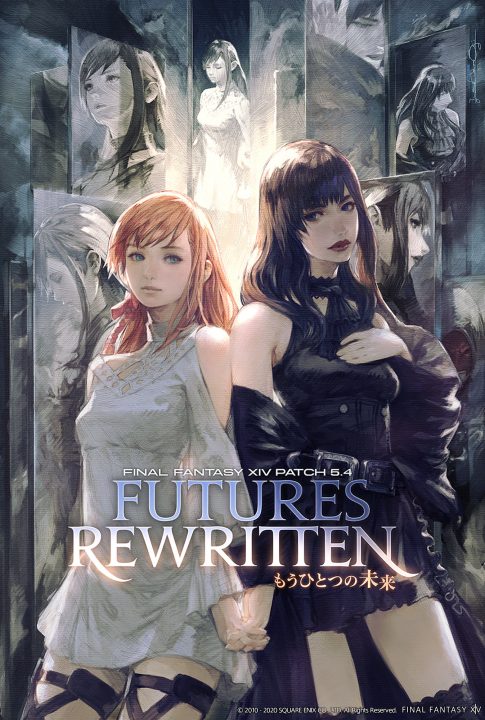 Aw, that's nice! Futures Rewritten will introduce the third chapter of the expansion's ongoing 8-person raid series, Eden's Promise, which will continue the story of Ryne and Gaia. Despite having restored balance to the Empty, danger still lurks: the raid will feature a new boss designed by Tetsuya Nomura. Also, is that the Cloud of Darkness I spy?
The Chronicles of a New Era – The Sorrow of Werlyt quest will also continue, with the player striving to thwart the empire's warmachina plans. Having vanquished the Sapphire Weapon, a new enemy, the deadly Emerald Weapon, has emerged. Players can engage this challenging foe in the new Trial, Castrum Marinum. Patch 5.4 is also getting a new dungeon called Matoya's Relict, where adventurers can explore the workshop of the legendary mage. A new Unreal Trial, The Navel (Unreal), will pit level 80 adventurers against a more powerful version of the primal Titan.
Explorer Mode is finally here! You can use this mode to take screenshots in the myriad dungeons of Shadowbringers, without having to deal with pesky enemies or traps. Especially exciting to me, personally, are the updates coming to Triple Triad, which will lift some of the restrictions on having lower-level cards in your deck. …I like card games, ok? Patch 5.4 will also see the culmination of the Restoration of the Holy See of Ishgard, and the next chapter of the Save The Queen questline penned by the legendary Yasumi Matsuno.
Crafting and gathering are getting some major updates, including adjustments to various crafter actions and changes to the aetherical and collectible reduction systems for gatherers. You'll also be able to further upgrade your Skysteel tools. Blue Mages are getting a whole bunch of additions as well, including a level cap increase to 70.
In an amusing collaboration, Square Enix is partnering with Pusheen to bring us some truly adorable Pusheen iMessage stickers based on Final Fantasy XIV. The collaboration will begin in early December.
Stay tuned to RPGFan for more coverage of Final Fantasy XIV! If you want to give the game a shot, Square Enix recently expanded the free trial to encompass the Heavensward expansion pack, making now a perfect time to jump in.