What do Kazushige Nojima, Hitoshi Sakimoto, and Super Neptunia RPG have in common? Well, it's about to be Astria Ascending! Quebec-based developer Artisan Studios announced that its new title is a reimagining of Zodiac: Orcanon Odyssey, an iOS game originally released in 2015 which was written by Nojima and scored by Sakimoto.
For those perhaps unfamiliar, Nojima has been the writer behind Final Fantasy X, Final Fantasy VII Remake, and both Kingdom Hearts I and II, while Sakimoto has composed on Vagrant Story, Muramasa: The Demon Blade, Valkyria Chronicles, and most recently, 13 Sentinels: Aegis Rim. Below is an image from Famitsu, giving us our first look at the game.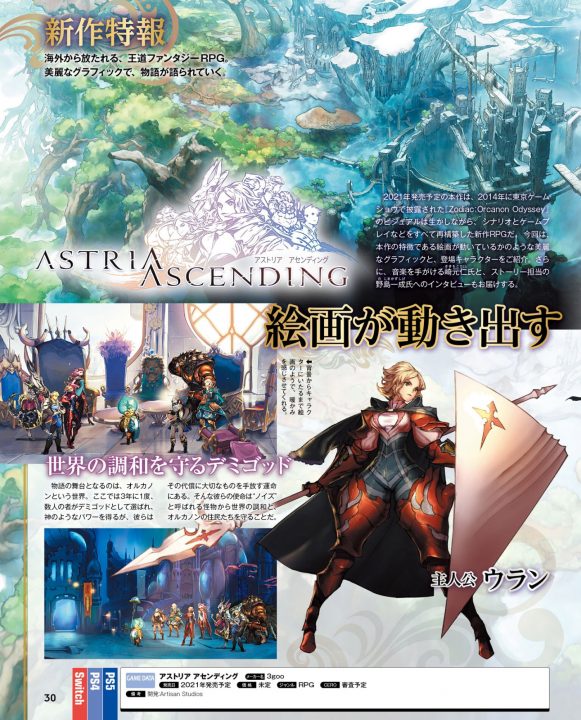 Astria Ascending will be a console-focused RPG, and while currently announced only for Japanese markets, a Western release is likely imminent. It is currently unknown what form the gameplay will take, but from early pieces released via Famitsu, it seems to be a squad-based medieval fantasy with wartime political themes.
Artisan Studios has said the game will be available for PlayStation 5, PlayStation 4, and Switch sometime in 2021.
Updated March 28 at 12:37pm: Per Gamestalk's coverage, Akihiko Yoshida has been confirmed as the artist for Astria Ascending.
Updated March 26 at 1:55pm: As shown during today's ID@Xbox event, Astria Ascending will be releasing in English as well! More info as we learn it.
Updated March 26 at 3:25pm: We have two new trailers from today's Xbox event along with confirmation of a 2021 Western release on PS5, PS5, Xbox One, Xbox Series X|S, Windows, and Switch. Take a look at the game below, plus a "Meet the Creators" video featuring Kazushige Nojima and Hitoshi Sakimoto discussing their work on Astria Ascending:
Source: Gematsu