Tales of Arise has been on many of our minds since its original announcement back at E3 2019. Back then, series producer Yusuke Tomizawa intended for this ambitious new Tales project to launch worldwide sometime in 2020. As was to be expected, COVID-19 tore that plan asunder.
The good news is that Tales of Arise now has a firm date! North American and European fans can look forward to getting their hands on the game on September 10th, while lucky Japanese players can boast that their adventure will begin one day earlier on September 9th. In addition to this welcome update, Bandai Namco has also announced that Tales of Arise will be available for purchase not just on PS4, Xbox One, and Windows, but PS5 and Xbox Series X|S as well. Best of all, the PS4 and Xbox One versions will be eligible for free upgrades to their new-gen counterparts.
But why stop there? Big publishers like Bandai Namco rarely go small when the opportunity arises to go big. We've got three splashy new trailers: the release date trailer, a trailer that centers on the game's environments, and last but not least, an eight-minute extended look at Tales of Arise's gameplay.
Maybe my expectations were too low, but I feel like this is an incredible-looking game? Tales looks downright AAA all of a sudden. It's the kind of graphical improvement I didn't dare to hope would be present across the board, but sure enough, these environments are splendid. While some attention could be drawn to occasional texture pop-in and blurry draw distance, personally I'm very impressed.
On higher-tier hardware, Tales of Arise will be playable in two modes: performance mode prioritizes a stable 60 frames per second, while graphics mode targets 4K resolution (potentially at the expense of speed). Ufotable is responsible for producing the game's anime sequences, which we can expect to be as lavish as they are numerous — Tales of Arise will pack more anime scenes in than any prior entry.
From the looks of things, combat has taken the basis provided by Tales of Berseria and evolved it in nifty ways. Tales has always been known for putting the action in "action RPG," challenging folks who might otherwise be accustomed to turn-based JRPGs to run around the battlefield in real-time instead. Arise will take things a step further, upping the importance of evasive maneuvers so that attacks, blocks, sidesteps and the like will need to be timed more precisely than ever before. For those who would prefer to take things more at their own pace, difficulty options and auto-targeting solutions will be adjustable at any time.
Boost Attack is a party-wide support option that can be tapped into however many times you like, so long as certain conditions are met. Each party member's Boost Attack is unique. Boost Strike, on the other hand, is a powerful finisher attack separate from Mystic Artes. (Both Artes and Skills, customary Tales attack types, will make their return in Arise.)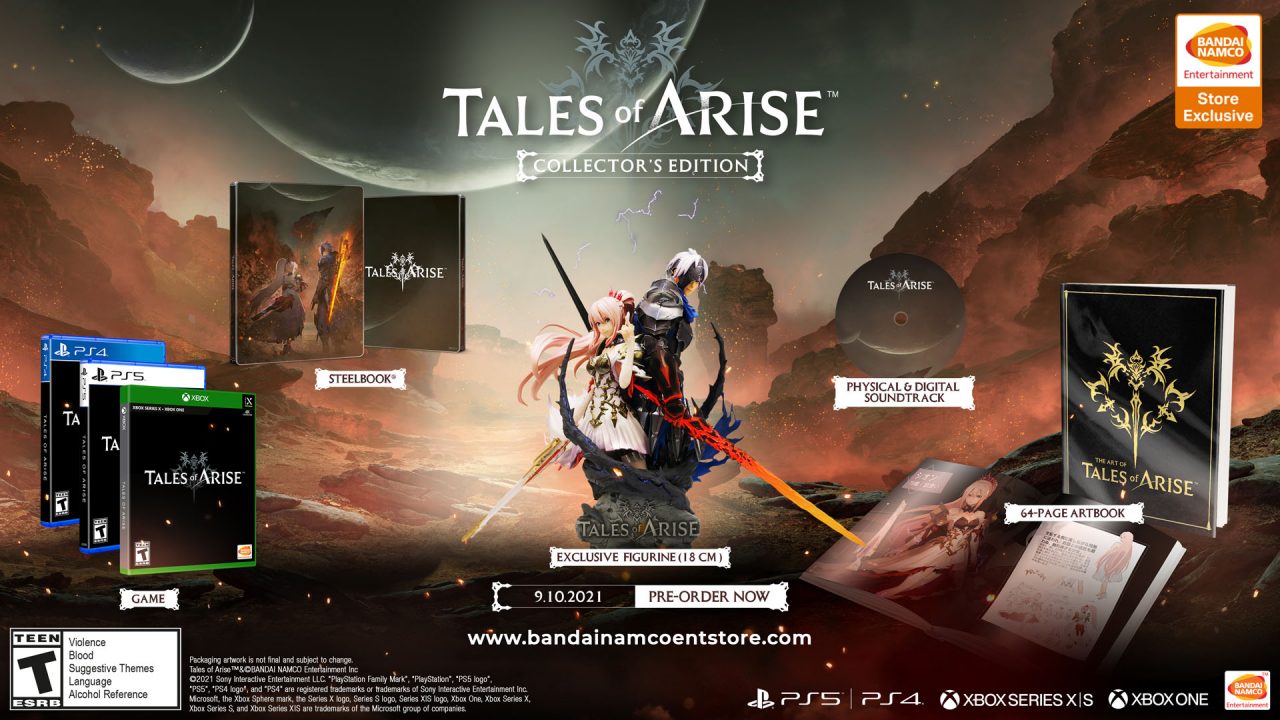 No Bandai Namco information extravaganza is complete without the revelation that their next big RPG will come in multiple editions. The Standard Edition includes the game and… that's it. The Digital Deluxe Sound Edition packs in select music tracks, while the Digital Deluxe Costume Edition eschews noise for a "Costume Premium Pack" and three separate costume sets. The Digital Ultimate Edition is for people who enjoy both the "audio" and the "visual" aspects of audiovisual existence, as it — wait for it! — gives you the game, the music tracks, and the costumes.
That's peanuts next to the Collector's Edition of the game, pictured above. Exclusive to North America, you get the game in a Steelbook case, a 64-page artbook, a statue combining the two protagonists into one acrylic piece, two sticker sets, five postcards, a couple of shiny pins, and bragging rights that you probably contributed a not-insignificant amount of money toward the development's staff's hard-earned vacations once the game is finally out.
For Europe, it's all about the game's mascot, Hootle! Pictured above, the Hootle Edition comes with the game in a Hootle-themed metal case, three art prints, a 64-page artbook, a physical and digital soundtrack, stickers, DLC accessories for Hootle, and, cutest of all, a customizable Hootle plush (15 cm) with 4 accessories!
Currently, there's no word on when (or even if) that really flashy Collector's Edition will make its way overseas. Either way, you should stay tuned to RPGFan for all your one-stop Tales of Arise surprises. We have a selection of new screenshots courtesy of Famitsu's flabbergastingly extensive new article, which I recommend reading for even more:
Update April 22 @ 11:45am: We have even more media to add from Bandai Namco US for Tales of Arise. Check it out: