Leading up to the recent release of the co-op action RPG Babylon's Fall, Square Enix gave us a Combat 101 trailer, giving an overview of what players can expect from PlatinumGames' latest. Not only can you wield four weapons at a time, there's a nice variety of them to choose from depending on your playstyle. There are swords, hammers, bows, rods, and shields to mess around with, and they even have applications outside of combat. Watch the trailer below for more details.
We also have a roadmap for the first season of Babylon's Fall announcing a free Premium Battle Pass, new game modes, content, and a NieR: Automata collaboration. Season 1 will run from February 25 to May 31. From the press release: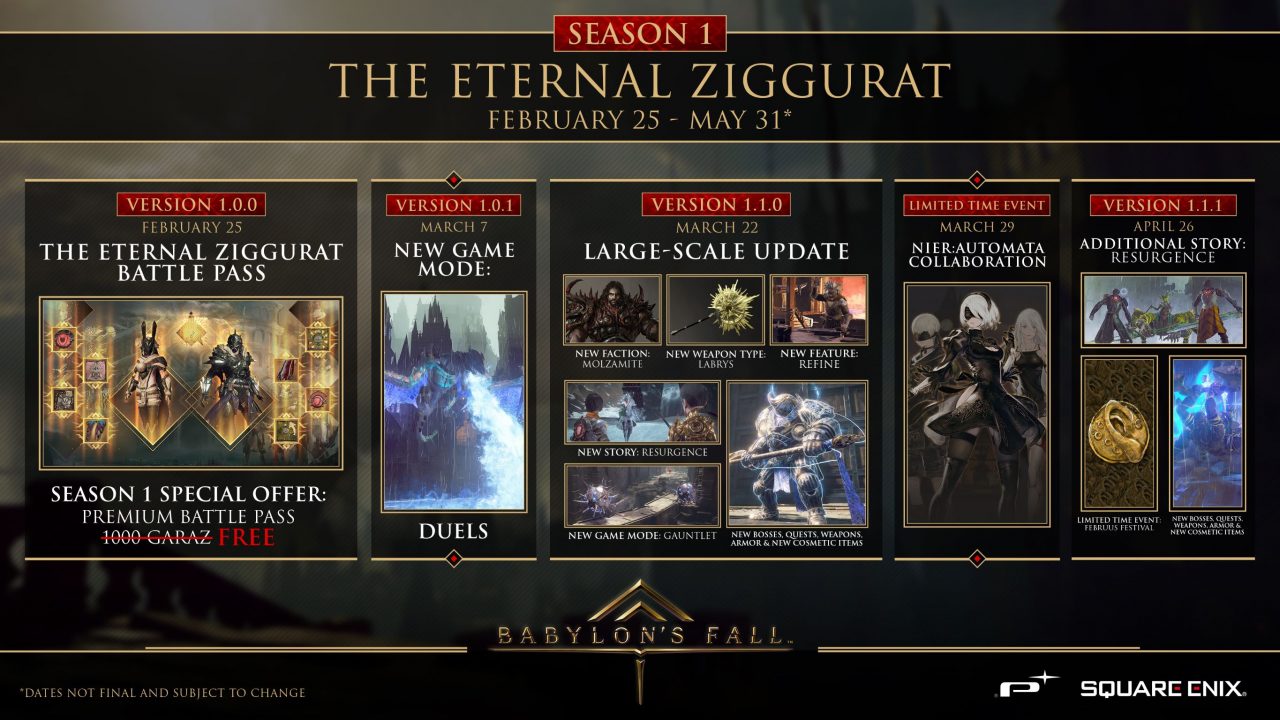 The Season 1 content will include:
Game modes
• Skirmish: Side quests where you will encounter mighty "Infamous enemies".
• Siege: Quests that change weekly and offer special rewards.
• Duel: Quests focused on battles against powerful bosses.
• Gauntlet: Quests where players compete to achieve the highest score on special
stages.
Additional faction: Molzamite
Additional weapon type: Labrys
New story content, new bosses, armor, quests and more
The NieR: Automata limited-time event will include special costumes, enemies, and a dungeon inspired by the game. Here's a few sneak peeks.
Babylon's Fall launched on March 3rd for PlayStation 5, PlayStation 4, and Steam. If you're still on the fence, you may want to refer to our preview of last year's closed beta. It's positive! Buzz for this game might feel a little muted, but I think it has the potential to be a sleeper hit.