Binary Haze Interactive and developer Live Wire have announced that ENDER LILIES: Quietus of the Knights is set to receive a physical edition for video game collectors and fans alike, while also revealing that the title has sold over 600,000 copies. This edition comes through a partnership with Limited Run Games, a company specialising in producing time-sensitive artisanal and standard physical editions for games that have previously had digital-only releases.
Players will have the opportunity to choose from both a Standard and Collector's Edition. The Standard Edition ($39.99 USD) will contain a physical version of the base game for either PlayStation 4 or Nintendo Switch. The Collector's Edition ($64.99 USD) will include a physical edition of the game, alongside a reversible 18″x24″ poster, an enamel pin, and the ENDER LILIES original soundtrack by the award-winning Mili.
ENDER LILIES: Quietus of the Knights focuses on the story of protagonist Lily, a young priestess who awakens within the depths of a blighted kingdom, fractured memories cascading. Players will help guide her throughout her journey to understand what has happened to her home, alongside spirit allies that Lily will meet in her travels.
Hiroyuki Kobayashi, CEO of Binary Haze Interactive, praised the fan community of ENDER LILIES: Quietus of the Knights, stating that he appreciated that the game's protagonist Lily has been able to "…occupy a special place in their heart…," and with the coming release of the physical edition "…it can also occupy a spot on their shelves."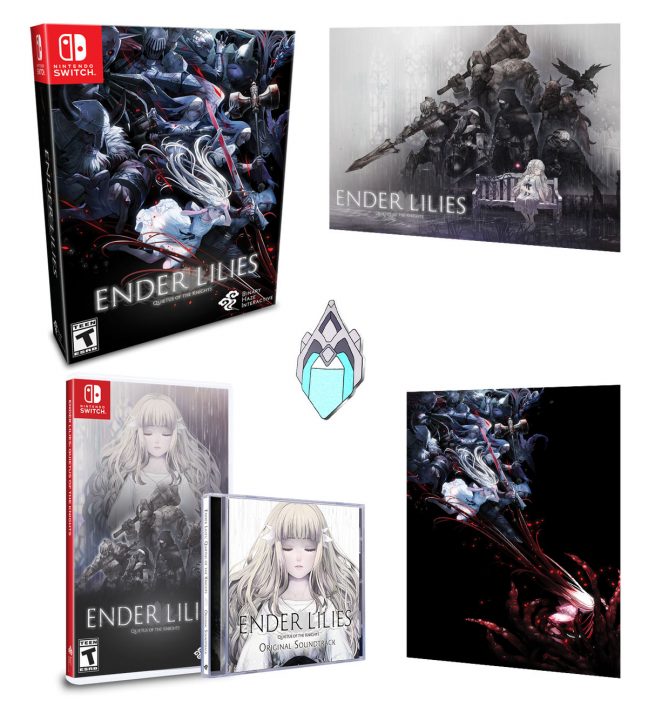 Pre-orders for the physical edition are live now on Limited Run Games, with an expected shipping window of May 2022.
If you're curious about what RPGFan thinks of ENDER LILIES: Quietus of the Knights, check out our review, penned by Des Miller. I think it's a wonderful game with beautiful visuals and frenetic combat. A physical edition on the way can only be a boon for those that want it.
ENDER LILIES: Quietus of the Knights is available now for PlayStation 4, PlayStation 5 (via backwards compatibility), Xbox Series X|S, Xbox One, and PC via Steam. Stay tuned to RPGFan for all news ENDER LILIES and RPG!