We're inching ever closer to the June 24th release of AI: The Somnium Files – nirvanA Initiative, and the latest information from developer and publisher Spike Chunsoft includes a new gameplay trailer (see below) plus details on limited-time costume DLC.
Here are some highlights. I promise there's no spoilers for the first game!
We get to see our two special agent protagonists in action: the returning Mizuki (now with robot assistant Aiba for an eyeball) and Ryuki, a serious type with the AI Tama as his ocular counterpart.
Virtual Reality adds a new quirk to murder investigations. Now, the crime scene can be recreated and scoured for clues using X-ray and Thermo vision (these tended to be more scripted events in the original).
Truth Reenactment is a new mechanic where you piece together and arrange the perpetrator's actions, a la Danganronpa.
Wink Psync lets you read someone's mind. You're basically looking into their dreams without having to go inside them.
Difficulty is adjustable in Somnium investigations now. Some of the puzzles in AI: The Somnium Files were downright inscrutable, so this should help alleviate that. For those who like the challenge, don't fret—there's new additions to the formula to pile on the pressure. So-called "antibodies" will ask questions about the case, keeping you on your toes.
Nab These Free Costumes for AI: The Somnium Files – nirvanA Initiative Before Time Runs Out
For three weeks from the release date (June 24th, Friday to July 14th, Thursday PDT), limited-time costume DLC will be offered for the game. You can dress both Aiba and Tama in a "3-Pattern T-Shirt Set" or "Hot Dog Costume Set." Check them out below.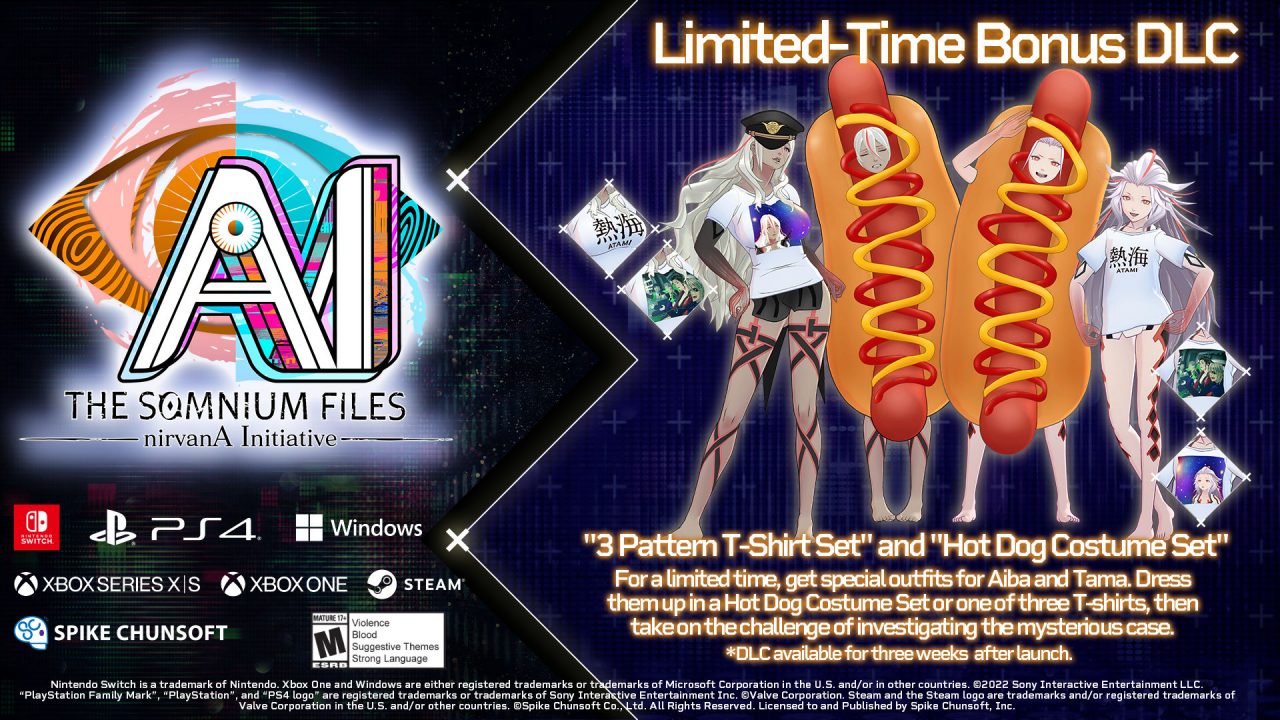 It's safe to say that Uchikoshi's sense of humor is surviving and thriving. I'm like 90% sure the hotdog suit's a reference to this I Think You Should Leave sketch. Indeed, we're all trying to find the guy who did this.
AI: The Somnium Files – nirvanA Initiative is coming June 24th to Nintendo Switch, PlayStation 4, Xbox, and PC via Steam. The official website has more info for you. Want to catch up on the original but don't have time to play it? Consult our review and Retro Encounter spoilercast by people who really love it. Don't forget to Psync up with RPGFan and stay tuned for more news!