During their latest financial earnings call, Polish development studio CD Projekt RED has revealed that the previously announced Cyberpunk 2077 expansion will release sometime in 2023! The call didn't provide any information pertaining to the contents of the expansion, but the studio has said players should expect to hear more later this year.
Cyberpunk 2077 released back in December of 2020, but unfortunately it was an experience marred by horrendous bugs that rendered the game borderline unplayable on both PlayStation 4 and Xbox One. Since the title's release, CD Projekt RED has been hard at work fixing the game, as well as releasing native versions of the title on PlayStation 5 and Xbox Series consoles. Undoubtedly, it's for this reason that there will be such a gap between the game's initial release and the release of the major expansion content.
The Current State of Cyberpunk 2077 Development
One of our priorities for 2021 was to improve Cyberpunk 2077 gameplay. We are now satisfied with the game and encouraged by the gamers' reception of its next-gen console edition."

CD Projekt Red management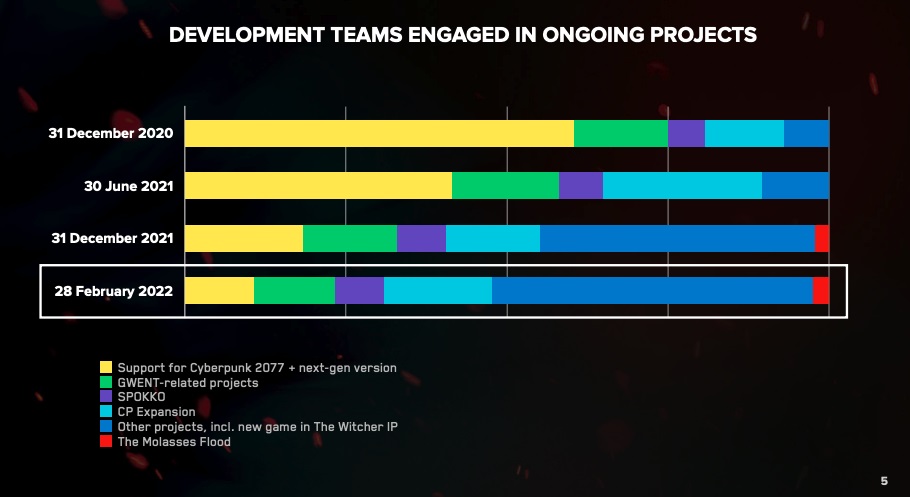 During the financial meeting, the statement and information graphic above was provided by the management team at CD Projekt RED. As we can see, the number of people working on Cyberpunk 2077 has decreased considerably. This likely indicates that work on improving the state of the game has either been significantly reduced or concluded, and that the team still working on the title has shifted their focus to the expansion content.
As I previously mentioned, we currently know very little regarding the expansion content coming to Cyberpunk 2077. We are expecting to hear more information as the year continues, however, so make sure to keep an eye on RPGFan where we will cover any updates as they are announced. With the recent release of the PlayStation 5 and Xbox Series versions of Cyberpunk 2077, now is a really great time to jump into the game. If you plan to give one of these shiny new versions a go, make sure to read RPGFan's review of the PlayStation 5 version written by Cory Tischbein.
Source: GameSpot