At long last, trainers will be able to utilize the Pokémon Home application in conjunction with the newest games in the franchise, Pokémon Legends: Arceus and Pokémon Brilliant Diamond & Shining Pearl. The app's 2.0.0 update, which will be released "shortly" according to an official news update (an exact release date was not provided), will allow players to transfer Pokémon from all across the Pokémon universe, from the Galar region to ancient Hisui.
Starting with 2.0.0, the Pokédex in Pokémon Home will be expanded to accommodate each game, whereas before the only Dex in the app was the National version. Pokémon you've stored in boxes after updating Home will be registered to their respective game's Pokédex. Additionally, the mobile app will be adding stickers obtained by earning in-app achievements, and can then be used to customize your profile. Also, because the plot of Legends: Arceus is about completing the first Pokédex, whether or not you've completed a Pokémon's specific entry in your save data will affect whether or not you unlock their Dex entry in Pokémon Home.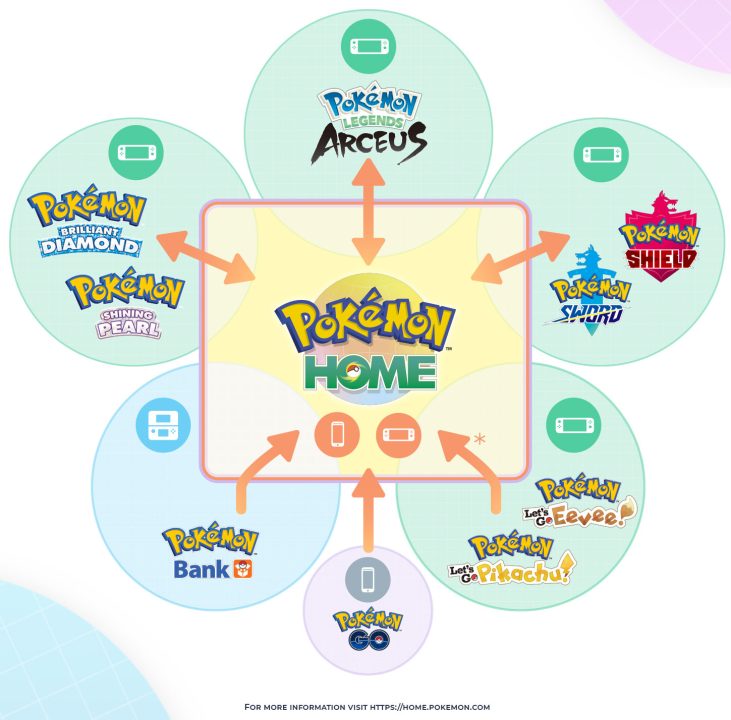 Now, here's a fun little tidbit: because Legends: Arceus takes place in the distant past, any Pokémon transferred from Sword, Shield, Brilliant Diamond, or Shining Pearl will be inside a green "Strange Ball," since Poké Balls haven't been invented yet. Any Pokémon transferred from Arceus to Brilliant Diamond or Shining Pearl will also be in a Strange Ball. However, if a Pokémon from Arceus is sent to Sword or Shield, it'll be in a standard Poké Ball. Keep in mind that transferring your critters to a game they weren't caught in may result in other changes as well, such as to their level or move pool.
Lastly, The Pokémon Company are offering some free incentives to transfer your Pokémon into Pokémon Home. Transferring a creature from Brilliant Diamond & Shining Pearl in the Switch app will allow you to receive a Turtwig, Chimchar, and Piplup with their Hidden Abilities as a Mystery Gift in the mobile version. Similarly, sending a pocket monster from Legends: Arceus into the app will enable you to receive a Cyndaquil, Rowlett, and Oshawott with maximum effort levels on mobile.
Stay tuned to RPGFan for more coverage of all things Pokémon!