Atlus West has revealed a swanky collector's edition for Soul Hackers 2 via Twitter (see below). The whole collection—available for $199 USD and limited to one per customer—comes with the game, a three-inch Ai-Ho figure, a steelbook case, a plush Mimi, a shark keychain, five pins, a USB soundtrack, and a set of character art cards. That's quite a lot of goodies!
Atlus encourages fans interested in procuring the collector's edition to sign up for the Soul Hackers 2 newsletter (via the official website) to receive updates. Pre-orders open on June 10th.
In other Soul Hackers 2 news, Atlus has released a new Japanese trailer for the game, which you can check out below!
Pre-orders for the Japanese digital editions of Soul Hackers 2 will go on sale on June 9th, with the Steam version becoming available on the 10th. Japanese players who pre-order the game will receive the Persona 5 music and costume sets as a bonus. There's also a digital Anniversary Edition that comes with a digital artbook and soundtrack as well as costumes.
A Digital Deluxe edition will also be available for ¥11,550 JPY. This edition comes packaged with the "All-in-One Additional Money, Incense, and EXP Set," as well as the "Lost Numbers" additional scenario and the aforementioned costume DLC. Further DLC, featuring Shin Megami Tensei series costumes and music, EXP boosts, and more is also planned.
Meanwhile, in the West we will have access to the Digital Premium Edition for $69.99 USD. As seen in the image below, this version will contain:
Booster Item Pack
Bonus Story Arc: The Lost Numbers
Costume & BGM Pack
Bonus Demon Pack
Ai-ho Demon
Mary's Maid Frock Outfit
Persona 5 Phantom Thieves outfits (for pre-orders only)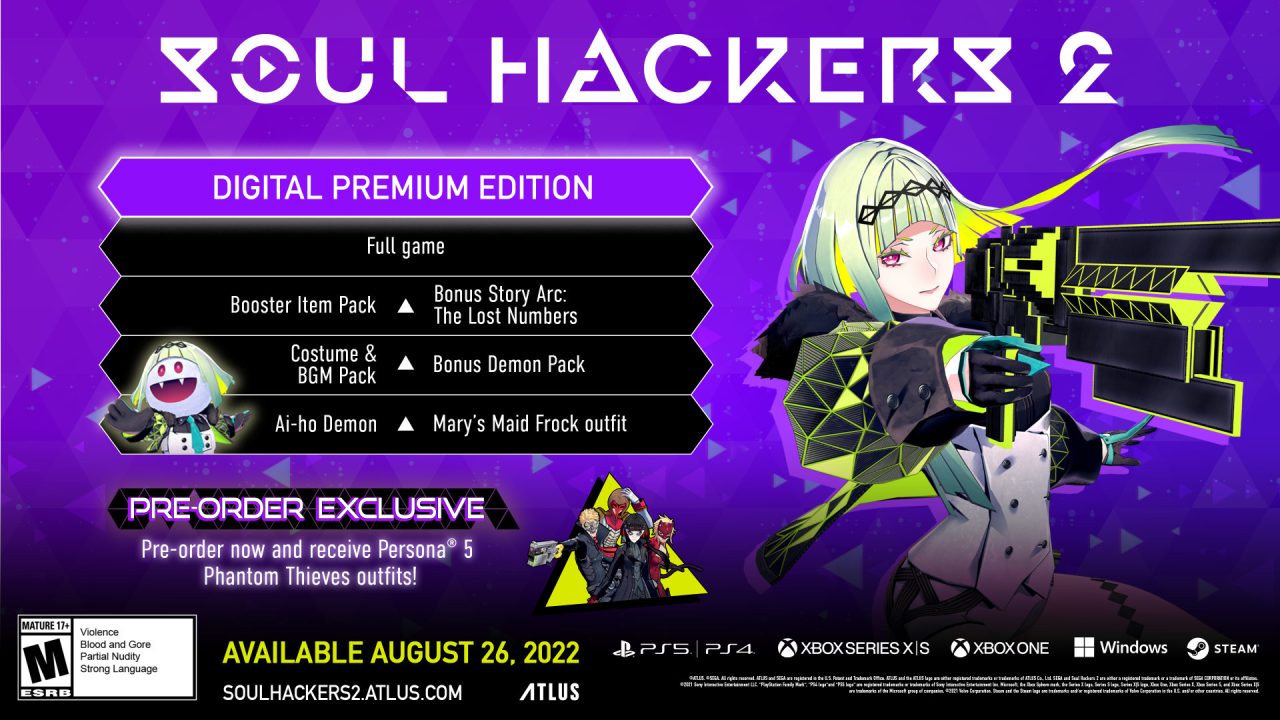 Soul Hackers 2 will launch for PlayStation 5, Xbox Series X|S, PlayStation 4, Xbox One, and Windows PC on August 25th in Japan, and worldwide on August 26th. Stay tuned to RPGFan for more coverage of your favorite games!
Sources: Siliconera, Gematsu