Square Enix premiered Harvestella, a new life simulation RPG, at the recent Nintendo Direct Mini. It's slated for a November 4th release on Switch and PC via Steam. Check out the vivid, multicolor trailer below.
Farm, fight and forge friendships in a new fantasy world. Welcome to Lethe, a peaceful village where seasons brightly color the environment. Your story begins here in this new life-simulation RPG. Farm, craft items and collect materials as you go about your everyday life, meeting townsfolk along the way. The seasons gently flow from spring, summer, fall and winter. However, they'll eventually give way to the season of death, Quietus. The fate of the village depends on you stopping the Death Season from wreaking havoc.
Here's the description from the Harvestella press release, which contains a little more info on the lore and mechanics. Job classes and dungeon crawling! Not mentioned here: concept art by Final Fantasy XII illustrator Isamu Kamikokuryo and music by Go Shiina of Tales series fame.
HARVESTELLA is set in a vibrant and colourful world where four giant crystals called "Seaslight" create a stable change between the four seasons. The adventure begins as abnormalities in the Seaslight begin to appear, creating the "Quietus," a season of death that takes place between the naturally occurring four seasons. During the Quietus the crops wither and people cannot venture outside, and troublingly, these seasons are mysteriously growing longer with each year.

In this life simulation RPG, players will grow and tend to crops, use ingredients to cook and craft items, and venture into the overworld, which vibrantly changes based on the season, to visit different towns, interact with townsfolk, go fishing and more. Players can select from various Jobs, such as Fighter, Shadow Walker, and Mage, and venture into dungeons with their party to discover the origins of the world as well as the truth behind the calamity along the way.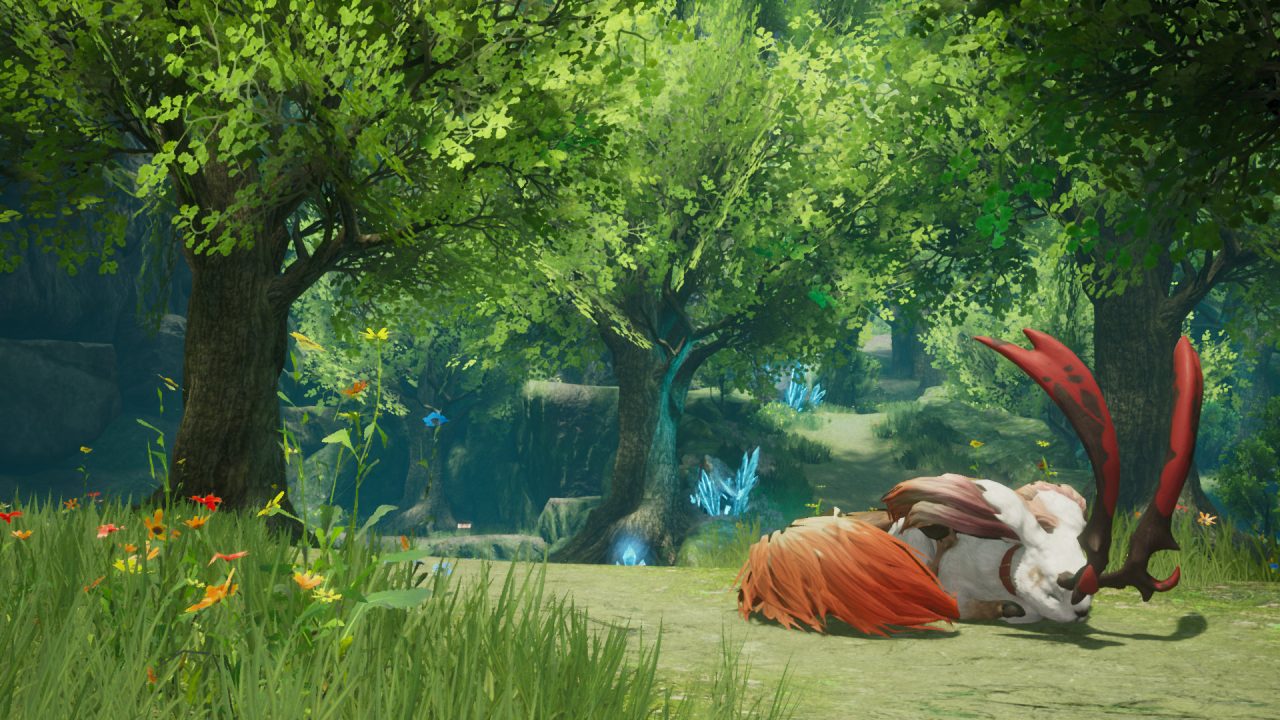 Let's Break Down Harvestella
Square Enix has a whole blog post up detailing Harvestella's world, characters, and gameplay systems. Here's a TL;DR summary for ya.
As you know if you read the excerpts above, there are five seasons to plan around: Spring, Summer, Autumn, Winter, and Quietus (the season of death). They change every 30 days, and you'd best harvest your crops before death season rolls around—they'll wither and it seems getting around will be limited during that time.
Your character meets someone named Aria at the start of the game. She claims she's from the past and that's she's here by accident.
The other two main characters featured are named Asyl and Shrika.
Aside from farming, you can cook (tasty-looking) food and craft items for your dungeon crawling. Socializing with townsfolk and progressing their stories will yield nice rewards.
There's a whole danged overworld to explore, a la the JRPGs of old.
Jobs will have a huge impact on how you fight. For example, Fighters prefer close quarters while Mages keep distance. The usual.
Harvestella launches November 4th for Switch and Steam. Stay tuned to RPGFan for more life sim news!