Indie developer Inkle has teamed up with publisher ININ to release a physical version of both 80 Days & Overboard! in a double pack collection for the Nintendo Switch! The launch will take place on October 28th.
Fans can pre-order their copies now from a variety of retailers, including Amazon (US), Strictly Limited Games (UK), and Games Rocket (Europe). The release will sell for $30.00 USD/£27.06 GBP/€29.99 EUR.
80 Days & Overboard! – Physical Edition Pre-Order Trailer:
80 Days & Overboard! Special Limited Edition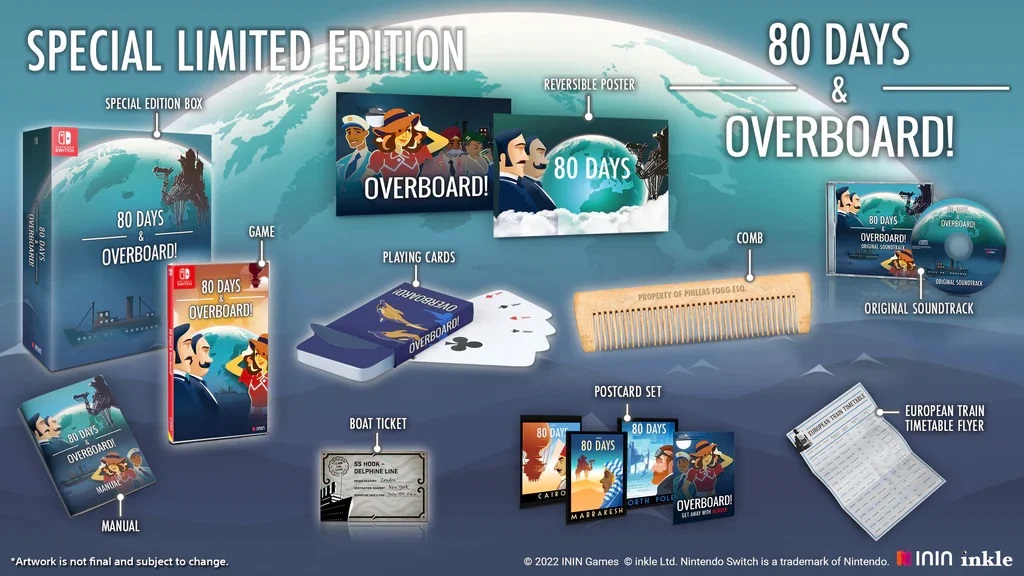 Alongside the standard physical release, some fans will be able to get their hands on the Special Limited Edition of the dual pack. The collection includes the following:
Game for Nintendo Switch – 80 Days & Overboard! games on cartridge in a game case with an exclusive and limited cover sheet
Special Limited Edition Box – Box in awesome art style of 80 Days & Overboard! to collect the game and all of the Special Limited Edition's items
Colorful Game Manual – Manual with game instructions and some further insights and art
Double-sided Poster – Featuring both games' full main visuals showing their timeless art style in their full glory
80 Days Postcard Set – Featuring 4 stunning locations that represent 80 Days' vibrancy and commitment to conveying the atmosphere of the locations visited. 
Overboard! themed Card Game – Fitting the setting of Overboard!, this card game featuring artwork of the game. 
80 Days shipping Timetable – This time table gives you an overview for the timings for some of the most unique vehicles in the game.
Overboard! Soundtrack + 80 Days Bonus Track – Contains the classical works which appear period- and setting-appropriate in Overboard!, as well as the 80 Days main theme
Boat Ticket – Ticket for the S.S. HOOK – DELPHINE LINE from London to New York
Comb – Phileas Fogg's trusty comb that accompanies him on every journey. An essential item for every world traveller
The Special Limited Edition is available to pre-order via Strictly Limited Games (UK) and Games Rocket (Europe) and will set you back £45.11 GBP/€49.99 EUR. Unfortunately, for those of you in the US, it looks like you may have to import the Special Limited Edition if you want to get your hands on it.
The physical edition of 80 Days and Overboard! is set to release on October 28th and is available to pre-order now.
If these two graphic adventure titles getting a physical release has persuaded you into giving them a go, make sure to check out RPGFan's reviews of both 80 Days and Overboard!
For everything else regarding the graphic adventure genre, you're already in the right place here at RPGFan.