Marvelous has announced that Rune Factory 3 Special, a remastered and expanded version of Rune Factory 3: A Fantasy Harvest Moon on the Nintendo DS, will release in Japan on March 2nd, 2023! The title will be available exclusively on the Nintendo Switch.
At the time of writing, an exact Western release date has not been announced but is still slated for sometime in 2023.
Rune Factory 3 Special – Nintendo Direct Announcement Trailer:
Rune Factory 3 Special returns after more than a decade following its original release on Nintendo DS, featuring HD graphics and redesigned 3D character models that breathe new life into a beloved entry in the Rune Factory series. Whether adventuring in dungeons, working the farm, or finding romance, experience the fantasy life you've always wanted.

In Rune Factory 3 Special players take on the role of Micah, a young man with the power to turn into a golden sheep-like monster known as a wooly. Rescued by a young woman after falling headfirst into the provincial town of Sharance, Micah awakens with no memories of his past and soon finds himself embroiled in a longstanding conflict between humans and monsters. Micah must work to build bridges between the races to restore peace, all while uncovering a shocking secret of his own.
Rune Factory 3 Special – Dream Collection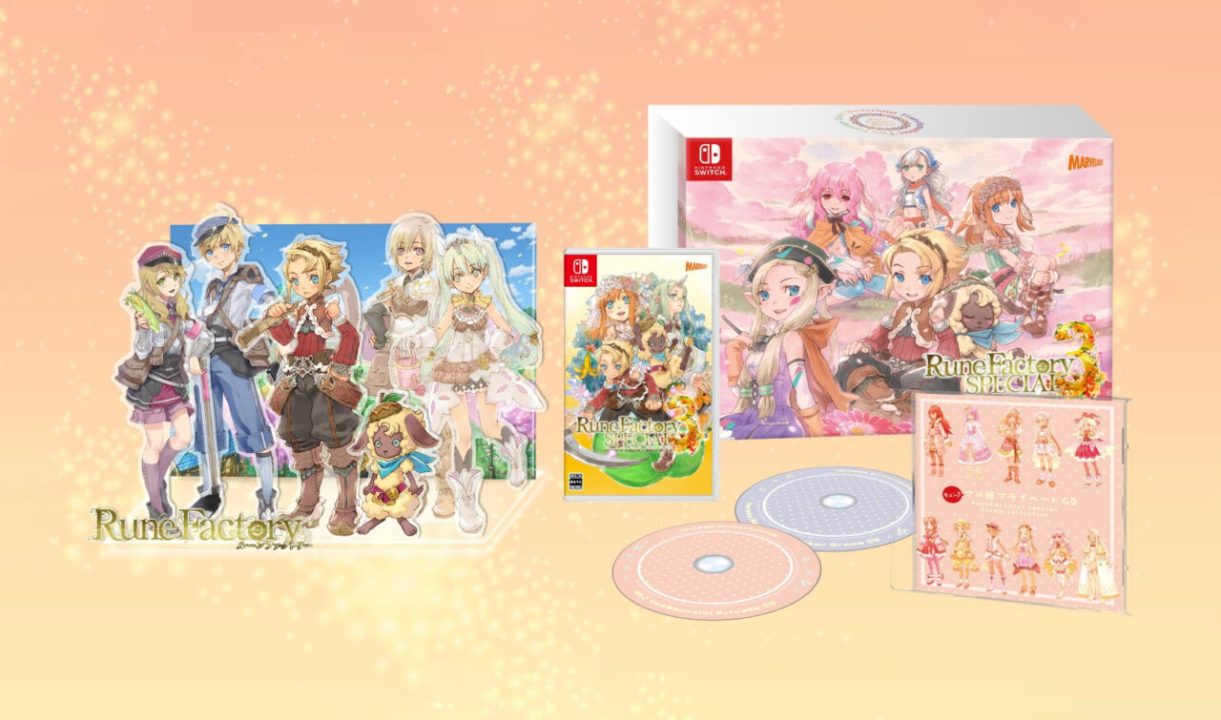 Following the announcement, Marvelous has revealed a "Dream Collection" for the title, which includes:
• Rune Factory 3 Special – A copy of the game for Nintendo Switch
• Luxurious special box – illustrated by Minako Iwasaki
• A large gathering of heroes! All-Star Drama CD – A gorgeous drama CD in which the main characters of the series go beyond the framework of the work and perform a dream contest.
• Kyun Confidential Private CD – A short drama CD where you can enjoy a sweet and fun life with each of the heroine candidates.
• Memorial Diorama Acrylic Stand – A diorama acrylic stand featuring the main characters from Rune Factory 3, 4, and 5.
• "Swimsuit mode for everyone" DLC – Additional content that allows you to play a special mode where the main character and heroine candidates are in swimsuits
The "Dream Collection" will retail for ¥9,800 JPY. A "Digital Deluxe Edition" of the game will also be available for ¥5,980 JPY, which includes a digital copy of the game and the "Swimsuit mode for everyone" DLC.
Rune Factory 3 Special is set to release in Japan on March 2nd, 2023. A Western release date is also expected to be scheduled sometime in 2023.
For more on the Rune Factory series, you're already in the right place here at RPGFan.