Publisher NIS America has announced that The Legend of Nayuta: Endless Trails will be released this fall in the west for the PlayStation 4, Nintendo Switch, and PC via Steam, Epic Games Store, and GOG.
Watch the gameplay and preview of Nayuta's exploration in the opening trailer below:
If you haven't heard of it yet, The Legend of Nayuta: Boundless Trails takes place on Remnant Island in a different world and era from the other Trails games. The action RPG is a stand-alone spin-off title, and it originally came out in Japan in 2012 for the PlayStation Portable. Players in the west will now get a chance to experience the journey firsthand in a remastered version with full English dialogues.
Overview of The Legend of Nayuta: Boundless Trails
Nayuta spends his days gazing up at the stars above his island home and wondering what lies beyond the horizon. Though people claim the sea they live on is flat and finite, Nayuta knows there must be more out there, just waiting to be discovered.

Occasionally, ruins and stars will fall from the sky over Nayuta's home, offering what seem to be glimpses of other worlds. While exploring one such ruin, he and his friends save a small, fairy-like girl by the name of Noi. She tells Nayuta that something very important has been stolen from her and asks for his help in retrieving it.

It's with this that Nayuta's journey begins—one which will take him far beyond the confines of his island to experience new worlds and extraordinary discoveries!
Key Features
Worlds Beyond Home: Experience all the wondrous phenomena The Legend of Nayuta has to offer with HD visuals, high quality music, 60fps, and new illustrations added for this Western release!
Skills for Every Season: Enter the fray with real-time action gameplay and environment-based puzzles that are affected by the current season. Utilize season-based magic and powerful weapon skills to take down your foes, and unlock new techniques based on your performance.
An Ocean of Adventure: Dive into a different kind of Trails game! Experience a light, whimsical story rooted in fantasy and discovery with a variety of colorful locations and characters, plus tons of extra quest content.
Limited & Deluxe Editions of The Legend of Nayuta: Boundless Trails
Pre-orders of the Limited Edition for the PS4 and Switch of the game are now available through the NIS America Online Store page. The Deluxe Edition is also featured on the official website, but it is not yet listed on the storefront.
Limited Edition ($89.99 USD)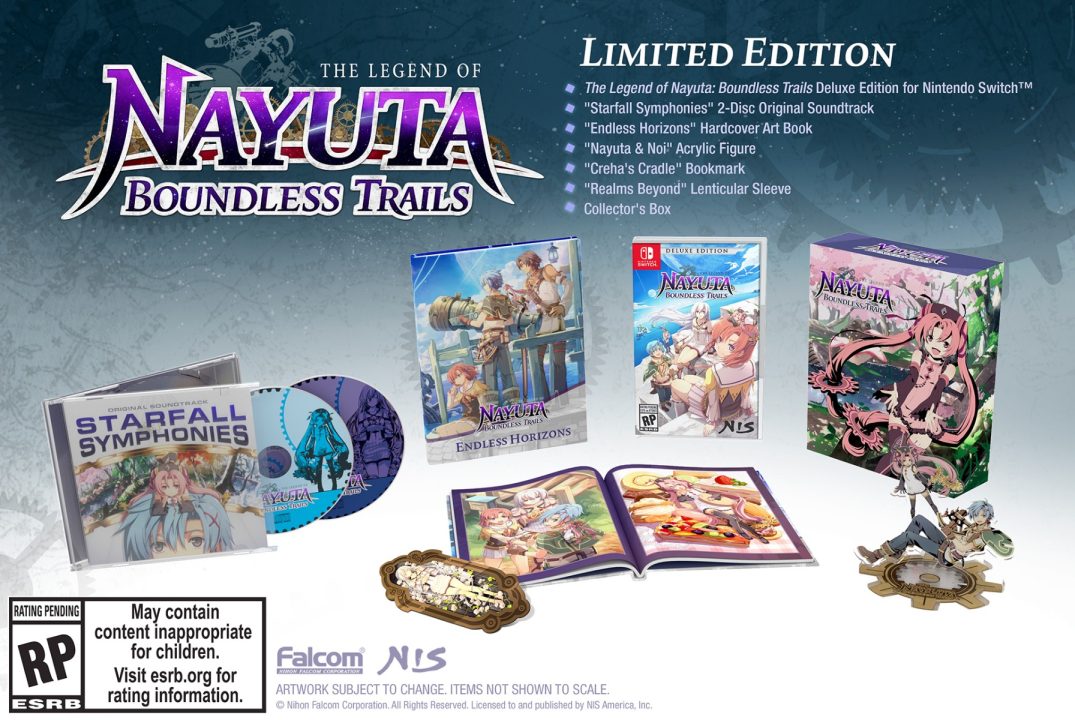 Physical copy of base game (PS4/Switch)
"Starfall Symphonies" 2-Disc OST
"Endless Horizons" Hardcover Art Book
"Nayuta & Noi" Acrylic Figure
"Creha's Cradle" Bookmark
"Realms Beyond" Lenticular Sleeve
Collector's Box
Deluxe Edition (Coming Soon)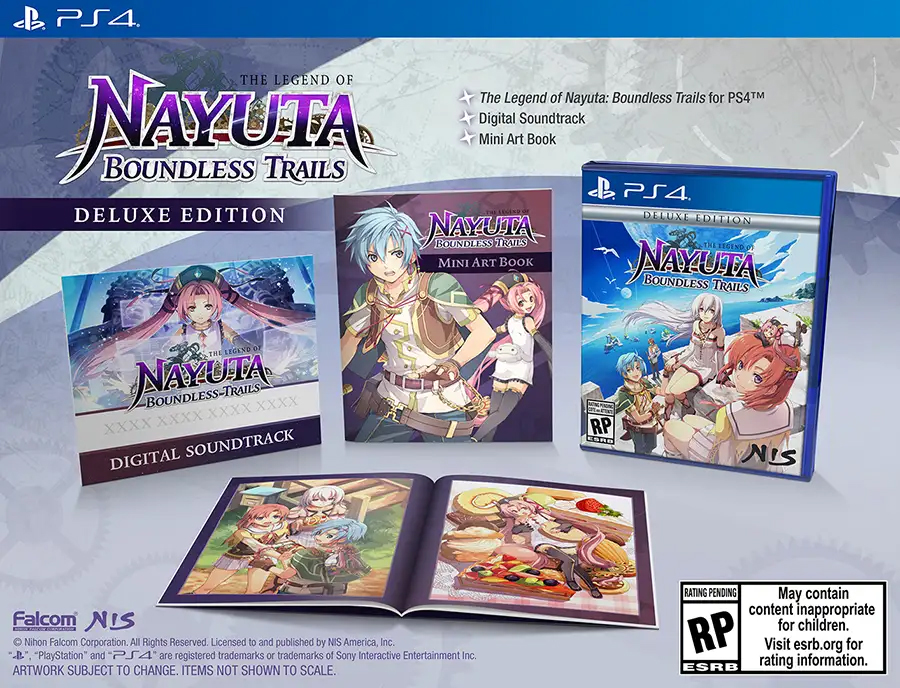 Physical copy of base game (PS4/Switch)
Digital Soundtrack
Mini Art Book
The Legend of Nayuta: Boundless Trails Media