Ys fans who want more Ys VIII: Lacrimosa of Dana as they await the release of Ys X: Nordics, this is exciting news for you! As we reported on in February, developer Falcom has teamed up with Dragonwell Publishing to bring Adol's adventures on Seiren Island to the printed page. Anna Kashina, author of The Majat Code series and known Ys VIII fan, is handling the official novelization of the 2017 action RPG. For a closer look, here's the existing excerpt:
When Adol Christin boards the sea liner Lombardia for what he expects to be an easy voyage across the Gaete Sea, he has no idea his journey will end in catastrophe. Shipwrecked on the mysterious Seiren Island along with a handful of other Lombardia survivors, he must face the ancient curse that had haunted Seiren for millennia and find a way to defeat it.

Adol's search for escape brings his party to the ruins of the ancient civilization of Eternia. Among the ruins, Adol discovers a survivor, Dana, who had managed to preserve herself in a magical cocoon through her gift of Essence. But when she awakens and gradually regains her memories, Adol and his friends learn the horrible truth. Humanity is destined for destruction by the same forces that destroyed Eternia millennia ago. Even Dana's gift can do little to avert this fate.

Adol and Dana must join forces and throw all their powers into the fight. But will this be enough to defy the ancient gods, and the natural order of the world?
Ah, good 'ol Adol, shipwrecked and at it again. But at least it's an idyllic island setting? The full account of his journey is planned to release October 18th, 2023. Today, the Dragonwell team has revealed the cover art for Lacrimosa of Dana, seen below, featuring Adol and the mysterious and powerful Dana, his ally as he learns the island's secrets and once again has to help avert catastrophe. The slight variation between Adol's background and Dana's really emphasizes her connection to the lost Eternian civilization and its role in the story. If this cover art or the description grab your interest, check out the book's website, where you can find more information and sign up for updates on this novelization.
Also, if you're enjoying the look of the cover, don't miss our brand-new giveaway, where one lucky fan can win a signed print of the artwork!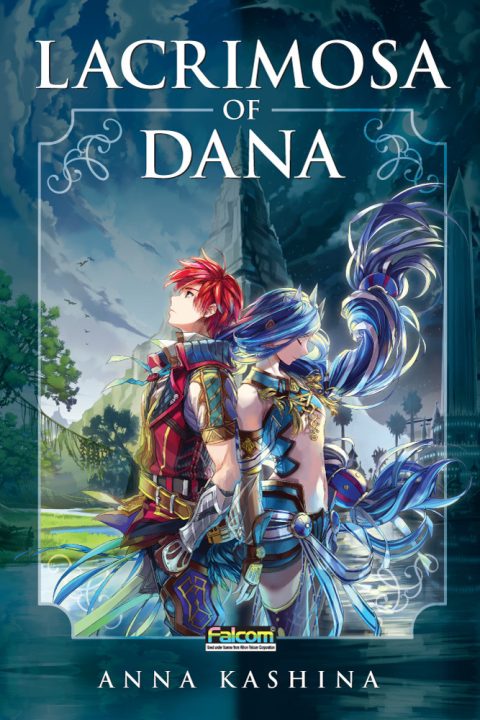 Preorders are also live for the ebook version if you want forge straight ahead to ordering. Details on the paperback version will be forthcoming at a later date.
For now, enjoy the official cover art for Lacrimosa of Dana, get excited for a good read, and stay tuned here at RPGFan for more updates on this project as it gets closer to the release date. Which, again, is currently planned for October 18th, 2023.
Note: RPGFan is an affiliate with Amazon, and purchases made via affiliate links may financially benefit the site.