Ahead of its upcoming release on August 10th, publisher Focus Entertainment and developer Deck13 Interactive have shared a new trailer showing off a fun way to explore the sand realm of Atlas Fallen: surfing in style. Watch the video below and preview some gameplay clips.
Propel yourself in the air and glide across the dunes thanks to your sand-infused powers and experience incredible speed, verticality, and high mobility. An ecstatic feel as you explore the vast and timeless land of Atlas and fight its terrifying beasts.

Atlas Fallen is not merely a fascinating world filled with mysteries and a variety of enemies to defeat through breathtaking action supported by a deep progression and customization system… Atlas Fallen is more than that… an overwhelming truth revealed in the "Lord of the Sands" trailer.
Atlas Fallen Gameplay Videos
The high-fantasy action RPG undeniably looks flashy with buttery smooth combat similar to Devil May Cry set against an open-world desert setting. You'll be able to wield magic as you fight the so-called sand wraiths.
The 151 Essence Stones that can be found in the world of Atlas grant you a wide range of extra effects and abilities. Whether you prefer to play aggressively or prefer to use shields, debuffs and healing, combine Essence Stones how you like to create your own approach to combat.

These tools allow you to take on intense fights against a wide bestiary of Wraiths. Adapt and play wisely against each opponent. Extend the combat possibilities even further as a friend joins you thanks to the game's online 2-player coop mode. You can play the full story campaign together, finding the most incredible synergies to defeat your enemies with ever more impressive style.
Pre-orders are available at the Focus Entertainment Store with three options to choose from: a $49.99 USD standard edition, a $79.99 USD limited edition, and a $99.99 USD Signature Edition.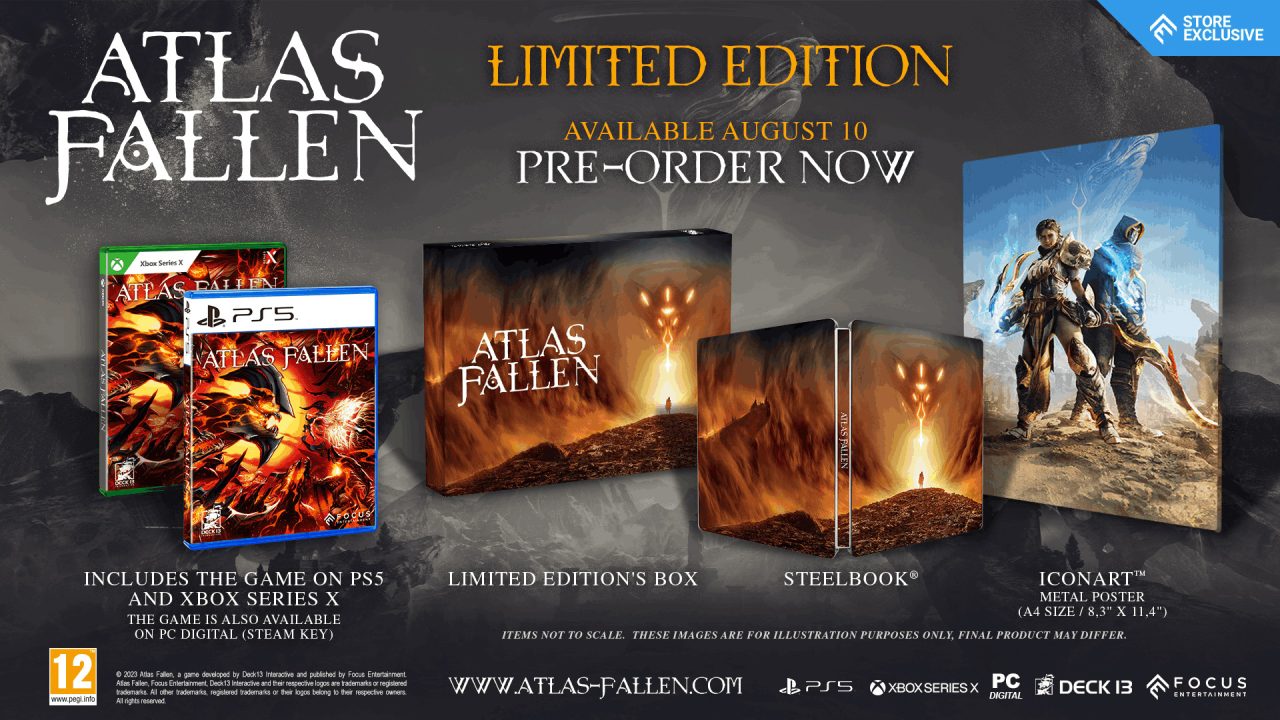 Atlas Fallen Screenshots
Atlas Fallen launches on August 10th for PlayStation 5, Xbox Series X|S, and PC via Steam.
Source: Gematsu