I am very pleased to present the second 25th anniversary addition to our shop, the brand-new "RPGFan Transitions" design that illustrates the six major logo designs we have had throughout our history. And while I intend to share a bit of the story behind this design (it's here!), first let's cover the essentials!
Since this design celebrates this year's 25th anniversary of RPGFan, it will only be available until the end of the year! Since our site has historically only had a dark background (until 2019), it made sense to only offer it on a few selected dark shades. It is available across most of our shop lineup — t-shirts, phone cases, mugs, and more. Here's a preview of some options, with the most notable being the debut of our very first front & back print t-shirt!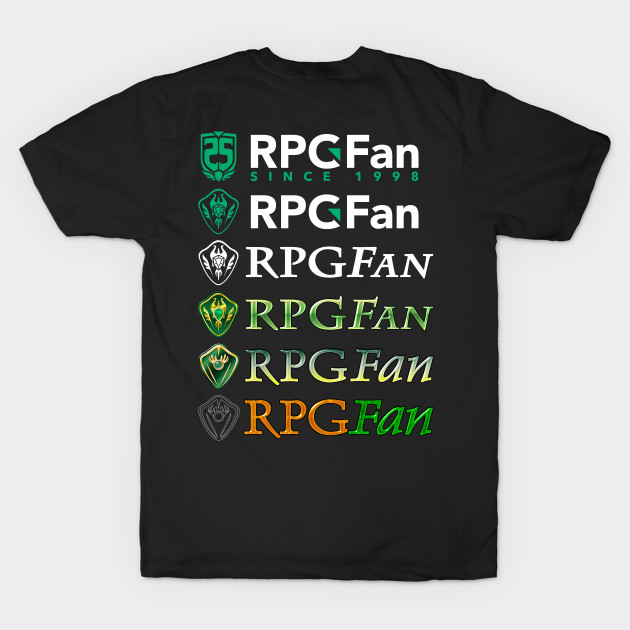 The RPGFan Transitions products are available now, and for the next three days, our classic tees are only $16 USD, and everything else is up to 35% off!
---
We like how the design turned out, but it felt like it would ideally be a back print, even though our partners at TeePublic generally offer front-only prints like many manufacturers. Coincidentally, as this design was being finalized, TeePublic started offering front & bank printing. It was clearly meant to be.
You can see the design on all products for yourself by browsing our shop, but I want to highlight some more options here to give you a taste: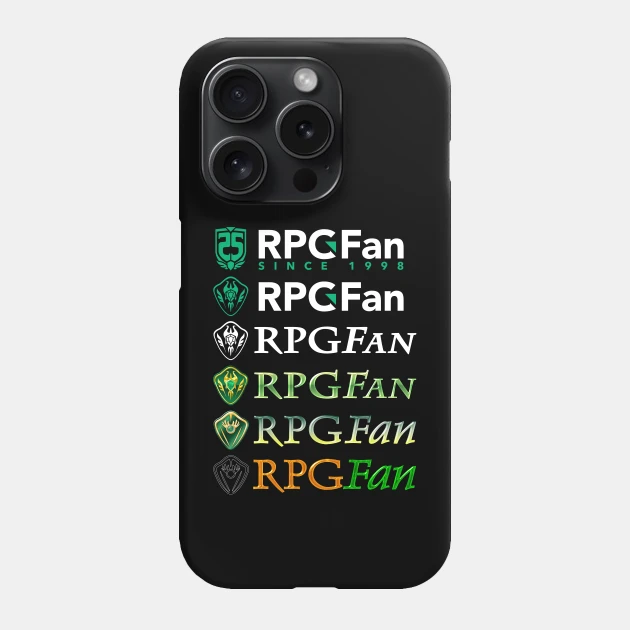 Personally, I am quite fond of the phone cases! Like many of you, no doubt, I am very particular with my phone cases. It really has to have the right feel and not too bulky, or it isn't going to work for me. Early on, I got one of our own phone cases for myself, because I really wanted to make sure we were selling something I could get behind. Since I haven't used another phone case in over a year, I'm happy to say TeePublic makes solid phone cases, with a shockingly durable print; my case still looks like new.
---
The Story
Okay, if you're still reading at this point, you want to know more, right? Right. This isn't a long tale, but it's been a fun process, and I want to show how much work went into this item. If you've been reading RPGFan for a long time — or have simply read our 20th anniversary feature, History of the RPGFan Logo — you will recognize these older logos. But the older ones were never meant to be seen at a large size, nor did print-quality resolutions even exist for them!
The oldest-school orange and green RPGFan logo came from an unknown 3D text effect app sometime in early 1999, and my later designs would generally be displayed at, say, 200 pixels across. For reference, print artwork for our products needs to be 5,000 pixels wide. Even AI upscaling alone wasn't going to bridge that much of a gap alone, but believe me, I tried! The older logos were upscaled, refined, adjusted, with some components rebuilt just for this product launch.
It is not the most time-intensive RPGFan project I've worked on this year — but that's a story for later — but if we were going to launch something to commemorate our site being online for over twenty-five years, I wanted something worthy of such a feat.
Whether you've been with us for all 25 years, or you found us 25 minutes ago, I'm glad you're here, and hope you like RPGFan at least partly as much as I do. We have some exciting things in the works that I can't wait to share with you beyond this, but for now, I'll close out with this humble request:
(And did I mention for the next three days, our classic tees are only $16 USD, and everything else is up to 35% off? Because it's true.)