Campaign Ends: November 24
Platform: Windows, Game Boy Color (including emulators).
Hello RPG friends, and welcome to another installment of Catfunding Chronicles! Today's cat-tastic gaming choice is Inspector Waffles: Early Days, a prequel to 2021's Inspector Waffles, a point-and-click game. In an unexpected (yet exciting) departure from the original, this new installment takes the form of a top-down pixel adventure made for the Game Boy Color. Wow and Meow!
Don the trenchcoat of young Waffles, a novice inspector out to prove himself to his fellow felines. Meet a fantastic furry cast, including your partner Pancakes, a pro detective who easily outshines the dorks at the local police station. While a prequel to the first Inspector Waffles, you can play the games in any order, but fans of the original should keep a sharp eye out for familiar faces; maybe even that of your future nemesis!
Dip your tail into the crime-solving profession through five cases (one per chapter), including the tragic disappearance of a video game cartridge. Enjoy light point-and-click elements, question suspects and witnesses, look for clues, and solve puzzles in the game's charming, animal-populated world. To wrap up a case, report back to Pancakes and answer some tricky questions about what you've learned to determine the criminal of the day!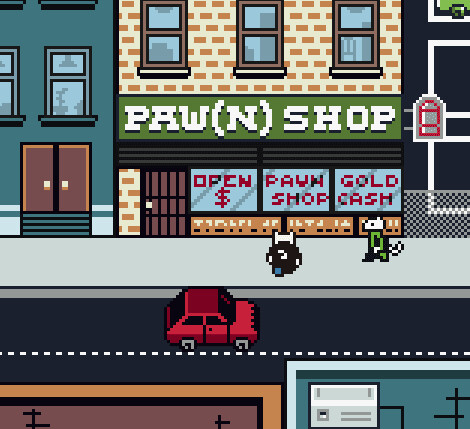 Though Inspector Waffles: Early Days is being developed for Game Boy Color, options for Steam, itch, and various emulators will also be available. Many pledge tiers will include a physical GBC cartridge along with a stylish retro box, and backers can also get their paws on a Big Box version of the original Inspector Waffles PC game if they so choose. On that note, be sure to check out the initial game's Steam page for a look at one of the cutest trailers I've seen. Featuring REAL cats!
This cat-tastic mystery adventure has recently hit its base funding target, with early stretch goals to add a new minigame and more. While awaiting the full release, you can crack the first case through a brief demo, playable on Game Boy emulators or on a physical system using a flashcart.
Cats and mysteries seem to go hand in hand; in a multi-cat household, you may never truly know which criminal mastermind knocked over your favorite mug or pulled down the curtains. Thankfully, you can sleep a bit easier knowing that Inspector Waffles' own feline dilemmas have clear-cut answers. He's a decent cat; let's help him fight crime!
Disclaimer: While it's possible some of us at RPGFan may be backers of the games mentioned in these articles, this does not influence our coverage or our featured game choices. We make our selections simply based on the active campaigns we feel our readers might find interesting, and we are not given special access or perks by the developers.
tl;dr: We think these games show potential and want to share them with you.