Campaign Ends: March 5
Platform: Windows, macOS, and Switch. Linux and additional consoles may be possible, but not yet confirmed.
Welcome to Beacon Pines, a quaint mountain town inhabited by a wide assortment of anthropomorphic cuties and filled with an even wider assortment of dark secrets and bizarre occurrences. Missing townsfolk, strange earthquakes, mysterious glowing lights, and a dubious corporation are just a few of the sights you'll be treated to during your stay. Town life just hasn't been the same since the incident at Valentine's Fertilizer plant!
Our tale takes place within the pages of a mysterious storybook; play as both the narrator and Luka, an adorable little deer wearing a snappy red sweater. The book has been left incomplete, and your help is needed to track down its missing words in a Mad Libs-inspired narrative adventure. While exploring, you'll be collecting charms engraved with said words, one of which, as confirmed from video footage, is "turd." Fill out the book's incomplete sentences to shape the plot, and then play out the resulting scenes! Your decisions will determine which characters and charms you'll encounter and what secrets you'll reveal about the town itself. Thankfully, the game will allow you to go back and change the story if your original choices disappoint.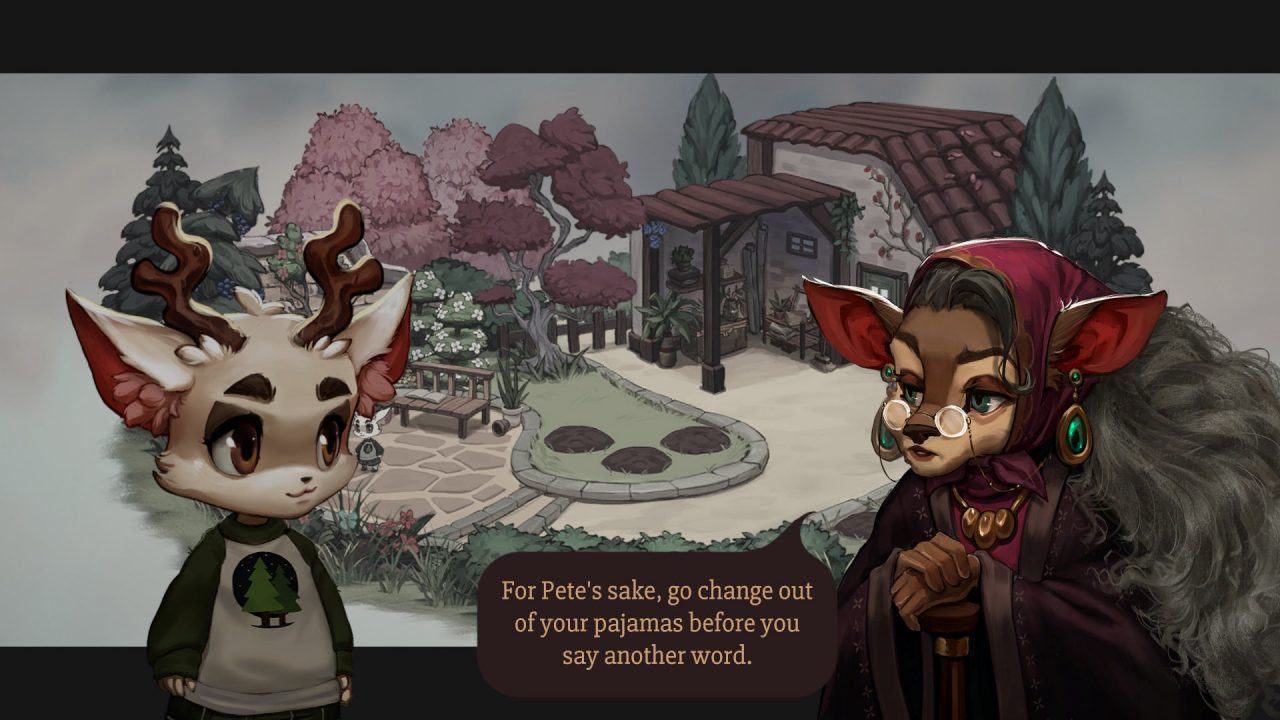 Fully funded early on, Beacon Pines has already reached its first two stretch goals, which add cooking and fishing minigames. Fishing will take place in a beautiful new aquatic area, while the Last Chance Diner will become your culinary headquarters. Both minigames will feature optional side stories that reveal more about the game's world and characters without impacting the main storyline. The final stretch goal—which has also been reached—will add voice-over narration for the storybook, and fans can chime in with suggestions for one additional stretch goal.
Beacon Pines' graphics are quite magnificent: a combination of isometric exploration in a lush, painted world, and dialogue scenes featuring adorable animal characters in cozy vintage clothing. Meanwhile, the storyline is sure to appeal to fans of Stranger Things, Night in the Woods, and other small-town mysteries (with or without cute animals). Take note; much like its influences, this game will feature some disturbing content and PG-13 language throughout its 4–6 hour playtime. In any case, Beacon Pines' wholesome-yet-ominous aesthetic is definitely making it to my gaming wishlist. I hope to see you at the Last Chance Diner!
Disclaimer: While it's possible some of us at RPGFan may be backers of the games mentioned in these articles, this does not influence our coverage or our featured game choices. We make our selections simply based on the active campaigns we feel our readers might find interesting, and we are not given special access or perks by the developers.
tl;dr: We think these games show potential and want to share them with you.