Campaign Ends: December 16th
Platform: Windows, macOS, and Switch.
The seaside town of White Ash harbor was once a bustling tourist attraction, with the town's star restaurant, Le Sequoia, drawing crowds of hungry visitors from far off lands. Sadly, those days are now a fading memory… unless a plucky traveling chef with big dreams happens to be waiting right around the corner. And behold; there you are! Bring the restaurant and its surroundings back to their former glory in Chef RPG, an open-world pixel RPG all about food, friendship, and beautiful architecture.
Gameplay in Chef RPG largely focuses on restaurant management, wilderness exploration, and of course cooking. Go hunting, fishing, do some farming, and make friends (maybe even romantic friends) with the diverse characters you'll meet. Follow along with the main storyline and enjoy a variety of sidequests to become the type of chef you've always wanted to be!
You'll be able to build Le Sequoia into one of five different restaurant types, including a pub and a tea house. Choose the menu and hours of operation, hire staff, and decorate the place as you wish. Then, adventure out into the world to learn new recipes and acquire rare ingredients; take note of the seasons and weather, as they'll affect what you'll be able to find. You'll gain EXP through nearly all of your actions, and use a skill tree system to upgrade your character's cooking, exploration, and social skills, among other helpful talents.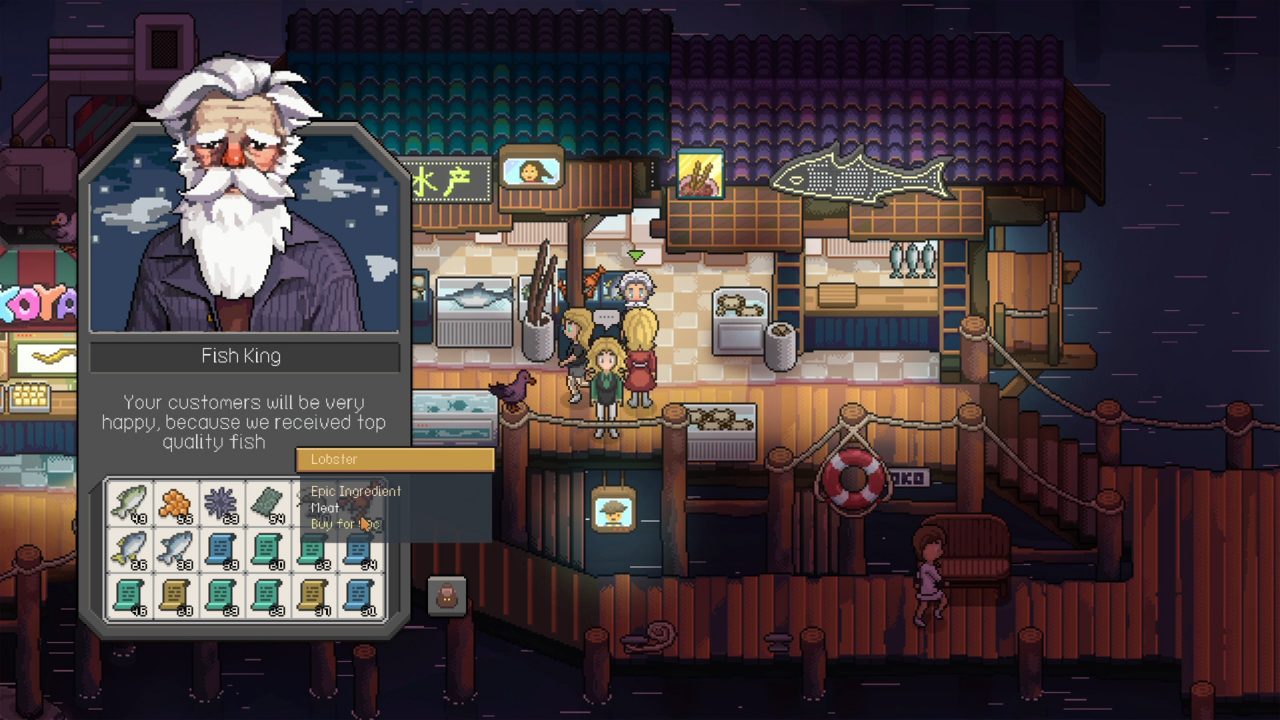 I can't forget to mention Chef RPG's eye-catching and detailed pixel art. The project lead, Noah, happens to be a former architectural designer; this really shows in the game's stunning locales which blend Asian and Western styles along with a dash of futuristic technology. Make sure to check out Pixel Architect's YouTube channel for a deep dive into the game's art process! The game also already has a Steam page. Meanwhile, our character roster is filled with some very lovely portraits by Nikita, the game's character designer. A talented art team, I have to say!
Chef RPG reached its original funding target early on; the final stretch goal will add a new ocean fishing platform, bringing with it some extra gear and fishing spots. Potential supporters should also be aware that tiers of $60 CAD ($48 US) and up will reward you with an in-game Shiba pet. Very important!
All things considered, Chef RPG looks to be a delicious addition to your gaming library. The detailed pixel architecture caught my attention right away, and everything I've seen of the game so far radiates a wholesome, happy feeling. If I could, I'd even grab myself a slice of that pixelated chocolate cake featured in the recipes. Cake is exciting.
Disclaimer: While it's possible some of us at RPGFan may be backers of the games mentioned in these articles, this does not influence our coverage or our featured game choices. We make our selections simply based on the active campaigns we feel our readers might find interesting, and we are not given special access or perks by the developers.
tl;dr: We think these games show potential and want to share them with you.