Campaign Ends: May 25
Platform: Game Boy family, Windows, Analogue Pocket, and emulation devices (including Raspberry Pi).
Several years ago, I found my old Game Boy shoved in the back of a drawer, its insides covered with battery acid. A darn shame, as 2023 will see the release of a brand new action RPG for the system (and Steam, of course). Glory Hunters, the game in question, will drop you into a vast Zelda-inspired world that you'll uncover through your actions. Missions, mini-games, and challenges abound; no two playthroughs will be quite the same!
Glory Hunters' story begins with a mysterious object hurtling toward the planet. Could it simply be a meteor passing by, or something far more sinister? Hint: the answer is B. As disaster nears, it's up to you to travel the world and awaken the vessel of an ancient god, the only force strong enough to prevent destruction. Choose from one of four gods to inconvenience with your petty mortal needs, and explore a non-linear world with the graphical stylings of Final Fantasy Adventure and Link's Awakening. Fight through trap-filled dungeons protected by giant bosses, unwind in one of several diverse towns, and in the grand Zelda tradition, encounter chickens and fish-people. Fun times!
The bulk of the game centers around achievements; complete a wide array of tasks and challenges to earn Glory Points, which you'll need to access new areas. Make your way through the dungeons' unique challenges, such as avoiding boss damage, or take the pacifist route and enjoy some puzzle solving and item gathering. You can complete the entire game without a single slash of your sword if you so choose. More than a thousand achievements await eager adventurers, from the simple (let's cut down some foliage!) to the infuriating (an optional mini-game that can delete your save file? No thanks!).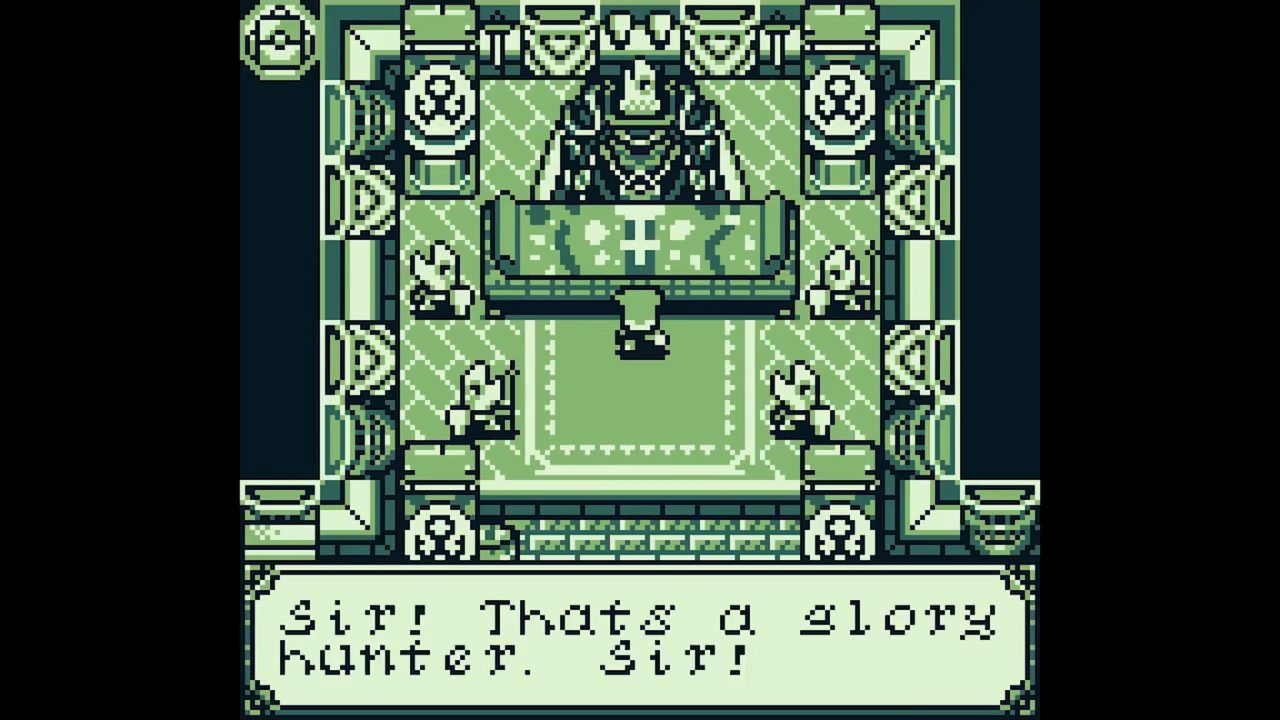 With all the routes to take, tasks to complete, and deities to awaken, you'll never play the same way twice. Based on the campaign's current funding, a single run will consist of five chapters and approximately 20 hours of playtime, with stretch goals that may add up to five more chapters. Speaking of stretch goals, sufficient funding will also add an eye-catching Game Boy Color edition, plus a port for your newfangled Nintendo Switch system. As far as rewards go, most pledge levels will net you ROM files and a Steam code, with the more expensive tiers awarding a physical Game Boy cartridge courtesy of Bitmap Soft. Check out the Kickstarter page for more information on the game, the shiny Collector's Edition, and to try out the free demo!
Glory Hunters promises to rekindle the joy we felt playing through our handheld favorites on those long car rides through the endless countryside. I hope your Game Boy is in better shape than mine, because glory awaits!
Disclaimer: While it's possible some of us at RPGFan may be backers of the games mentioned in these articles, this does not influence our coverage or our featured game choices. We make our selections simply based on the active campaigns we feel our readers might find interesting, and we are not given special access or perks by the developers.
tl;dr: We think these games show potential and want to share them with you.