Campaign Ends: September 3
Platform: Windows. Stretch goals (which have been met) add macOS, Linux, PlayStation, Xbox, and Switch versions.
It's a bit frustrating when you're searching for a good magic school to enroll in and discover that the popular choice ("Frogsnorts" or something along those lines) is somewhat dubious. Thankfully, our modern world offers plenty of other options, including the establishment featured in this little gem of a point-and-click game. Featuring vivid cartoon-style graphics and a folk-infused soundtrack, Near-Mage takes the popular magic school setting and places it squarely in a mythical version of Transylvania where folklore and monsters come to life. The game is set in the same universe as 2019's Gibbous – A Cthulhu Adventure, and while it stars a new protagonist in her own story, players of the first game will be happy to see the return of some familiar faces and unresolved plotlines.
Step into the shoes of 18-year old Illy, fresh out of high school and unsure of what to do next. College? University? Wizard School? Indeed, one fine day you happen to receive a letter from your great-aunt in Transylvania, inviting you over for a lovely visit. Upon arrival, you learn all about your family history of witchcraft and receive a generous offer to enroll in the Transylvanian Institute for Magick. By golly, this is an opportunity that can't be missed!
Travel back and forth between three beautifully detailed hubs: the real-world town of Sighișoara, the Transylvanian Institute for Magick, and the otherworldly town of Rakus. You can explore the world using a traditional point-and-click interface or control Illy directly with a gamepad. Additionally, each hub's map includes a handy fast-travel feature. Visit unique shops, taverns, and other attractions, and befriend an array of strange characters based on Romanian folklore, such as Moroi, Strigoi, and of course, Vampyres. Be sure to stay in touch with all the peculiar NPCs you meet and revisit previous locations to see how your actions have affected them!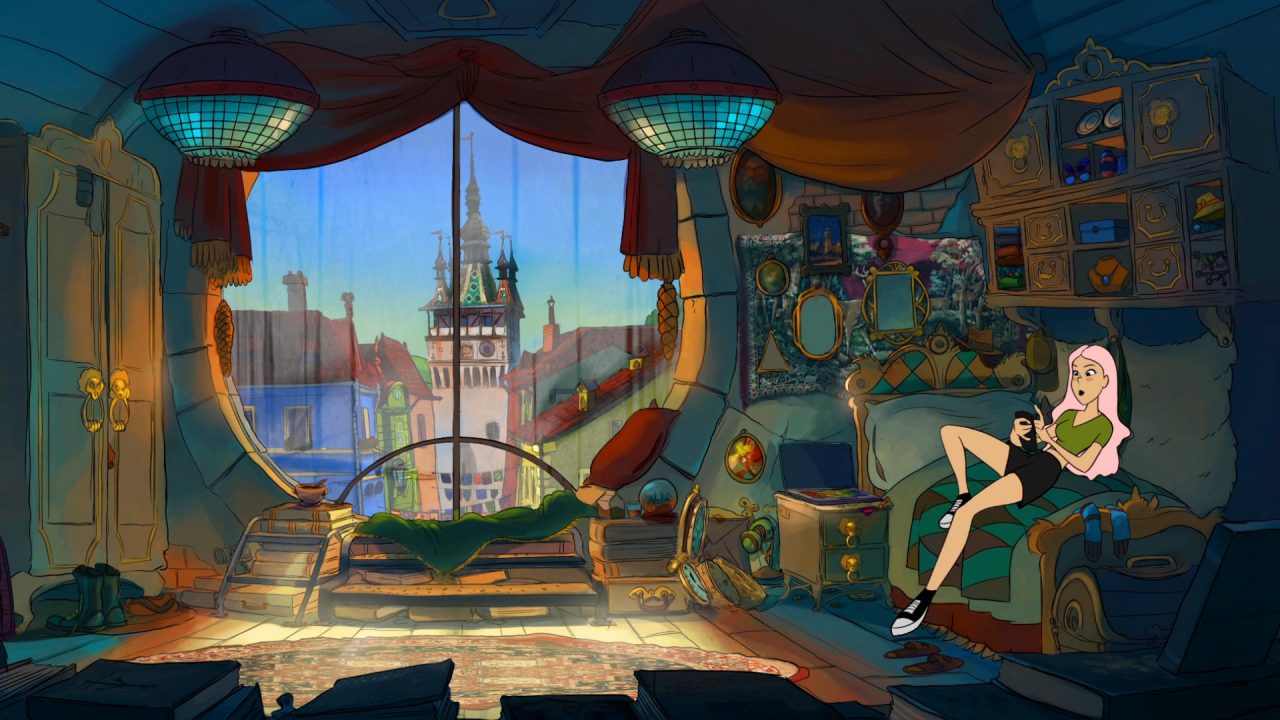 As in traditional point-and-click games, Near-Mage features an inventory, but instead of random items, it's an inventory of spells you've learned! Throughout the game, you'll be able to take a variety of Magick classes. Each class will teach you one "near spell," a handy little ingredient for wizardry; combine three to craft a complete spell of your choice. Then, use your magical inventory to progress and help the characters you meet… or maybe even ruin their day. Your spellcasting decisions will affect certain questlines and the lives of NPCs in various ways, adding plenty of replayability; you can even choose to progress without using magic, though I doubt that would be nearly as fun as summoning a Firewolf Puppy.
While Near-Mage is already fully funded, remaining stretch goals include a prequel comic focusing on the early life of Illy's great-aunt, with more surprises still to come. Meanwhile, a copy of Gibbous can be added to any pledge level for a discounted price, to be delivered once the campaign wraps up. Personally, I'm quite excited about Near-Mage: beautiful animated art, a unique magic system, and an adequate amount of cute critters have earned it a prime spot on my point-and-click radar. I hope to see you in class!
Disclaimer: While it's possible some of us at RPGFan may be backers of the games mentioned in these articles, this does not influence our coverage or our featured game choices. We make our selections simply based on the active campaigns we feel our readers might find interesting, and we are not given special access or perks by the developers.
tl;dr: We think these games show potential and want to share them with you.