Campaign Ends: March 24th
Platform: Windows and macOS. Stretch goals add Switch.
A new turn-based RPG draws near! Inspired by the Final Fantasy series, Rising Spire invites you to a lush new pixel graphic realm shaped by an ancient war between entities both divine and…otherwise.
Enter the world of Malus, home to many unique cultures, ancient civilizations, and fabulous costume designs. You'll play as Atlas, a blue garbed young man adept in a variety of weapons and divine abilities — or at least he will be with your help. Set out to defeat a menace from the distant past and befriend a large cast of characters along the way, including celestial beings who fled to Malus during the ancient wars.
Rather than sticking with one character class, you'll master a variety of weapons with their own fighting styles and abilities, and switch between them in the game's turn-based combat. Weapons you've equipped will gain their own experience points; level them up to learn new skills and unlock other useful upgrades. Meanwhile, collect soul fragments from defeated Daemons to learn new exploration abilities, such as the power to crush rocks or take a leisurely flight across the land.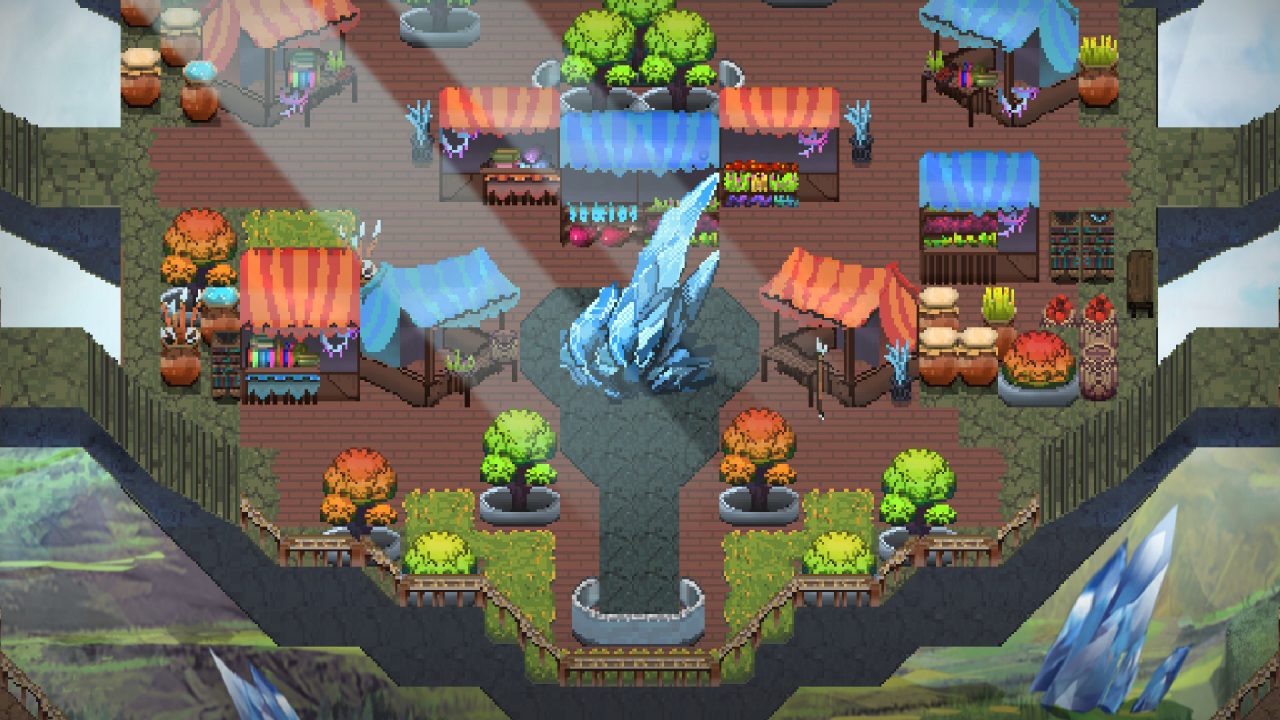 Enjoy a scenic stroll through the world at any hour of the day, with unique monsters ready to emerge at nightfall. If nocturnal adventures prove to be too stressful, you can always set up camp and craft new supplies while getting to know your companions. Maybe you'll even entertain a surprise visitor or two! Spoiler: you absolutely will get surprise visitors, and unlike the strangers at your door who offer nothing but expensive lawn care or religious pamphlets, these guests will grant you handy bonuses and offer valuable items for sale.
Rising Spire is already fully funded, as is the stretch goal adding a Switch port (with more consoles possibly to come) and some fancy new DLC featuring a goblin city. On that note, all future DLC will be included with pledges of $35 US and above.
The game's colorful world and strange character designs caught my attention immediately, reminding me just a little of Blue Byte's Albion mixed with Princess Mononoke. An enticing combination indeed; I can't wait to take a deeper dive into the world of Malus!
Disclaimer: While it's possible some of us at RPGFan may be backers of the games mentioned in these articles, this does not influence our coverage or our featured game choices. We make our selections simply based on the active campaigns we feel our readers might find interesting, and we are not given special access or perks by the developers.
tl;dr: We think these games show potential and want to share them with you.