Campaign Ends: March 25
Platform: Windows and Switch at first, with Mac, Linux, and other consoles to follow.
Enjoy life during the Stone Ages in Roots of Pacha, a new farming game with vivid pixel graphics, an adequate number of prehistoric animals, and a focus on co-op. Invite up to three friends to explore the wilds and build up your society, or play through the entire experience solo. Go fishing, cook some Stone Age recipes, and spend quality time with the other villagers; the primitive world is yours to enjoy!

Once upon a time, long before the advent of ultra-soft toilet paper, a nomadic clan found approximately one to four babies abandoned in a deep, dark forest. These mysterious infants eventually grew into the Stone Age versions of you and your friends, whose in-game avatars are fully customizable. Years later, on a cold autumn day, a terrible earthquake disrupted your peaceful life, forcing you and your people to find a new home. Conveniently enough, this incident happened to coincide with an ancient prophecy stating that your clan would one day give up its nomadic lifestyle and settle in a vibrant and fertile land. A land that requires…farming! And maybe a few llamas, but more importantly, farming.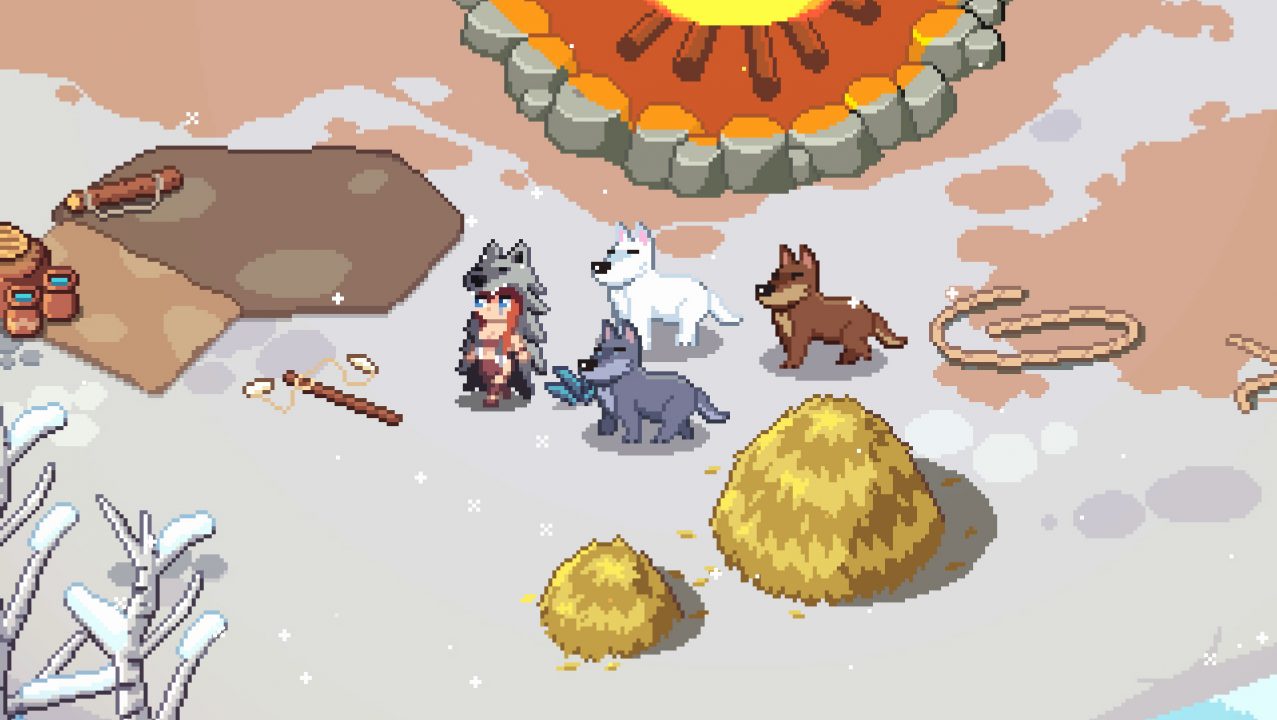 To build up your new home, you'll need to venture out and explore the wilderness (including puzzle-filled dungeons) to find wild plants and animals. Care for your flora and fauna over generations and you'll soon be breeding domesticated varieties! Once you're back at the village, develop relationships with other clan members to unlock their unique ideas; for example, an innovative NPC may teach you animal riding or fishing techniques, or how to build new tools. Necessities for a functioning society! Villagers each have their own stories, personalities, and preferences, and you may even attract newcomers from faraway lands. Spend enough time with certain individuals, and perhaps romance will bloom; maybe even this world's version of marriage! There will be a minimum of nine romance-able characters in the final game, and none of them are gender-locked, meaning you can form a relationship with them regardless of your own character's gender.
Though some of us will prefer to play the game solo, Roots of Pacha's co-op mode offers several fun little bonuses, in addition to the joy and/or frustration of playing with friends. When you start the game, you'll all be living together with your adoptive parents; once your characters have grown up, you'll be able to move out and build your own customizable home. Develop the village together, go on group fishing trips, and even race prehistoric mounts in a bit of friendly competition! Most importantly, co-op mode will have you and your friends participating in the game's big moments and cutscenes together; your unique viewpoints will each count towards making big decisions.

There is still much more to discover in Roots of Pacha, including spiritual encounters with distinct challenges, and the option to make arts and crafts for your home. Meanwhile, one promising stretch goal will add loyal pets to keep you company. Pets are important! If you're considering supporting the game, pledge rewards offer a number of unique goodies, including a digital Stone Age cookbook, adorable crochet animals, and small framed embroideries based on the game's pixel designs. All in all, Roots of Pacha is sure to please farming sim enthusiasts and those nostalgic for the days when pants weren't necessary. Let's take a trip back in time and pet some baby mammoths!
Disclaimer: While it's possible some of us at RPGFan may be backers of the games mentioned in these articles, this does not influence our coverage or our featured game choices. We make our selections simply based on the active campaigns we feel our readers might find interesting, and we are not given special access or perks by the developers.
tl;dr: We think these games show potential and want to share them with you.