Spring is that wonderful time of year when chipmunks emerge from their burrows, snow pants are shoved to the back of the closet, and fresh new video games burst forth from the ground. This year's spring has blessed us with a generous bounty of Kickstarter campaigns, prompting us to introduce our first Crowdfunding Chronicles Spring Special. Read on to discover our top choices for the next few weeks, and don't forget to water the plants. Just don't water your games by accident; that would be disastrous.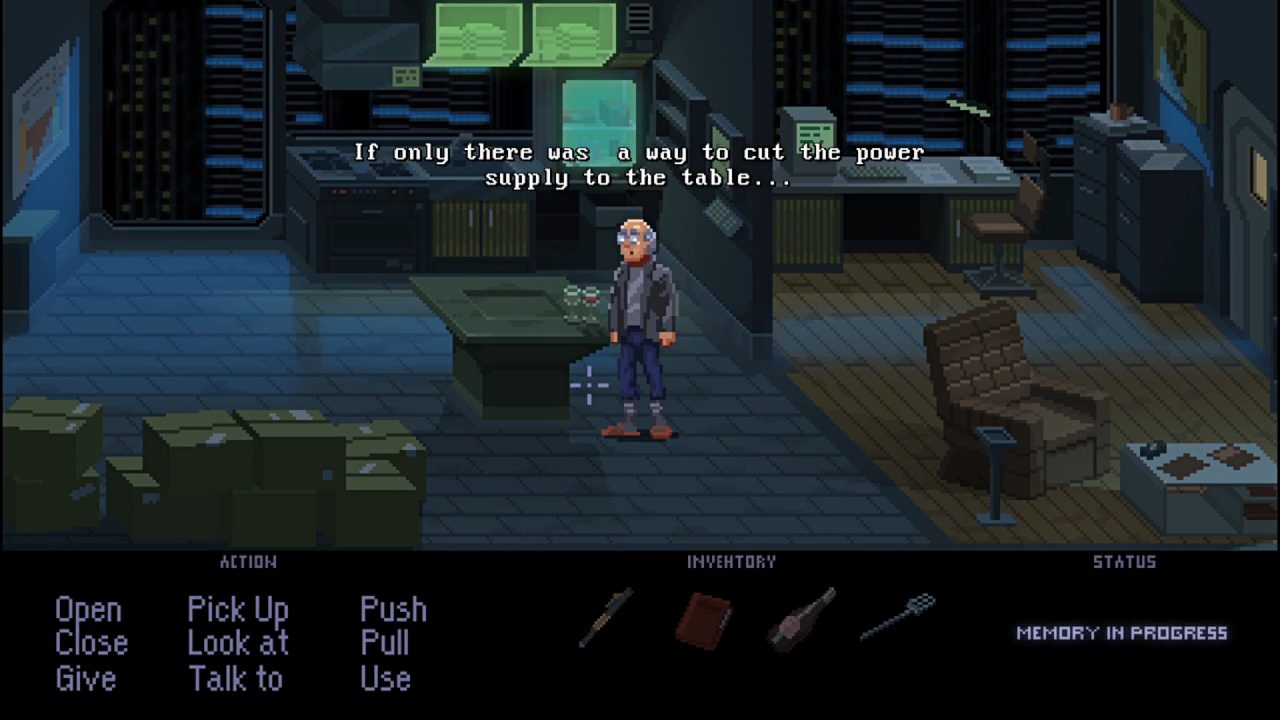 Invasive Recall
Campaign Ends: May 6
Platform: Windows, macOS, Linux, iOS, and Android.
Coming all the way from Sweden to a gaming apparatus near you is Invasive Recall, a dark cyberpunk point-and-click adventure in the vein of LucasArts classics. In a gloomy and violent near-future world, technology has progressed to the point where scientists can scan and analyze other people's thoughts using "Invasive Recall" devices. By no great surprise, the process was found to cause terrible side effects in its patients; no longer permitted for use on the living, the police department has adopted Recall to review the final memories of murder victims.

In this bloodstained adventure, you'll play as two Recall-using detectives whose storylines intertwine as they uncover the horrifying secret behind a series of disappearances and murders. Use your newfangled (and medically unsafe) instruments to play through the final moments of homicide victims and uncover the clues hidden within their memories!

Invasive Recall wholeheartedly displays a love for the classics, with actions listed in a LucasArts-style text interface, an '80s inspired soundtrack, and detailed pixel art backgrounds. It's worth noting the game will contain a number of gory scenes, following on the heels of dark thrillers such as Snatcher and Seven (the Brad Pitt and Morgan Freeman movie, not the 2017 RPG). Sensitive souls, take heed!
All things considered, Invasive Recall looks to be a great choice for fans of dark cyberpunk mysteries and classic point-and-click games. Let's see what this crime-filled world has in store; a dilapidated brown trenchcoat and retro sunglasses are optional, but a curious mind is a must.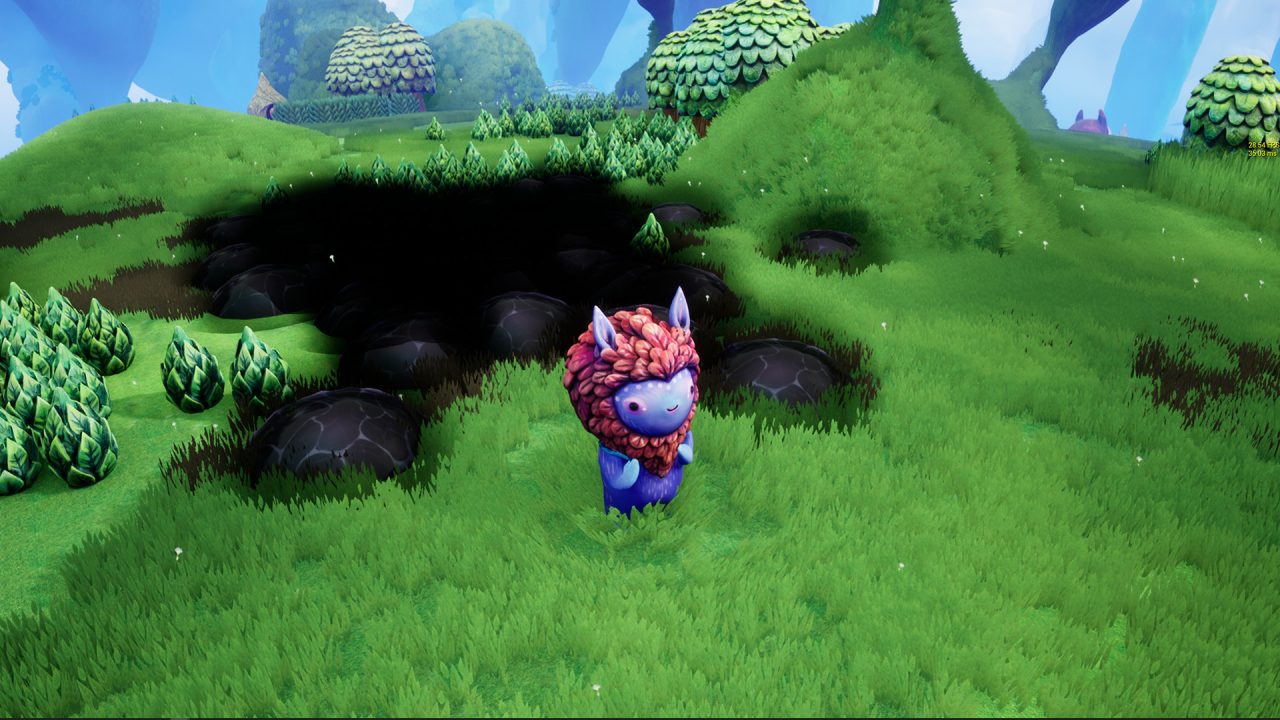 Oddfauna: Secret of the Terrabeast
Campaign Ends: May 8
Platform: Windows, with a Switch version soon after. macOS may be possible, but not yet confirmed.
Do you remember Chia Pets? Oddfauna: Secret of the Terrabeast will have you care for a similar foliage-covered animal, this time the size of a continent. Enjoy farming and crafting, meet adorable new friends, and explore several unique biomes in a vibrant open-world adventure set on the back of the Terrabeast, a massive creature in need of a skilled landscaper.
You play as an Astor, a petite customizable critter who can sculpt the environment and grow extraordinary plants. Shape the world as you wish; make rivers, change the temperature, and even cause mischief, keeping in mind that all actions have consequences. A properly cared-for Terrabeast will reveal new explorable areas each year; neglect your colossal friend, and danger may follow!

Throughout each year, you'll spend plenty of quality time looking for (or creating your own) food and shelter while avoiding inclement weather and unfriendly nocturnal fauna. Thankfully, you'll have a bit of help; befriend other creatures great and small, and they may contribute items, recipes, and even improve or grant new abilities if you become close enough.
Oddfauna: Secret of the Terrabeast promises to bring fans of farming and sandbox games a beautiful world filled with charming creatures, unusual plant life, and plenty of engaging (and sometimes naughty) activities to take part in. Additionally, thanks to success with an early stretch goal, the entire soundtrack will be composed by Secret of Mana's Hiroki Kikuta. Combine this with the beautiful (and hand-made!) designs reminiscent of Studio Ghibli and Breath of the Wild, and I think we have an unmissable combination. Your pets and houseplants will approve!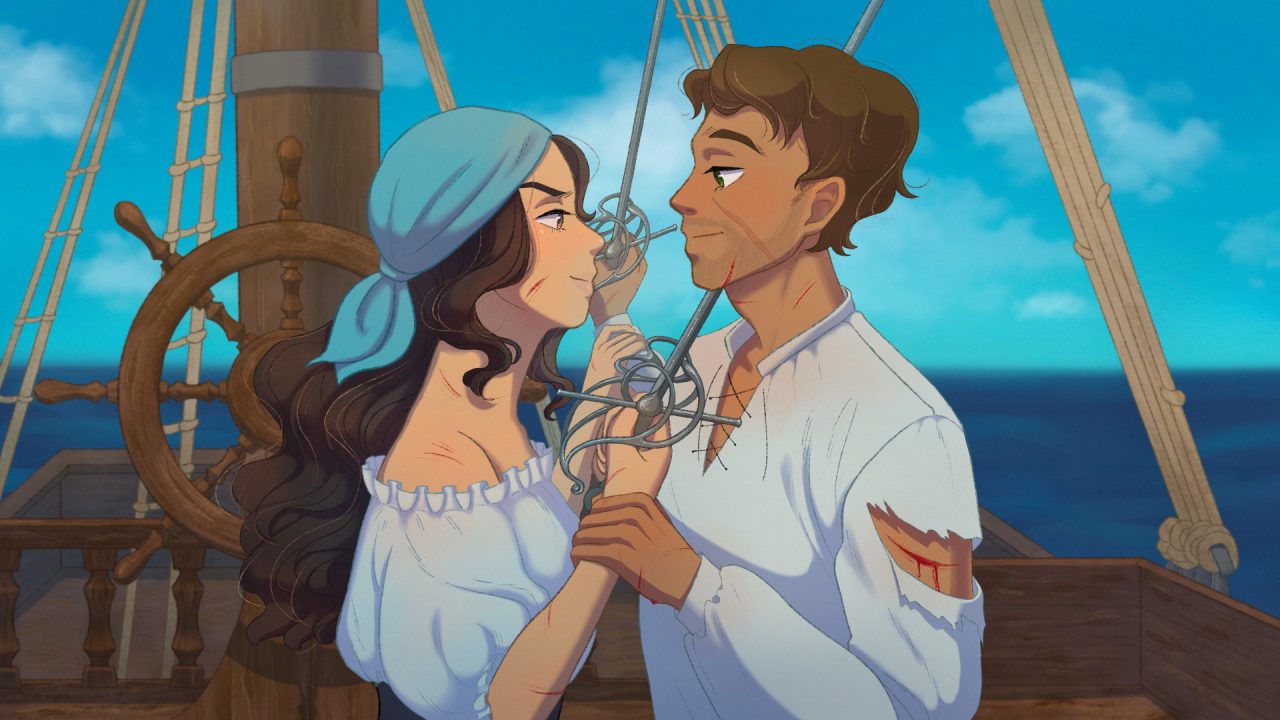 The Spanish Privateer
Campaign Ends: May 13
Platform: Windows, macOS, and Linux.
I think we've all had those days where we'd like nothing more than to run away from our mundane, frustrating lives and hop aboard a pirate ship. Isabel Carlota de Castilla, or Carlota for short, manages to do just this in The Spanish Privateer, a pirate-themed Otome visual novel set in the 17th century.
The game opens with Carlota on the run from an arranged marriage; leaving polite society behind, she joins the crew of Captain Rico's ship, La Aguja, and eventually grows to love life on the high seas…and potentially the captain himself. The ship's all-male crew are initially hesitant about having a woman on board, and you'll need to prove your worth as a crew member. Before long, you'll be on the way to becoming close friends or even lovers with one of three available men—including the captain—with a potential fourth route in the works.
While onboard La Aguja, you'll sail through the Atlantic and the Caribbean, learning about the world and meeting new characters along the way; maybe you'll even witness a tavern brawl or two. Fun times! Shape Carlota's personality through your choices: will you remain regal and polite, lighten up the moment with your quick wit, or unleash a feisty and aggressive side? Your decisions will lead to one of over ten endings, good and bad. The Spanish Privateer will feature a number of accessibility options, including adjustments to font size and style, a voice-to-text option, and the choice between a dark mode, light mode, or the default beige background for your reading enjoyment.
The Spanish Privateer was last seen sailing around on Kickstarter in 2020, sadly failing to reach its destination due to pandemic-related circumstances. A few adjustments have been made this time around, including the addition of a physical art book for backers who pledge over $65 CAD, and fans are welcome to submit feedback for further improvements. I must admit, this is the first time I've heard of a pirate-themed visual novel, and a quick search online yields only a handful of results. The Spanish Privateer is certainly a unique find in the grand ocean of video games; let's help her set sail!
Tyrant's Blessing
Campaign Ends: May 4
Platform: Windows, macOS, and Linux. Stretch goals add Switch (reached!), iOS, and Android.
Hey friends. Do skeletons and zombies irritate you? If so, I advise you to check out Tyrant's Blessing, a turn-based strategy game set in a pixelated medieval world chock full of undead warriors for you to vanquish.

Build a troop of heroes from all over the land, united in their desire to win back the island of Tyberia from the sinister Tyrant and his army of the dead: a skeletal horde comprised of fellow countrymen who fell in battle, and under the Tyrant's curse. You'll recruit several unique heroes belonging to one of five classes, including assassins and marksmen; more importantly, you'll also befriend some adorable and combat-ready pets, including a blue and white Husky with a delightful wagging tail.

During each in-game day, you'll be able to choose from a variety of missions, from helping out NPCs to rescuing the aforementioned pets; you may even encounter a few jerks who try to steal your supplies. Battles take place on small and compact isometric grids filled with environmental obstacles for you to destroy; for instance, tiles can be set aflame, and trees can be cut down. Meanwhile, enemy units will have their actions previewed on-screen before their turn. Use that handy information and find places to hide, send in support units to protect weaker characters, or even bring out your dragons. Regrettably, heroes who fall in combat will join the Tyrant's club for disgruntled zombies (aka his army of the dead), though fear not: if you meet your former allies later on, defeating them in combat will bring them back to your side and restore their vitality.

While not as complex as many of our favorite strategy titles, Tyrant's Blessing still promises challenge and variety, and looks to be an excellent choice for those in the mood for a quick skirmish or two. Depending on the pledge level, backers can obtain several in-game bonuses and Kickstarter exclusive pets, including an adorable little T-Rex that definitely reminds me of a hamster. Cute animals are important!
---
Disclaimer: While it's possible some of us at RPGFan may be backers of the games mentioned in these articles, this does not influence our coverage or our featured game choices. We make our selections simply based on the active campaigns we feel our readers might find interesting, and we are not given special access or perks by the developers.
tl;dr: We think these games show potential and want to share them with you.