Campaign Ends: February 14
Platform: Windows
It's no big secret that I'm an admirer of pretty anime art, even prettier anime men, and precious little kitty cats. Enter The Silent Kingdom, a blend of Otome visual novel and turn-based RPG by solo developer Lucky Cat. The game takes you to a stylish fantasy world filled with my abovementioned weaknesses, along with Dragon Age-inspired character dynamics and plenty of ethical dilemmas.
Step into the armored boots of Princess Erinys (or a name of your choice), and lift the curse that has befallen your kingdom. Unfortunately, tasks of this magnitude often come with a high price. What will you be willing to sacrifice to restore your land? Will you give up the love of your people? Your moral backbone? Perhaps even anger your beloved Goddess…? The choices you make will influence both the story's outcome and your own character development; take heed lest you fall down a deep, dark hole of corruption!
Made with RPG Maker MV, The Silent Kingdom features turn-based combat, top-down exploration, and visual novel-style dialogue scenes with beautiful anime portraits. As you explore, you'll come across a plethora of adorable kitties wandering throughout the land; try talking to them, and some may even surprise you with a reply! I suppose this kingdom can't be too silent if it contains talking cats, especially if any of them are Siamese. Ahem. Finally, since the developer is based in Spain, you can play the game in either English or Spanish.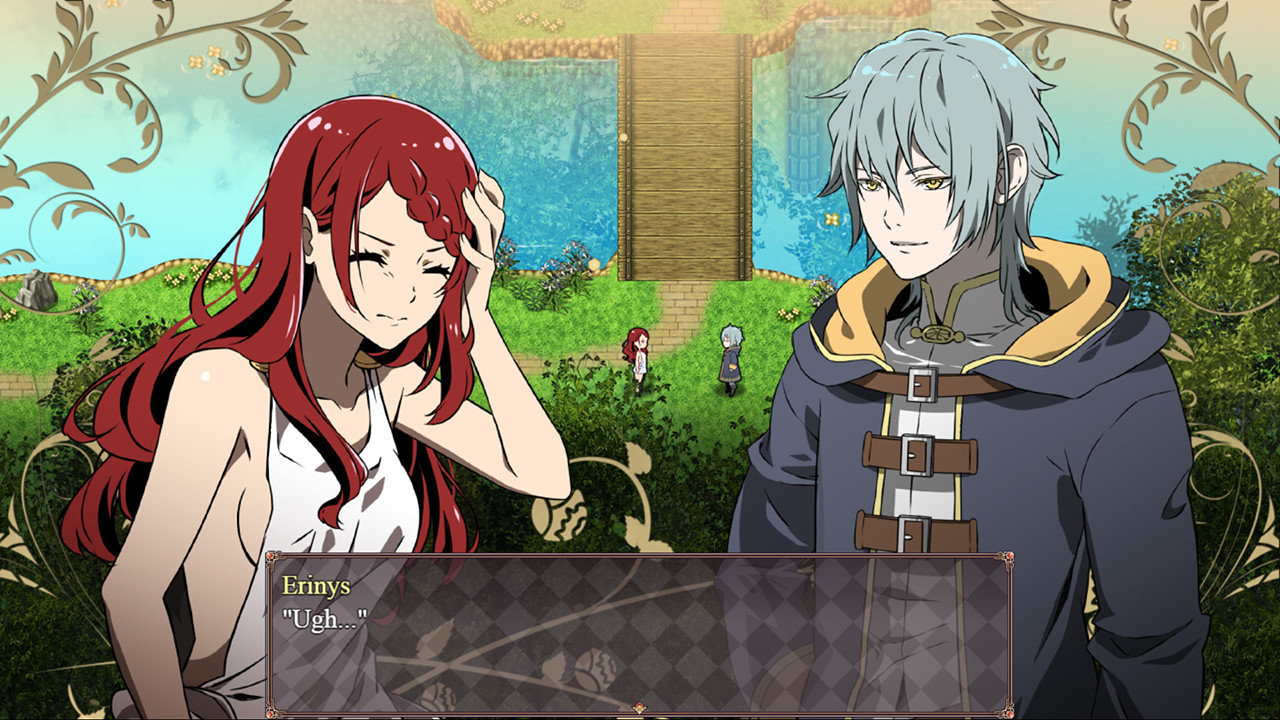 The game's character interactions follow the lead of Dragon Age and other Western RPGs. Conversations will let you determine your emotions and personality, and you'll have the opportunity to nurture deep friendships and romantic relationships if you so choose. Currently, the game offers two romanceable characters (including an elegant magician whose open-shirted form you may examine at length in the campaign's first update), with a possible third added through stretch goals. To note, while romance may lead to adult moments, you won't see anything too explicit. This is absolutely NOT an ecchi game!
The Silent Kingdom will be released episodically on Steam Early Access, and the developer welcomes feedback to help shape future chapters. The game still needs some help reaching its base funding target, with stretch goals soon to follow. For those interested in the beautiful art, take note that you can add a digital or physical illustration book to any tier. If you are on the fence, there is a free demo available on Steam and itch.io.
All things considered, The Silent Kingdom is shaping up to be a lovely choice for fans of Otome games and dark fantasy tales. May Princess Erinys enjoy a long and curse-free reign!
Disclaimer: While it's possible some of us at RPGFan may be backers of the games mentioned in these articles, this does not influence our coverage or our featured game choices. We make our selections simply based on the active campaigns we feel our readers might find interesting, and we are not given special access or perks by the developers.
tl;dr: We think these games show potential and want to share them with you.