The idea behind RPGFan Chapters was to explore the relationship between RPGs and the printed word, from ridiculous game novelizations to analysis and commentary. The RPGs we love so well grew from text, and I always wanted to make space for current books to show the recent written work this relationship has borne — not to mention that Japan has a long tradition of including books and other formats with their RPG franchises. Now, RPGFan has a special opportunity to give a detailed preview of an upcoming release for a book that lovingly details not only the history of individual games, but the entire genre as a whole, emphasizing their cultural impact and how JRPGs have evolved. That book is A Guide to Japanese Role-Playing Games by Bitmap Books.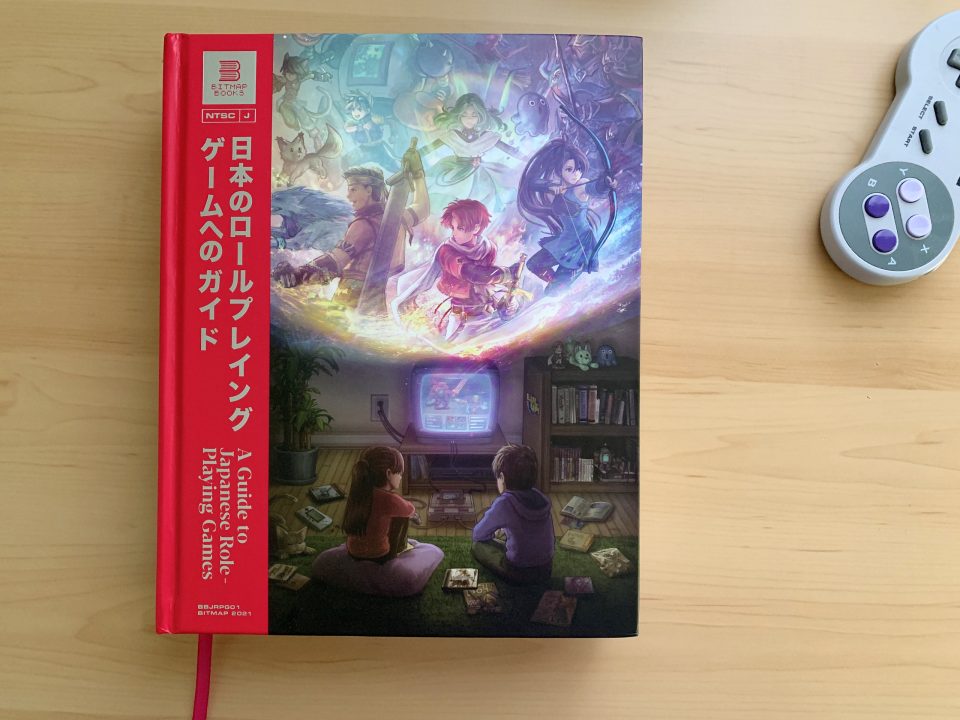 Let's start with the physical book itself. In learning about the wild and fantastical journey of RPGs from their inception until now, best to start somewhere tangible and grounded. It's a beautifully put together hardcover, sturdy and sizable, with boards that feel strong enough to support the many pages. Thank goodness for thread-sewn binding, because it allows the book to stay open. A colleague remarked that it almost "crosses into tome territory," and that feels appropriate for both a reference book and a book about JRPGs. (Now if only it could teach me some magical skills…) The cover art is beautifully nostalgic and sets the tone for the entire work, reminding us that these games are immersive, they've been around long enough to become part of our shared experience, and they're still changing over time. (I should also note that this lovely cover art was created by our talented Social Media Manager, Stephanie Sybydlo.) A vertical red banner with silver foil text sits on the spine side of both covers, a nice touch that makes the book look like a Japanese import. A Guide to Japanese Role-Playing Games is printed on heavy, glossy paper and features lithographic print, which is good because of the large number of images.
And just how do you frame and break down the entire history of JRPGs? With a convenient pixel art map to go with each section header and the help of 36 contributors. The sections themselves also provide some structure, of course. We're not going to go too specifically into content right now because we'll be spotlighting excerpts from different sections of the book up until its release on June 14th, 2021, but I do want to give an overview of how things are organized.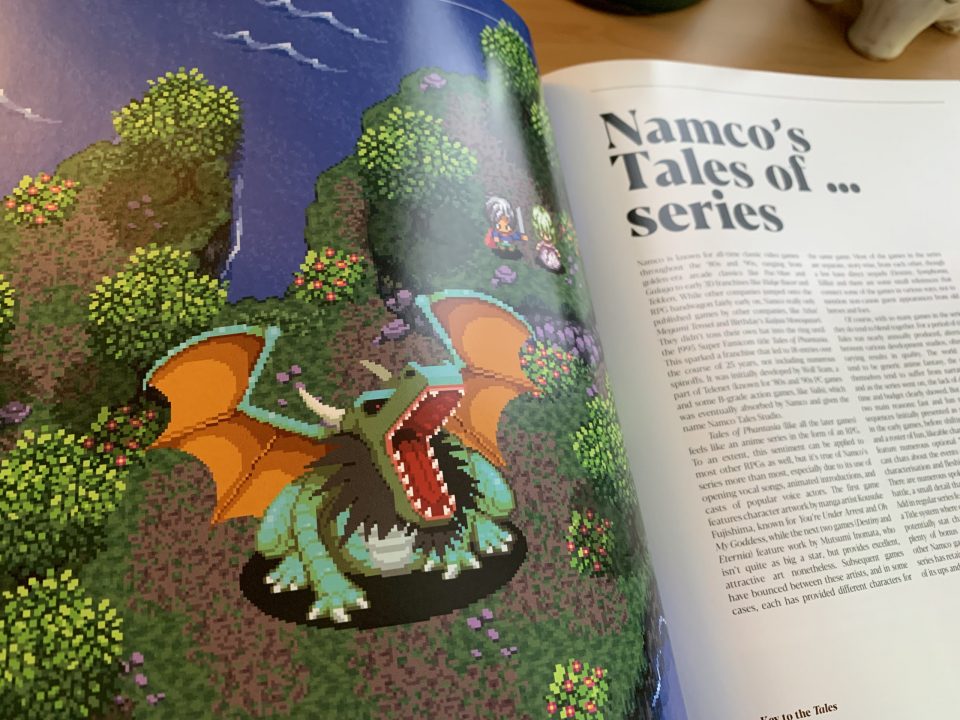 Bitmap starts by providing several introductory articles beginning with "What is a JRPG?" and the genre's history, then branching out into seminal topics such as localization and the ties between RPGs and anime. The introductions are obviously more longform than the game entries that come later, but they are a convenient and digestible size. An RPG veteran might know a lot of the information presented in this section but will still appreciate how clearly it's presented and will likely find a new tidbit or two to learn. For newcomers, these sections absolutely can serve as a primer before delving into particular games.
From there, the book starts covering individual games with Japanese PC RPGs and continues into sections for long-standing series (and one or two developers) that span from early RPGs until now. They devote a chapter to other notable franchises, which is by far the largest area to cover. If you're looking for that obscure series or the one title in the expansive series that you can't find information on, this is the place to look. Next, they include subgenres of RPGs like action and strategy. Knowing how murky categorizations of RPGs are, I really applaud them for sorting and representing such a vast number of titles. And don't worry. There's an index if you're short on time and know the name of the game you're looking for.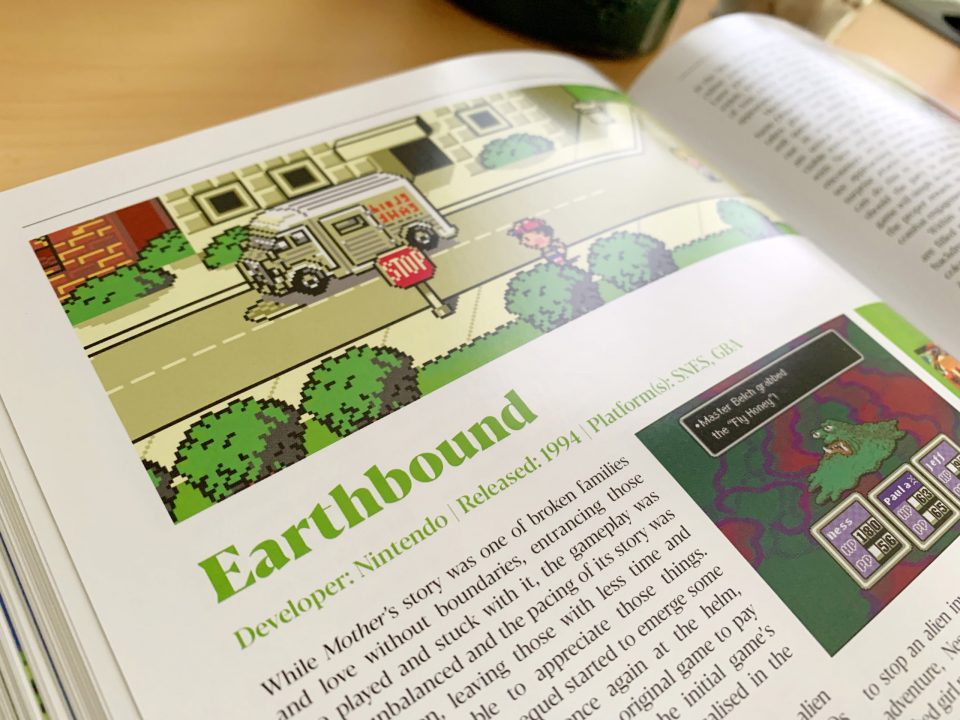 The game entries themselves are visually neat/tidy and read like an encyclopedia. Some games are grouped into their respective series and some are discussed individually, but expect to see a beautiful screenshot header, a smaller screenshot, and box art in either case. These entries give developer and platform information in the header, while the body of the entries is generally split between contextual history of the game, its development, and description of the game itself, including characters and important features. It's nice to have some variation between series and individual titles because it ensures the entry lengths are not uniform. Some two-page spreads are for a single series, some cover two games, and several will have four laid out in that space. This variety in text block sizing and the colorful pullquotes and box art backgrounds help deliver all of this information in an accessible way that does not look like a wall of text.
Yes, A Guide to Japanese Role-Playing Games is quite the ambitious work, coming in at 650+ pages. Is that fitting for a genre where you frequently start with nothing and end up saving the world with your amazing power and skill? You bet it is! We hope you'll join us as we continue our journey through the book over the coming weeks. Remember to look at Bitmap Books' site if you are curious about this and other titles, or to see details and ordering status. There are even some special collector's editions to see there!