The future is a bleak place. Sure, there's the good — people have ESP, which I'm going to call a net win even though I can already imagine ten dozen ways it would immediately be used corruptly. And then there's the bad, which rather neatly usurps the good because it's just that bad. Mutants have begun raining down from the sky, and they have a keen interest in sinking their teeth into human brains. It's not a good look, and it's going to suck when we're all dead.
Like any self-respecting JRPG, Scarlet Nexus takes the above setup and turns it into a complicated role-playing saga full of flashy visuals and that semi-unique brand of Bandai Namco character art that we can spot from a mile away. The upcoming action RPG, slated for release on — ahem — PS4, PS5, Xbox One, Xbox Series X|S, and Windows, will fill your head with classically anime organization titles like "Other Suppression Force." (The mutants are called Others, you see. It's all quite clever.)
During its release date live stream event (spoilers: it's June 24th in Japan and June 25th worldwide), Bandai Namco gave us a 20-minute extended look at Scarlet Nexus. This footage includes a traipse through the in-game region of New Himuka, a taste of the Struggle Arms System, the benefit of "strengthening bonds," and a big honkin' boss battle.
In addition to our visual feast, we've also been blessed with an overview courtesy of the publisher. Check out some insight into Scarlet Nexus' dual protagonist storytelling and let me know when you spot the name of what could and should be a Daft Punk cover band: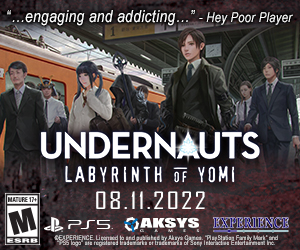 In the far distant future, a psionic hormone was discovered in the human brain, granting people extra-sensory powers and changed the world as we knew it. As humanity entered this new era, deranged mutants known as Others began to descend from the sky with a hunger for human brains. Highly resistant to conventional attack methods, extreme measures needed to be taken to battle the overwhelming threat and preserve humanity. Those with acute extra-sensory abilities, known as psionics, were our only chance to fight the onslaught from above. Since then, psionics have been scouted for their talents and recruited to the Other Suppression Force (OSF), humanity's last line of defense.

Featuring a dual story, begin your adventure with either Yuito Sumeragi, an energetic recruit from a prestigious political family or Kasane Randall, the mysterious scout whose power and skill has gained great notoriety among the OSF. As their different experiences interweave with each other, it is only then that you will reveal the full story and unlock all the mysteries of a Brain Punk future caught between technology and psychic abilities in Scarlet Nexus.

Kinetic Psychic Combat – Using psycho-kinetic abilities, the world around you becomes your greatest weapon. Lift, break, and throw pieces of your environment to build your attack combos and lay waste to your enemies.

Exterminate the Others – Deranged mutants that descended from the sky, highly resistant to conventional attack methods and defenses. Tormented by the constant pain of their mutation, they seek brains of living organisms to calm their madness.

Discover a Brain Punk Future – Explore and protect a futuristic Japanese landscape that combines inspirations from classic anime and western science fiction.

A Dual Story Experience – Dive into a complex story of bonds, courage and heroism, crafted by minds behind the iconic Tales of Vesperia.
I'm looking forward to this game. Then again, I am quite a fan of Tales of Vesperia, so bringing in the same scribes that gave us the adventure of one steadfast dog and his loyal pet Bishōnen is enough to excite me with or without the whole "it's raining zombies" thing.
For further Scarlet Nexus coverage — from the fresh brain of my colleague Tyler Trosper! — head on over to our recent article about a slick new trailer and anime adaptation teaser. As we inch closer to June 25th, you can be sure that RPGFan will keep you in the loop. You can think of us as your ESP advisors, protecting you from a mutant deluge.
You probably won't, but I mean, you could.
Source: Gematsu