Last week we finally got a release date for the highly anticpated Shin Megami Tensei V, the first brand-new entry in Atlus' demonic RPG series in five years. That honestly feels like ages ago at this point! But since the Nintendo Direct at E3 2021, Atlus have dropped tons of more info about the game. We still have five months until it releases, so there's plenty for fans to savour.
First off, there's a brand-new trailer showing off a variety of gameplay features and demons alike. It's flashy and gorgeously directed, just like you'd expect from a Shin Megami Tensei game. Behold:
Eerily captioned with "Godhood Awaits" underneath, the trailer shows the protagonist thrust from everyday schoollife into a Tokyo that has become a land of ruin, called Da'at. Swathes of desert surround them, and demons are on the prowl. Nothing is as it seems anymore. Saved by a mysterious figure named Aogami, the two fuse together to create the forbidden (and fabulous-looking) being known as Nahobino.
For being the first console SMT game since Nocturne, Shin Megami Tensei V looks beautful in motion. It's the first game in the series to be developed in Unreal Engine 4, and it looks like it's pushing the Switch to its limit. Many of the series' demons have had a serious glow-up, and you can even see fiends like Pyro Jack and Decarabia follow your flowing-haired protagonist around on the field. The trailer also gives us glimpses at some combat, demon negotiation, and a hint at what the story may be. Will we be taking the throne of the ruined Tokyo, or will we forge a new path that determines the fate of the world? There's an Almighty amount going on, and I'm sure fans will be picking away the footage for weeks to come.
That's not all that Atlus had to show off though. We also found out about two special pre-order packages for Shin Megami Tensei V, and both look rather spiffy if I say so myself! Let's start off with the special edition, which will net you a bunch of goodies along with the game:
Shin Megami Tensei V: Fall of Man Premium Edition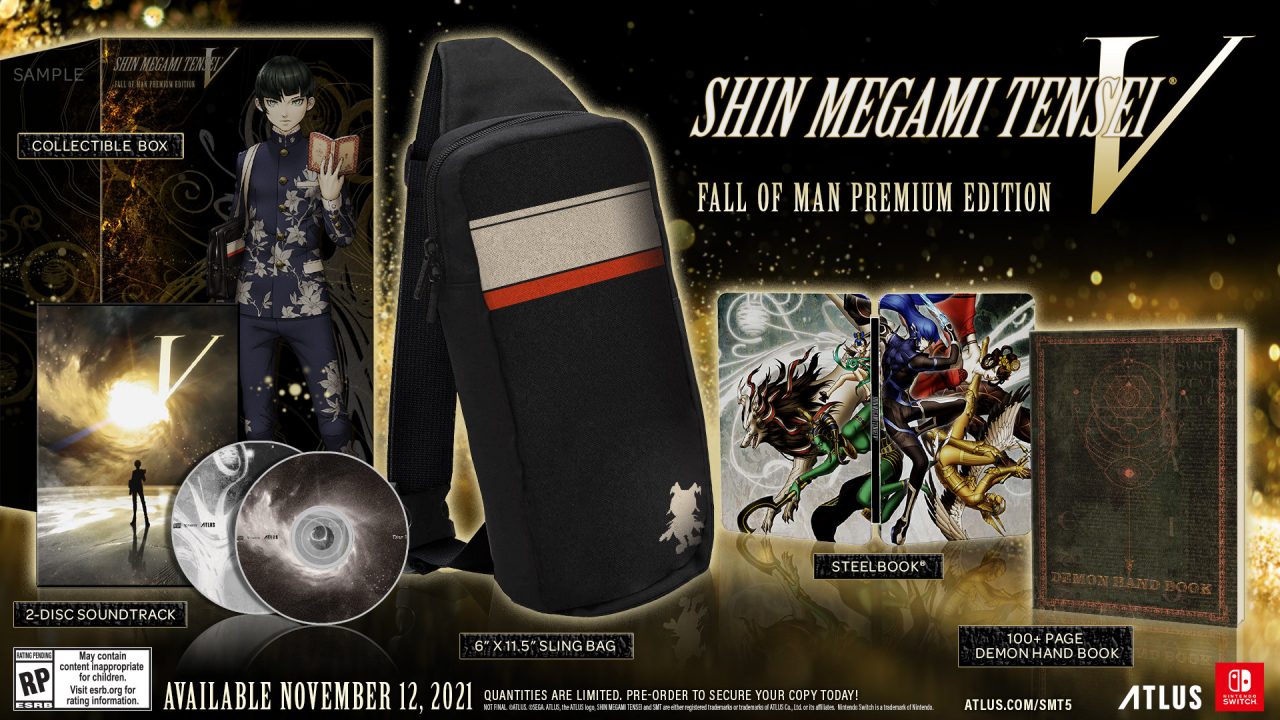 Gorgeous, right? And I bet this will be so easy to get hold of. Well, this is what you're going to get if you're ready to drop $119.99 for one of the most anticipated games of the year:
A printed 6" x 11.5″ sling bag inspired by the protagonist's own bag (which you can see on the box!).
A Steelbook with extended cover art from the standard box.
A demon handbook, which has over 100 pages full of details on the demons you'll encounter in Da'at.
A 2-dsic soundtrack. This is always my favourite part of any special edition. So make sure you stick this in your car right away so you too can drive around to the grungy sounds of Shoji Meguro.
A beautiful collectible box with the protagonist's ornate school attire. Why was my school uniform not like this?
That's a heck of a lot, right? If this isn't quite in your budget by the time pre-orders go live, then there's something a bit more manageable:
Shin Megami Tensei V: Standard Steelbook Edition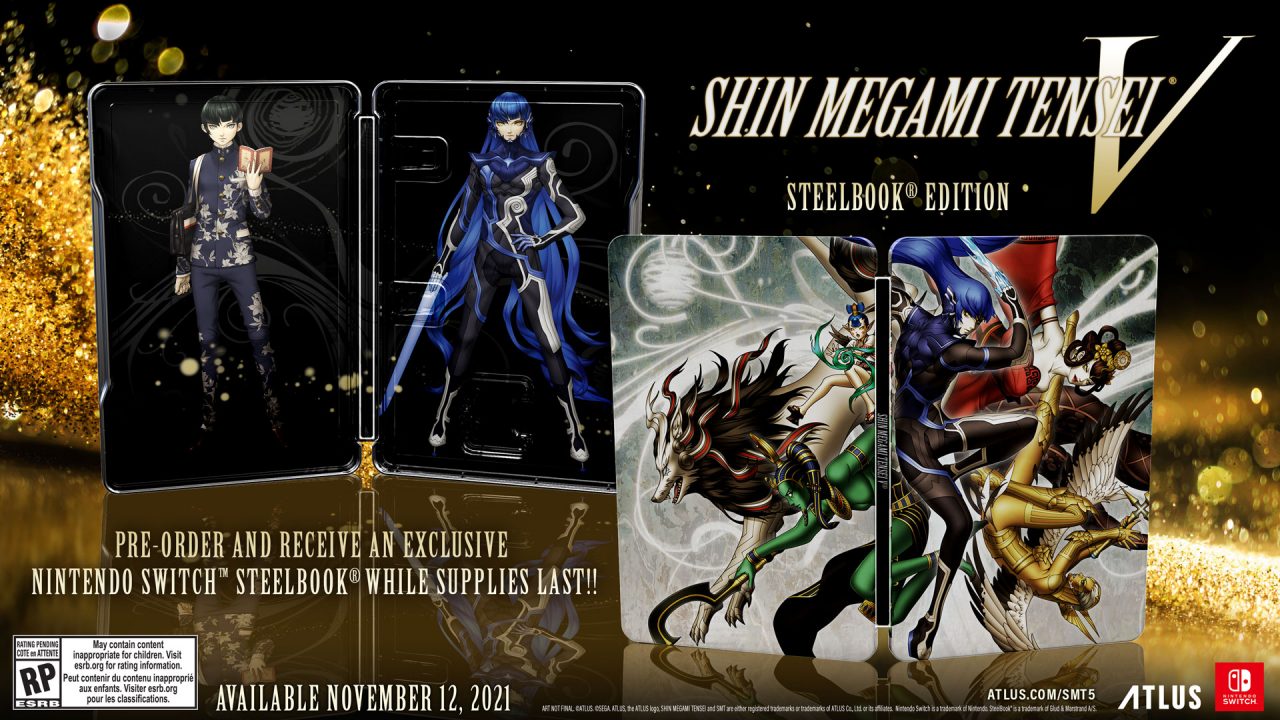 I've got a few Steelbooks in my small collection, but I love that this one showcases the already gorgeous artwork on the normal release of the game. The added bonus is that this one features the protagonist both in their school attire and as the azure beauty Nahobino on the inside. It's clean, simple, and I really like it. This will only be available as a standard pre-order, and it'll cost $59.99.
Both editions will be available to order from Amazon, GameStop, and Best Buy, so keep your eyes open if you're looking to lap up either!
If you thought that was it for Shin Megami Tensei V, then no way. Atlus are clearly acknowledging how quiet they've been since the game's initial reveal back in 2017, and hot off the heels of Shin Megami Tensei III: Nocturne HD Remastered, they're capitalising on the sudden increase in attention the series is getting. So last week, the official Japanese website for the game was updated with even more new details, which have handily been translated by Gematsu!
We've already touched on the story above, but we finally get a few tidbits on the first few characters from the game, along with some lovely artwork for each of them.

First up, the protagonist! Not much to say here really, as they're likely the silent type if other SMT or even Persona games are concerned. I want that jacket. And those trousers. And no, I don't care that it's a school uniform. Anyway, the protagonist lives in Tokyo, and after a murder happens when they're heading home from school, they go to a nearby tunnel to search for their friend who has run off to find out what's going on. But the tunnel collapses, and the next thing they know, they wake up in the mysterious desert wasteland of Da'at.

Next is Aogami, who we only got a brief glance at in the trailer. Aogami is the one who "saves" the protagonist by offering to fuse with them. His powers are unknown, and that look certainly is…striking. But again, not unusual for this series. In fusing with the protagonist, he allows them to transform into a forbidden being, who is known as…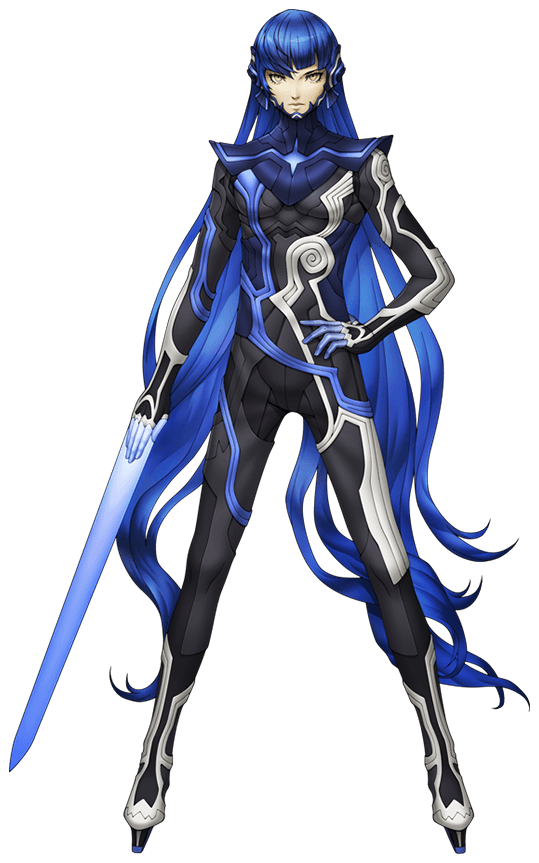 Nahobino! And my goodness, can we take a moment to really appreciate character designer Masayuki Doi's work here? The hair. The heels. The laser sword. Nahobino can use paranormal abilities, and this is the only way that the protagonist can survive. The protagonist makes decisions for the being, while Aogami can only help by voice.
Lastly, let's take a loot at just some of the demons you'll be encountering in Da'at. Some are familiar, but there's a few brand-new additions:
I can immediately spot series mascot Jack Frost beaming at the front there, as well as Parvati with her soft pink hair, and Pixie at the very top. But there's a few new debutants there too, and Atlus Japan have been showcasing some of these in their daily videos where they highlight demons new and old!
Just behind Jack Frost, wearing white robes and donning blue hair, is Amanozako. And next to them, brandishing a sword and donning a royal red-colured cape and antlers is Fionn mac Cumhaill. Yes, the one of Irish folklore. They both featured heavily in today's trailer too, so I'm excited to see if they have a bigger role to fill in the story.
All of this additional information came from either Atlus' website, or from an official Japanese livestream last week. It's two hours long, but there's so many new features and a lot of chatter about the game in general. Just think, a year ago we thought we were never going to get this game. And now, we've seen so much of it, and it's coming out in November! You can check out the livestream below, and after the hour mark, there's around 25 minutes of new gameplay:
That's… a lot of new stuff to cover. Is it time for me to confess that I've never beaten a Shin Megami Tensei game that isn't Persona? Probably not. I was thinking of trying SMTIV or Nocturne, but I'm totally taken with almost everything I've seen on the upcoming game. I've got until November 12th to wait, which is when Shin Megami Tensei V officially launches in North America and Europe. That's plenty of time, right?